« FONTAGRO to Fund IDB Studies on Climate Change Impact on Agriculture | Home | Guyana Launches Consultations on Consumer Protection Legislation »
By Keith R | May 5, 2009
Topics: Sustainable Agriculture | No Comments »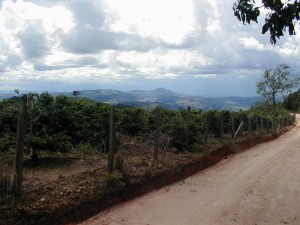 I am in New York attending the Seventh Session of the United Nations Commission on Sustainable Development (CSD-17). This Session is focused on the thematic cluster of agriculture, rural development, land, drought, desertification and Africa. As is the case with the opening day of most such international fora, today all too many opening speeches and statements I won't bore you with here.
There was one presentation, however, I think worth sharing with the readers of The Temas Blog. Late in the morning the the UN's various regional commissions were asked for a brief panorama of the current state of affairs in their region regarding this year's themes. I think some of the points made by the representative of the Economic Commission for Latin America and the Caribbean's (ECLAC) Sustainable Development and Human Settlements Division are worth noting here, as food for thought (remember, these are her words, not mine):
In production terms, LAC agriculture has improved in recent years, but in social terms, it has not done so well, and in environment terms, is has done poorly;
Much of LAC's agricultural production growth has been geared for soya and beef exports, and in increasing corn production. This has brought substantial land-use changes, with a large reduction in forested areas, and a big increase in area devoted to agricultural production, and a 68 million head increase in cattle raising — with all this implies for climate change and environmental planning;
For the most part, the price of agricultural inputs had risen to a greater degree than the price of products;
There is growing concentration in agricultural production and ownership thereof;
There is a need for greater focus on helping rural populations, which tend to be less educated, be unskilled or have low skill levels, and tend to be aging populations;
The large supermarket chains have changed food production and supply in much of LAC, so there is a need to include corporate social responsibility in global value chains;
Some LAC nations have called for rethinking agricultural production models to take into account such factors as global climate change, the volatility of food prices, the decline in production for national markets, reductions in trade preferences for the agricultural products the region produces and other emerging trade patterns and pressures;
Policies that promote agricultural development were also needed, including policies for microcredit and those that favoured the development of risk-mitigation schemes, such as specialized insurance;
An integral approach that incorporates water and river basin management with land use planning would be beneficial, and it should into account the pollution of soil, air and water in agricultural areas, proper irrigation, and the difficult issue of waste collection and management in rural areas;
There are forces beyond the scope of normal national public policy that affect the outlook for agriculture in the region, such as the growing role of the transnational agro industry, which should be looked at;
Improvements in land tenure and access regimes are needed;
LAC nations need to ensure adequate conservation of protected areas;
Proper management and use of agrochemicals is largely absent and should be addressed;
Further investment should be made in programs that addressed the challenges of drought, including early warning systems and assessment of the economic impact of droughts. Drought-resistant plants better-suited to arid regions should be introduced on a wider basis;
Subregional and national efforts and mechanisms had been developed to combat desertification;
Traditional knowledge and practices needed to be incorporated;
Agricultural policies need to take climate change considerations into account more, and need to incorporate the UN's Millennium Development Goals (MDGs)* and the concept of payment for ecosystem services.
__________
* The MDGs are a set of socioeconomic goals nations agreed at the UN to reach by 2025. I've covered here in The Temas Blog the global progress reports on reaching the water and sanitation MDGs, and the recent special report on meeting the health-related MDGs in Latin America and the Caribbean (LAC).
Tags: agricultura, agriculture, agrochemicals, agroquímicos, América Latina, áreas protegidas, beef, cambio climático, Caribbean, Caribe, CEPAL, Climate Change, Corporate Social Responsibility, CSD, desertificación, desertification, drought, ECLAC, ecosystem services, irrigation, land tenure, land-use planning, Latin America, MDGs, microcredit, protected areas, river basin management, rural development, servicios ambientales, soya, supermarkets, supermercados
Subscribe to My Comments Feed
Leave a Reply