« $20 Mn. to Help Colombia Clean Up its Solid Waste Management / US$20 millones para apoyar a Colombia mejorar su manejo de los residuos sólidos | Home | IDB Backs Extractive Industries Transparency Initiative / BID respalda Iniciativa para la Transparencia en las Industrias Extractivas / BID endossa Iniciativa pela Transparência nas Indústrias Extrativistas »
By Keith R | August 5, 2009
Topics: Sustainable Agriculture | No Comments »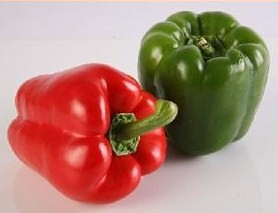 Over the last couple of years, there have been several signs that the government of Mexico's Federal District (DF) — the zone encompassing Mexico City and its environs — is growing more serious about cleaning up its act and going green.  The GDF finally issued the implementing regulation for its breakthrough waste law.  It published its own inventory of greenhouse gas emissions.  It launched a sustainable housing initiative to promote solar water heating, energy-efficient lighting, green roofs and vertical gardens. It reached an agreement with an industry group to promote the collection of used batteries. It promoted bicycling as alternative transport.  And it looks like it is finally getting serious about addressing its water crisis.
In this context, I guess it is not surprising to find that the GDF wants to promote organic agriculture.
Among other things, the GDF's Secretariat for Rural Development and Community Equity (Sederec), in cooperation with the Historical Center Authority and the DF's Science and Technology Institute (ICyTDF), will be holding a street fair to promote urban and organic agriculture 14-18 August along Mexico City's famed Avenida Paseo de la Reforma, from Glorieta de Palma to Insurgentes.  [Temas Observation: I'll be in Mexico City during that period, so I'll try to visit the fair and post photos here afterward.] During the fair they will also hold a series of debates, workshops and conferences about the subject matter on 17-18 August, the debates and workshops at Alameda Central and the conferences at the Hotel Sheraton Centro Histórico.
The street fair and related events are all part of Sederec's Plan to Promote Organic Agriculture.  Sederec will spend about three million pesos this year implementing the Plan, including:
the creation in September of a Consultative Council of Ecological and Organic Producers of the DF, as a step toward the formation of a network of producers and consumers of organic foodstuffs, goods and services;
an agreement in October with the DF's Central de Abasto (essentially, a huge government-supported marketplace) to provide organic producers a place to sell their goods to poorer citizens;
the production of compost, utilizing organic wastes collected in the City,to provide to producers;
teaching students, through small gardens at their schools, about raising food organically.
______________
Desde la Jefetura de Gobierno del Distrito Federal (GDF):
Promueve e impulsa GDF producción de agricultura orgánica en la ciudad

La Sederec llevará a cabo eventos, a fin de promover su comercialización
Prevé concretar la firma de un Convenio con la Central de Abasto para dotar de espacios a productores

Para lograr impulsar la agricultura orgánica y mejorar las condiciones en que ésta se efectúa en la zona urbana de la capital del país, el Gobierno del Distrito Federal, a través de la Secretaría de Desarrollo Rural, trabaja en la ejecución de diferentes acciones como el próximo "Encuentro de la Alameda, caminando entre Lechugas. Agricultura Urbana y Orgánica", que se llevará a cabo del 14 al 18 de agosto.

Dicha muestra, que es organizada por la Secretaría de Desarrollo Rural y Equidad para las Comunidades (Sederec), la Autoridad del Centro Histórico y el Instituto de Ciencia y Tecnología, incluye diversas actividades, tales como una expo-venta-degustación de productos orgánicos y naturales, un ciclo de conferencias, talleres educativos y un video debate.

La expo se realizará del 14 al 16 de agosto sobre Paseo de la Reforma, de la Glorieta de Palma a Insurgentes y las conferencias el 17 y 18 del mismo mes en las instalaciones del Hotel Sheraton Centro Histórico, al igual que los talleres y el video debate que se efectuarán en la Alameda Central.

El encuentro forma parte del Plan de Promoción de Agricultura Orgánica de la Sederec, el cual incluye otros dos eventos, cuya realización dio a conocer en conferencia de prensa la titular de la dependencia, María Rosa Márquez Cabrera.

Bajo este contexto señaló que para el impulso y la promoción de la agricultura orgánica se invertirán en total este año, alrededor de tres millones de pesos, cantidad que es similar a la que se invirtió para el programa enfocado a la producción del maíz, que también fue implementado por el GDF en el 2008.

La secretaria detalló que la segunda de las acciones del Plan de Promoción de Agricultura Orgánica corresponde a la presentación que hará la Sederec el próximo 10 de agosto sobre los resultados obtenidos hasta el momento del Programa de Agricultura Urbana.

Dicho programa se desarrolló atendiendo cuestiones ambientales y económicas, tales como el cambio climático y la crisis alimentaria. Respecto a esto, Rosa Márquez expresó la posibilidad de que a partir de la agricultura urbana se logre coadyuvar para eliminar el problema de la falta de alimento para el sector más pobre de la población.

El tercer evento se realizará el próximo mes de septiembre y está enfocado a la creación de un Consejo Consultivo de Productores Orgánicos y Ecológicos del Distrito Federal, a fin de integrar al gobierno con representantes del sector social para formar una red de productores y consumidores de alimentos, bienes y servicios orgánicos.

A estas tres acciones se suma el Convenio que el Gobierno de la Ciudad espera firmar el próximo mes de octubre con la Central de Abasto, representada por su director y administrador, Edmundo Collins, a fin de que los productores cuenten con un espacio para comercializar sus productos a precios más accesibles para la población.

Rosa Márquez destacó la importancia de dar a conocer dichas acciones, ya que aseguró, el desarrollo de una agricultura sustentable con las condiciones que brinda el suelo del Distrito Federal es posible.

Al mismo tiempo reconoció el esfuerzo que productoras y productores en la ciudad han estado realizando, ya que dijo, tienen una experiencia probada en el ámbito de la agricultura.

Asimismo, el 10 de agosto dará inicio el programa de separación de residuos sólidos organizado por la Sederec para realizar compostas, el cual se suma a otras acciones de corte ambiental que lleva a cabo la dependencia para incentivar la producción orgánica, a través de la conservación del suelo productivo y recursos vitales como el agua, así como la siembra de hortalizas en las escuelas.

A la conferencia asistieron como representante de la Autoridad del Centro Histórico, Ricardo Jaral; la responsable de Proyectos Especiales de la Sederec, Margarita García; el productor orgánico Gerardo Camacho y el ingeniero agrónomo, Eric Chávez.
Tags: agricultura orgánica, agricultura sostenible, agricultura urbana, Autoridad del Centro Histórico, Central de Abasto, Ciudad de Mexico, compost, DF, GDF, ICyTDF, Mexico, Mexico City, organic agriculture, organic waste, Paseo de la Reforma, producción orgánica, Sederec, Sheraton, trade fair
Subscribe to My Comments Feed
Leave a Reply