« Preparing for Accidents with Hazardous Substances | Home | Wal-Mart Mexico Promotes Exchange for Energy-Efficient Appliances »
By Keith R | March 17, 2009
Topics: Conservation, Sustainable Forestry | No Comments »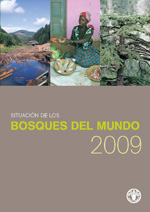 The UN Food and Agriculture Organization (FAO) has just released State of the World's Forests 2009 (English, Spanish), the latest update of its annual overview of forest resources worldwide.  While it does not shed significant new light or offer new data on forest cover and the state of deforestation in Latin America and the Caribbean (LAC) beyond what I discussed in my 2007 post on that topic, the new report does provide some offer some useful nuggets on related issues, such as logging (legal and illegal), forest products exports/imports, certification of forests, use of wood products as fuel, the growth of forest plantations, and the role of payment for environmental services, so I thought I would share some of these with Temas readers.
One quick housekeeping note: FAO does not cover Mexico along with its LAC neighbors, but instead lumps it in with its North American partners, Canada and the US.  This makes extracting meaningful nuggets about Mexico more time-consuming, so I will not be covering trends in Mexico in this post.
Obstacles to Sustainable Forest Management for Wood Production in LAC
The FAO identifies the following obstacles to sustainable management of LAC's natural forests for wood production:
scarce adoption of reduced-impact logging because of weak incentives;
limited area of forests certified because of the high costs and absence of a price premium, especially with the availability of low-priced illegally procured timber;
ownership disputes from overlapping land tenure and illegitimate titles encouraging illegal logging and land conversion, especially in the Amazon;
diseconomies of scale for small community-managed concessions, especially those remote from markets;
preponderance of the informal sector (especially illegal logging and wood-processing units).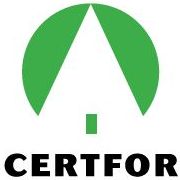 Forest Certification in LAC
In 2007 LAC had about 12 million hectares of certified forests.  Although that only represents about 1.2% of LAC forests, it accounts for about 4% of all forests certified worldwide.  It is also a substantial increase from 0.4% of LAC forests certified in 2002.  Of LAC forests certified, nearly 80% percent was certified by the Forest Stewardship Council (FSC)*, and the rest under national systems: CERFLOR (Brazil) and CERTFOR (Chile)**.
Planted Forests in LAC
LAC has about 12.5 million ha. of planted forests, or about 5% of the world's planted forests.  Argentina, Brazil, Chile and Uruguay account for the lion's share (78%) of LAC's planted forests.  The area is projected to increase to 17.3 million ha. by 2030, although because so much of it is geared toward export markets, reaching this projection will depend on global demand for pulp and paper, panel products and biofuel feedstock.  FAO says that plantation forestry in LAC is characterized by:
investment in productivity-enhancing technologies, especially clonal propagation, achieving productivity of more than 50 m3 per ha. per year in some cases;
use of intensively managed short-rotation species such as Eucalyptus spp., radiata pine (Pinus radiata), loblolly pine (Pinus taeda) and southern yellow pine (Pinus elliottii);
integration of plantation management with wood processing, especially pulp and paper and panel production.
Industrial Wood Production, Consumption and Trade

Industrial wood production is not significant in Central America or the Caribbean, but it is in South America, primarily due to the plantations in the Southern Cone (see above).  LAC's share of global roundwood production has gone from 7% in 1990 to 10% in 2006.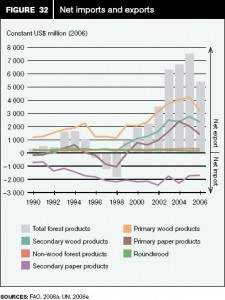 Pulp and paper production has grown steadily and is expected to continue doing so because of recent investments in plantations and processing (most famously in Uruguay).
Domestic consumption of wood products in LAC has been more or less stable over the years, and fairly small.  This is expected to remain largely unchanged in the coming years, except perhaps in Brazil.
Woodfuel
Woodfuel production has been growing gradually in LAC over the past ten years, and is expected to continue to do so — primarily due to industrial charcoal use in Brazil.  Brazil's iron and steel industry consumed 8.3 million metric tons of charcoal in 2006.  Iron and steel companies, and companies supplying them with charcoal, own 1.2 million ha. of forest plantation land in Brazil.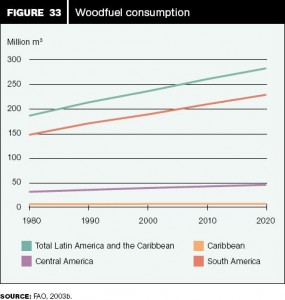 Household woodfuel consumption is holding steady in the Caribbean, dropping in South America and rising in Central America.
Protected Areas
Much of LAC's conservation efforts have relied on the creation of protected areas. Between 1990 and 2007, the extent of protected areas increased from 213 million to 451 million ha. (24% of the world's protected areas). However, in many LAC nations these protected areas clash with mining, agricultural, energy and logging interests, and with under-funded and under-staffed government enforcement agencies, the declaration of protected areas does not always guarantee protection.
Payment for Environmental Services (PES)
FAO points out that LAC has been a pioneer in implementing payment for watershed services, but cautions that realizing the potential for scaling up and improving such schemes depends on overcoming such obstacles as: ill-defined property rights; farmers' fears that their resources will be expropriated; distrust of privatization of water supply; and inadequate information on the technical linkage between upstream land use and downstream benefits.
FAO feels that PES systems will likely gain ground in LAC, particularly as reducing greenhouse gas emissions from deforestation and land degradation (REDD) schemes grow.
________________
* March 2009 FSC figures indicate 11,656,793 ha. certified by them, indicating a substantial increase in just two years.
** Certfor claims that as of end-2008, it has now certified 1.8 million ha. in Chile.
Tags: Amazon, América Central, áreas protegidas, Argentina, Brasil, Brazil, Caribbean, Caribe, Central America, CERFLOR, CERTFOR, charcoal, Chile, clonal propagation, Cono Sur, conservación, Conservation, deforestation, desmatamento, eco-certification, environmental services, eucalyptus, FAO, FSC, iron and steel, land tenure, loblolly pine, logging, lumber, minería, mining, plantation forestry, planted forests, privatization, property rights, protected areas, pulp and paper, radiata pine, REDD, South America, Southern Cone, sustainable forestry, Uruguay, water supply, watershed services, wood production, woodfuel, yellow pine
Subscribe to My Comments Feed
Leave a Reply