« Wal-Mart Mexico Installs Largest Photovoltaic Array in Latin America / Wal-Mart de México coloca la instalación fotovoltaica más grande de América Latina | Home | Colombia Finally Joins the POPs Convention / Por fin Colombia es Estado Parte del Convenio sobre los COPs »
By Keith R | January 20, 2009
Topics: Sustainable Agriculture, Sustainable Forestry | No Comments »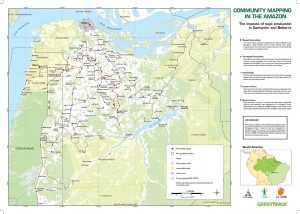 Temas Observation: I have long stressed the importance of good data-gathering and diagnosis as the basis for sound action, and advocated getting individuals, civic groups and communities involved in such work.  Hence I applaud this effort led by Greenpeace.  As their press releases point out, combating deforestation in the Amazon is difficult in part because it's difficult to tracking what is happening on the ground.  Satellite mapping only goes so far — you need eyes on the ground, and the government cannot do it alone.  Training local groups and utilizing GPS technology are inspired moves.
________________________
From Greenpeace International:
Putting soya impacts on the map

Monitoring the effects of deforestation on the Amazon is a difficult undertaking. The Amazon is huge and it's extremely difficult to keep tabs on what's happening in the remote fringes of the rainforest. News of illegal logging and the spread of soya plantations can take a long time – if ever – to reach the authorities.

Community mapping

Our team in Brazil has been working with the local community to map the impacts of the soya industry in the Santarém region of the forest, the heart of soya production in the Amazon. This is a collaborative project with the Brazilian organisations Projeto Saude e Alegria (Health and Happiness Project) and the Rural Workers Unions of Santarém and Belterra. The community mapping project focuses on training people to use GPS technology to pinpoint the damage caused by intensive agriculture practices and empowering the local community to defend its land and the rainforest. Even though there's a moratorium at present on forest being cleared for new soya plantations, current farming in these areas is still damaging the environment and the communities who live in the region.

Research collected for the map between May 2007 and June 2008 shows damage has spread along the highways carved through the forest. Soya farming has affected rivers as well: herbicides used on the crops have leeched into the water. Some rivers have even been dammed by farmers, affecting water supplies for those downstream. Others have silted up when wetland forest cover has been removed.

Local groups take control

As their environment deteriorates, the future of local communities is at stake. Traditional routes through the forest are blocked by expansive soya plantations and people have been forced to sell their land as a result of pollution from agrochemicals.

The information collected for the maps even documents cases where entire communities have disappeared due to the destruction that has made their former way of life impossible.

The communities that continue to exist in spite of the destruction are also on the community map. Many rural communities that have managed to somehow adapt to the destruction are included in this project – for some, this is the first time they have ever been formerly identified on a map.

Documentation of the land in this region is an important step in the fight to save the Amazon. By helping local communities document what's happening to the forest and rivers around them, control is finally back in their hands. Ever since US company Cargill announced its plans to build a controversial soya processing and port facility in Santarém, these communities have fought to show the detrimental effect a growing soya industry has on the region. The Cargill facility was built without the environmental impact assessment required by the government. Cargill finally submitted the assessment to the authorities at the end of last year and we are currently awaiting the announcement of the public hearing where further discussions will take place on this issue.

And finally, this mapping project could also provide a model for how the money from global funding mechanisms needed to stop dangerous climate change could be spent to ensure that local people are the guardians of their forests. This will be essential if we are to save the climate and protect forests in the Amazon and around the world in the long term.
____________________
Desde Greenpeace Brasil:
Mapa participativo inédito expõe os impactos do avanço da soja sobre a floresta

Comunitários de Santarém e Belterra produzem mapa participativo baseado em imagens de satélite e conhecimento tradicional

Um mapa inédito, com os impactos da produção de soja na região oeste do Pará, foi lançado nesta sexta-feira por comunidades tradicionais de Santarém e Belterra a bordo do Arctic Sunrise, navio do Greenpeace. O trabalho identificou os principais pontos de desmatamento e outros problemas associados à expansão desordenada da soja na região, como o assoreamento e contaminação de igarapés por agrotóxicos, bloqueio de acessos tradicionais da população local pelas plantações e o desaparecimento de comunidades tradicionais.

O projeto mapeou ainda 121 comunidades locais, algumas das quais nunca incluídas em qualquer outro mapa. A iniciativa, apoiada pelo Greenpeace e Projeto Saúde e Alegria (PSA), capacitou mais de 50 lideranças de 28 diferentes comunidades no uso de GPS e interpretação de imagens para mapear e documentar os impactos da expansão da soja na região, e foi liderada pelos Sindicatos dos Trabalhadores e Trabalhadoras Rurais (STTR) de Santarém e Belterra.

"Eu vejo o mapa como uma imagem de um microscópio porque a gente vê nele aquilo que a gente costumava não ver", disse um comunitário que participou do mapeamento e que não quis ser identificado.

As comunidades tradicionais da Amazônia detêm um vasto conhecimento dos espaços que ocupam. Em uma região marcada pela falta de governança, esse conhecimento é crucial para a defesa de territórios e dos recursos naturais.

"Ao unir conhecimento tradicional a técnicas modernas de mapeamento, os povos da floresta estão mais preparados para lutar pelos seus direitos e participar da gestão de seus próprios territórios", disse Raquel Carvalho, da campanha da Amazônia do Greenpeace.

"Esse tipo de iniciativa permite que os comunitários produzam seus próprios mapas, fazendo um contraponto importante à inexistência desse tipo de informação – oficial ou não."

Além de fortalecer o conhecimento tradicional, o mapa é um retrato atual dos impactos da soja na região.

"A mitigação destes impactos deve ser incorporada às análises do Estudo de Impacto Ambiental (EIA/RIMA) do porto graneleiro da Cargill, que ainda aguarda audiência pública", disse Raquel.

De acordo com os dados da Companhia Nacional de Abastecimento (Conab), até 2002, o cultivo de soja no estado do Pará ocupava cerca de dois mil hectares. No ano seguinte, após a instalação do porto da Cargill em Santarém, a área cultivada saltou para 35 mil hectares. Essa expansão acelerada da soja na região ocorreu em várias outras áreas do bioma e foi alvo de intensa campanha do Greenpeace, que resultou na assinatura da Moratória da Soja, um compromisso assumido pela Abiove (Associação Brasileira da Indústria de Óleos Vegetais) de não comercializar soja plantada em novos desmatamentos a partir de agosto de 2006.

Ainda que tenha obtido resultados positivos, a moratória se limita a conter a abertura de novas áreas e não elimina os demais impactos da produção do grão dentro do bioma – principalmente na área de influência direta do porto –, nem pretende ser uma solução definitiva.

"A moratória é a melhor estratégia para reduzir o avanço do desmatamento sobre o bioma Amazônia pelo menos até que os mecanismos de governança necessários estejam implementados", afirma Raquel Carvalho.

O avanço da fronteira agrícola é uma das principais causas de desmatamento, acarretando em perda de biodiversidade e recursos naturais, deslocamento de populações tradicionais e aquecimento global. A destruição das florestas e mudanças no uso do solo, principalmente na Amazônia, são responsáveis por 75% das emissões brasileiras de gás carbônico, colocando o país como o quarto maior emissor de gases de efeito estufa do mundo. A floresta amazônica é de fundamental importância para o equilíbrio do clima global. A manutenção da cobertura florestal tropical pode evitar que 800 milhões de toneladas de carbono sejam liberadas na atmosfera por ano.
Tags: Abiove, agrochemicals, agrotoxicos, Amazon, Amazonia, Arctic Sunrise, Belterra, Brasil, Brazil, Cargill, Conab, deforestation, desmatamento, EIA, environment, floresta amazônica, florestas, forests, GPS devices, Greenpeace, herbicides, Igarapés, map, MAPA, meio ambiente, moratória, Pará, plantações, plantations, Projeto Saude e Alegria, Santarém, soja, soya, STTR
Subscribe to My Comments Feed
Leave a Reply