« Mato Grosso Requires Cell Phone Take-Back | Home | Trinidad and Tobago Has Environmental Police Again »
By Keith R | May 18, 2009
Topics: Sustainable Tourism | No Comments »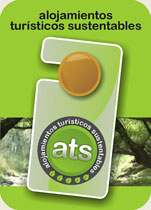 The program of Buenos Aires Province launched earlier this year to formally recognize "sustainable touristic lodging" is finally getting into full swing. The provincial environment authority, OPDS, just announced the award of the first 21 certifications to lodgings in the Sierra de la Ventana ("Window Mountains") area of Torquinst.
The program judges lodging in touristic destinations within the Province on their "efficient use" of natural resources, minimization of the use of toxic chemical products, maximization of the use of organic products, efficient use of energy and water, waste management practices, and their efforts to raise awareness about environmental issues and proper use of natural resources, "promoting solutions and preventive measures."  Lodgings are rated by OPDS from 1 (lowest) to 5 (highest) in meeting the criteria, which is indicated by the number of leaves in the seal that the hotel bears.
_________________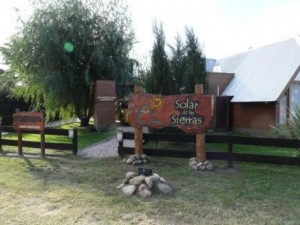 Desde el Organismo Provincial para el Desarrollo Sostenible (OPDS):
CATEGORIZARON LOS PRIMEROS HOTELES AMBIENTALES DE SUDAMERICA

La Provincia de Buenos Aires, a través de un nuevo programa del Organismo Provincial para el Desarrollo Sostenible (OPDS) otorgó categoría ambiental a los primeros 21 hoteles de Sudamérica que se adhirieron al Plan de Alojamientos Turísticos Sustentables (ATS) en la localidad de Sierra de la Ventana, del partido de Torquinst.

Los alojamientos turísticos que se han certificado hoy son parte de la primera etapa encarada por el Gobierno de Daniel Scioli que busca, de esta forma, proteger el medio ambiente y los recursos naturales, fomentar el desarrollo sustentable de la actividad turística con calidad ambiental, preservar el ecosistema y potenciar el turismo ecológico.

Hoy hemos entregado las primeras categorizaciones ambientales a los Hoteles del Corredor Serrano que son los primeros alojamientos turísticos sustentables de Sudamérica" declaró Nicolás Scioli, coordinador ejecutivo del organismo ambiental provincial (OPDS) y responsable del Plan quien agregó que "este sistema de categorización, es pionero en toda la región y hemos tomado como ejemplo las prácticas aplicadas en los Estados Unidos, Australia y varios países de la Comunidad Europea.

Junto a Nicolás Scioli, estuvieron los intendentes de Tornquist, Gustavo Trankels y de Coronel Suarez, Ricardo Moccero. Para el jefe comunal del municipio de Tornquist, "esta iniciativa, única en Sudamérica, significa mucho para la región" y le agradeció a los dueños de los emprendimientos turísticos sustentables por la apuesta y la inversión que han realizado en su municipio. En tanto, Ricardo Moccero agradeció al Gobernador Scioli por "pensar constantemente en los municipios" y puntualmente en "por este novedoso programa que le aporta valor a la zona serrana".

El Coordinador del OPDS referenció además que el programa tiene otros beneficios que apuntan a "usar eficientemente los recursos naturales, reducir al mínimo productos químicos tóxicos y potenciar el uso de productos orgánicos, gestionar el uso eficiente de la energía, el agua y los residuos". Este programa, destacó Nicolás Scioli, "además de crear conciencia de los problemas relacionados con el ambiente, promueve el ecoturismo y fomenta la creación del consumo y el empleo."

Con este plan la Provincia de Buenos Aires no solo espera mejorar la gestión ambiental del sector hotelero, sino también potenciar al ecoturismo como nicho del mercado turístico, algo que a nivel global ya acapara más del 8% de los turistas.

Todos los alojamientos dentro de la Provincia de Buenos Aires están en condiciones de categorizarse. El procedimiento se realiza mediante una evaluación de su funcionamiento Ambiental para determinar el nivel de compromiso y sostenibilidad del alojamiento en relación al entorno.

La certificación, que oscila entre los niveles uno (1) a cinco (5) ampara que, a mayor nivel, mayor es el compromiso ambiental del establecimiento.
Tags: alojamientos turísticos, Argentina, Buenos Aires, Coronel Suarez, eco-certificación, eco-certification, Gustavo Trankels, hotels, lodging, OPDS, Sierra de la Ventana, Sustainable Tourism, Torquinst, turismo ecológico, turismo sostenible
Subscribe to My Comments Feed
Leave a Reply