« Cohab/Cemig to Install Solar Water Heaters in 7,000 Houses for the Poor | Home | The Global Spread of Cholera »
By Keith R | January 27, 2009
Topics: Sustainable Tourism | No Comments »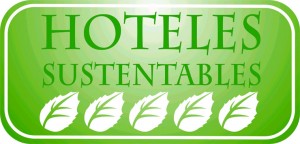 The Provincial Sustainable Development Organ (OPDS) of Buenos Aires Province just launched formally the "sustainable hotels" certification program that it announced last August it would create.
The program will judge lodging in touristic destinations within the Province on their "efficient use" of natural resources, minimization of the use of toxic chemical products, maximization of the use of organic products, efficient use of energy and water, waste management practices, and their efforts to raise awareness about environmental issues and proper use of natural resources, "promoting solutions and preventive measures."
Using their own methodology (which frankly sounds like it borrows liberally from Green Globe's), OPDS's Sustainable Consumption and Production Directorate will award hotels with a rating from 1 (lowest) to 5 (highest), which will be indicated by the leaves in seal the hotel will bear (see above).
____________________
Desde el Organismo Provincial para el Desarrollo Sostenible (OPDS):
Habrá Hoteles Sustentables en la Provincia de Buenos Aires

La Provincia de Buenos Aires, a través del Organismo Provincial para el Desarrollo Sostenible (OPDS) creo el Programa de Certificación de Alojamientos Turísticos Sustentables que categorizará a los establecimientos según su grado de compromiso para el cuidado del medio ambiente.

El programa, impulsado por Nicolás Scioli, Coordinador Ejecutivo del OPDS, busca entre otras cosas, proteger el medio ambiente y los recursos naturales, fomentar el desarrollo sustentable de la actividad turística, la calidad ambiental y la preservación del ecosistema en la industria Hotelera.

"Nuestro objetivo era diseñar una metodología de conservación y promoción de prácticas sustentables vinculadas al Sector Hotelero y ofrecer un nuevo mercado dentro del sector turístico de la Provincia de Buenos Aires" dijo Nicolás Scioli.

El Coordinador del OPDS referenció además que el programa tiene otros beneficios que apuntan a "usar eficientemente los recursos naturales, reducir al mínimo productos químicos tóxicos y usar al máximo productos orgánicos, gestionar sistemas de uso eficiente de energía, agua y residuos , crear conciencia de los problemas relacionados con el ambiente, los recursos naturales, promover soluciones y medidas preventivas".

Según está previsto, todos los alojamientos dentro de la Provincia de Buenos Aires están en condiciones de categorizar y será por medio de una evaluación de su funcionamiento Ambiental que hará la Dirección de Producción y Consumo Sustentable del OPDS, donde se determinará el nivel de compromiso y sostenibilidad.

La certificación, que oscilará entre los niveles uno (1) a cinco (5), ampara que a mayor nivel, mayor es el compromiso ambiental del establecimiento. Los alojamientos que reciban la mejor calificación, y sean categorizados en el nivel 5, tendrán un certificado exhibible de Alojamiento turístico Sustentable ya que su oferta se adecua al ecosistema.

Las certificaciones tendrán una validez de dos años y los trámites para la obtención de los formularios podrán realizarse a través del sitio web del OPDS.
Tags: alojamientos turísticos, Argentina, Buenos Aires, eco-certificación, eco-certification, environment, Green Globe, hoteles, hotels, lodging, medio ambiente, OPDS, productos orgánicos, productos químicos, residuos, sector hotelero, tourism, turismo, uso eficiente del agua, uso racional de energía
Subscribe to My Comments Feed
Leave a Reply