« World No Tobacco Day 09: Brazilian Research Shows Pictorial Warnings Work | Home | Día Mundial sin Tabaco 09: Los logros y retos en Venezuela »
By Keith R | May 28, 2009
Topics: Sustainable Tourism | No Comments »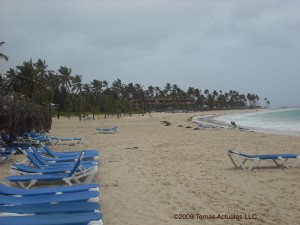 From the Inter-American Development Bank (IDB):
IDB releases sustainability scorecard for private sector tourism projects

Interactive online tool enables assessment of sustainability dimensions of proposed projects

The Inter-American Development Bank today released a new Tourism Sustainability Scorecard, an interactive tool developed to ensure that the IDB's investments in private sector tourism projects maximize social, economic, cultural and environmental benefits for local communities and destinations.

Tourism is an important source of employment and revenue in Latin America and the Caribbean, and a widely acknowledged contributor to sustainable development and poverty alleviation. The World Travel and Tourism Council estimates that tourism will contribute as much as $217 billion to the region's economies in 2009.

The Scorecard will allow the Bank to assess the sustainability of private sector projects that request IDB financing and give priority to requests that demonstrate potentially positive impacts. Also, the scorecard is expected to be a guide for developers to formulate more sustainable projects and encourage them to think about sustainability issues from the outset. Although the Scorecard has been specifically designed for the private sector, it can also be a valuable tool for government entities, NGOs, scholars, and other tourism stakeholders to assess private sector initiatives.

The Scorecard was developed on the basis of the Global Sustainable Tourism Criteria. It includes 52 criteria and their corresponding indicators grouped into five sections: effective sustainable management practices; socioeconomic issues; cultural heritage issues; environmental issues; impacts on the tourism destination; and real estate activities associated with the tourism project.

The Scorecard is designed to be used at multiple stages of a project's lifecycle: during project development, screening, or initial analysis, and then again throughout due diligence and investment approvals. Use of the Scorecard at multiple stages will help decision makers identify areas that need improvement and later on allow them to measure the impact of the changes they have introduced.

The Scorecard does not provide a score for a particular project, but rather generates a "color map" of performance indicators showing how sustainable the project is likely to be. A color code, ranging from green to red, is used to designate performance indicators from excellent to unacceptable.

The IDB is inviting comments and suggestions regarding the Scorecard, which is available at www.iadb.org/tourismscorecard/, during a six month public consultation period that will end in November 2009.
_______________
Desde el Banco Interamericano de Desarrollo (BID):
BID lanza Ficha de Evaluación de Sostenibilidad Turística para proyectos del sector privado

Herramienta interactiva permite la evaluación de dimensiones de sostenibilidad de propuestas para proyectos turísticos

El Banco Interamericano de Desarrollo anunció hoy la creación de una Ficha de Evaluación de Sostenibilidad Turística, una herramienta interactiva diseñada para asegurar que las inversiones del BID en proyectos turísticos del sector privado maximicen los beneficios sociales, económicos, culturales y ambientales para comunidades locales y destinos turísticos.

El turismo es una importante fuente de empleo e ingresos en América Latina y el Caribe, y su contribución al desarrollo sostenible y al alivio de la pobreza es ampliamente reconocida. El Consejo Mundial de Viajes y Turismo calcula que en 2009 el aporte global del turismo al PIB de la región llegará a US$217.000 millones.

La Ficha de Evaluación permitirá al Banco evaluar los aspectos de sostenibilidad de los proyectos del sector privado que solicitan financiamiento y dará prioridad a los proyectos con mayores posibilidades de tener un impacto positivo. Asimismo se espera que la Ficha ayude a los promotores e inversores a formular proyectos más sostenibles y a tener en cuenta las cuestiones de sostenibilidad desde el comienzo. Aunque la Ficha se ha diseñado específicamente para el sector privado, también puede ser de utilidad a entidades gubernamentales en el área de turismo, medio ambiente, y promoción de inversiones, así como al resto de actores del sector.

La Ficha de Evaluación de Sostenibilidad Turística fue elaborada en base a los Criterios Mundiales de Turismo Sostenible. Incorpora 52 criterios, con sus respectivos indicadores, agrupados en cinco secciones: prácticas efectivas de gestión sostenible; aspectos socioeconómicos; aspectos culturales; aspectos medioambientales; impacto en el destino turístico; y actividades inmobiliarias asociadas con el proyecto turístico.

La Ficha se puede usar en todas las etapas del ciclo de vida de un proyect diseño, exploración, análisis inicial, y también durante las etapas de debida diligencia y de aprobación de la inversión. De este modo la Ficha permite identificar áreas que necesitan mejorarse y luego medir el impacto de los cambios que se han introducido.

La Ficha de Evaluación de Sostenibilidad Turística no otorga un puntaje a los proyectos, sino que genera un "mapa de colores" para que el usuario pueda apreciar la sostenibilidad de un proyecto. Los colores, que abarcan desde el verde al rojo, se usan para designar indicadores de rendimiento para cada criterio desde excelente a inaceptable.

El BID solicita comentarios y sugerencias sobre la Ficha de Evaluación de Sostenibilidad Turística, que se encuentra disponible en www.iadb.org/tourismscorecard. Este período de consulta durará seis meses, y terminará en noviembre de 2009.
Tags: BID, cultural heritage, Ficha de Evaluación de Sostenibilidad Turística, Global Sustainable Tourism Criteria, IDB, real estate, sustainable management practices, Sustainable Tourism, tourism, Tourism Sustainability Scorecard, turismo sostenible, turismo sustentável, WTTC
Subscribe to My Comments Feed
Leave a Reply