« BNDES-Supported Waste Picker Cooperatives Have Better Standard of Living | Home | Brazil Plans to Ban or Restrict 12 Pesticides »
By Keith R | March 31, 2009
Topics: Sustainable Transport | No Comments »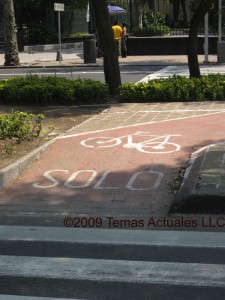 The Government of Mexico's Federal District — essentially Mexico City and its environs — is pushing to make bicycling a viable, desirable and desired alternative form of transport (and healthy exercise) in the country's capital city. Among other things, the GDF has:
constructed some bike paths (ciclovias);
installed bike parking racks in popular places like Chapultepec Park;
started closing major thoroughfares — principally the Paseo de la Reforma, which is a bit like Mexico City's version of Paris' Champs-Élysées (on which it was modeled) — every Sunday to just bicycles, pedestrians and skaters;
launched a publicity and public education campaign to urge City residents to cycle as often as possible;
set the example — the new mayor himself and most of his cabinet have bicycled to work with the media in tow.
Well, the GDF wants to take this to the next level.
Environment Secretary Martha Delgado Peralta said that the GDF will be adapting the most successful examples at the international level in order to develop a model that meets the needs and characteristics of Mexico City.  "The goal of this government is increasing the percentage of daily trips by bike from one to five percent by 2012."
The City will invest 100 million pesos this year for the creation of cycling infrastructure and equipment, as well as to promote a culture of cycling.
Infrastructure development will focus on facilitating: local travel within the City's major neighborhoods (colonias) and between them, with a distance of 0 to 4 kilometers; travel in connection with mass transportation, with a distance of 0 to 8 kilometers; and travel to major destinations in the city, with a range from 0 to 10 kilometers.
In order to enhance intermodality, beginning in September the City will implement a public bicycle system similar to those already in place in Paris and Barcelona.  The project will be implemented through a membership scheme, whereby a citizen can access to the use of bicycles in certain sites of the city. The first phase will consist of 600 public bicycles that will be installed in the Cuauhtemoc, Juarez and Zona Rosa colonias.
The City will also begin building a network of bikeways (ciclovias), starting from the center out to the periphery. In the first phase bikeways will be built in Reforma, San Cosme, Buenavista and Nuevo Leon, for a total of 31.5 kilometers.
The City also is constructing a Mass Bicycle Parking Stations at the Constitution of 1917 Modal Transfer Center (Centro de Transferencia Modal – CETRAM), to promote travel in connection with the Metro, and will place thousand of racks for parking bicycles on the City's public roads.
__________________
Desde la Secretaria del Medio Ambiente (SMA):
HARÁ EL GDF DE LA BICICLETA UNA ALTERNATIVA DE MOVILIDAD VIABLE Y SEGURA EN LA CIUDAD DE MÉXICO

Para este año se implementará un sistema de bicicletas públicas similar al de Paris y Barcelona: Martha Delgado
La Primera fase constará de 600 unidades en las colonias Cuauhtémoc, Juárez y Zona Rosa
A finales de año iniciará la construcción de la Ciclovía por Avenida Paseo de la Reforma

La Secretaria del Medio Ambiente, Martha Delgado Peralta, aseguró que con la Estrategia de Movilidad del Gobierno del Distrito Federal se busca regresarle a los habitantes de esta ciudad su tiempo, dinero, salud y calidad de vida, que han perdido por fomentar un modelo de movilidad basado en beneficiar a los automóviles y no a la gente.

Se trata, dijo, hacer de la bicicleta un alternativa de movilidad viable y segura, adaptando los ejemplos más exitosos a nivel internacional, con el fin de desarrollar un modelo que responda a las necesidades y particularidades de la Ciudad de México.

"La meta de este gobierno es elevar el porcentaje de viajes diarios en bicicleta del uno al cinco por ciento para 2012, ya que sabemos que actualmente se realizan alrededor de 120 mil viajes en bicicleta en el DF", destacó.

La encargada de las políticas ambientales de la ciudad informó que para este año se invertirán 100 millones de pesos para la creación de infraestructura y equipamiento ciclista; así como para el fomento de una cultura de uso de la bicicleta.

Martha Delgado destacó que el desarrollo de infraestructura se enfocará a la creación de propuestas que contemplan viajes locales al interior de las colonias y entre las mismas, con una distancia de 0 a 4 Kilómetros; viajes en conexión con el transporte masivo, con una distancia de 0 a 8 Kilómetros; y viajes a destinos principales de la ciudad, con una distancia de 0 a 10 Kilómetros.

Destacó que con el objetivo de reforzar la intermodalidad del transporte, a partir de septiembre de este año se iniciará con un sistema de bicicletas públicas, similares a los implementados en ciudades como Paris y Barcelona.

Este proyecto se implementará a través de un esquema de afiliación, mediante el cual el ciudadano tendrá acceso al uso de bicicletas en ciertos polígonos de la ciudad. La primer fase constará de 600 bicicletas públicas que se instalarán en las colonias Cuauhtémoc, Juárez y Zona Rosa.

Este año se iniciará la construcción de una red de ciclovías, cuyo desarrollo será del centro a la periferia. En la primera fase se construirán las ciclovías Reforma, San Cosme, Buenavista y Nuevo León, con un total de 31.5 kilómetros, explicó la secretaria del Medio Ambiente.

Se comenzará con la construcción del Biciestacionamiento Masivo en el CETRAM Constitución de 1917, para fomentar viajes en conexión con el Metro y se colocarán mil estantes para el estacionamiento de bicicletas en vía pública.
Tags: Avenida Paseo de la Reforma, Barcelona, bicicletas, bicycles, bike paths, CETRAM, Chapultepec Park, ciclovias, Ciudad de Mexico, Cuauhtémoc, Distrito Federal, Juárez, Mexico City, Paris, Zona Rosa
Subscribe to My Comments Feed
Leave a Reply