« Further IDB Support for Peru's "Water for All" Program / Mas Apoyo del BID para el Programa Peruano "Agua para Todos" | Home | Helping Belize Clean Up Its Act »
By Keith R | November 24, 2008
Topics: Conservation, Environmental Protection | No Comments »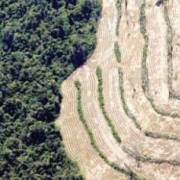 The Norwegian government is funding, and the UN Development Programme (UNDP) is administering, a US$4.3 million pilot project by Brazil's Environment Ministry (MMA) and the governments of three states — Acre (AC), Mato Grosso (MT) and Pará (PA) — to combat deforestation in the Brazilian Amazon.  As I've noted here in the past, MT and PA are two of the most problematic states in combating Amazonian deforestation — together with Rondônia (RO), they have accounted for as much as 85% of the deforestation in the Brazilian Amazon over several years.  AC was selected because it already has anti-deforestation initiatives in place that UNDP and MMA wish to support and reinforce.
The principal product of the pilot project will be State Plans of Prevention and Control of Deforestation in the Brazilian Amazon and of Municipal Environmental Registration for each of the three states.  The plans will be drafted after an analysis of the local situation by technical consultants contracted for the task, who will seek input from both different sectors of the state government (environment, development, planning, etc.) and various actors from civil society (unions, industry federations, environment NGOs, etc.).  The idea is to create a plan tailored to the identified conditions and perceived needs of each state that, because of the consultation process, can be implemented by the state with a high degree of buy-in from the local actors.
All plans are to give high priority to offering concrete, practical alternatives to those people in these states which are deforesting primarily for survival (subsistence farming, etc.).  The idea, says UNDP, is to find ways to turn these people into defenders of the forest rather than a source of its destruction.  Large enforcement actions should become the exception, rather than the rule, since they would not be so needed if locals have a stake in protecting the forests.
The state plans are to be linked into the federal Action Plan for Prevention and Control of Deforestation in the Legal Amazon (Plano de Ação para a Prevenção e Controle do Desmatamento na Amazônia Legal – PPCDAm).  ["Legal Amazon" is a Brazilian official term, for Amazonian territory in nine states – AC, Amapá, Amazonas, MT, PA, Rodônia, Roraima, Tocantins and part of Maranhão.]  The PPCDAm covers federal actions such as: the creation of conservation units (UCs); a focus on land use policy; use of tools for tracking and monitoring; promoting, through rural credit, tax incentives, research and technical assistance,  activities that balance conservation and production; and special infrastructure policies (especially regarding transport and energy).
The three state plans are scheduled to be completed by April 2009, with monitoring of its implementation for at least three months thereafter.
Then the Rural Environmental Registry of lands, their ownership and their use will be added for three pilot municipalities selected by their state government.  From the lessons learned with these three pilot municipalities, it is hoped to design and implement a registry system that can be used for municipalities throughout the Brazilian Amazon.
This would help with one of the biggest problems in current enforcement efforts to combat deforestation — knowing who owns a parcel and making him or her responsible for any illegal deforestation occurring on their property.  The information from the registry projects will be shared in an electronic database shared by the national environment agency, IBAMA, the National Agency for Colonization and Agrarian Reform (INCRA), and state environmental organs.
While the US$4.3 million grant was only enough to fund a pilot project with three states, the hope is if they make a success of the pilot project, other funding can be found for the rest of the Legal Amazon states, starting with RO and Tocantins.
________________________
Desde o Programa das Nações Unidas para o Desenvolvimento (PNUD) – Brasil:
MT, PA e AC terão reforço contra desmate

Plano pretende dar opções econômicas à população rural de Mato Grosso, Pará e Acre e iniciar cadastramento das propriedades

Um acordo entre o Ministério do Meio Ambiente e os governos de Mato Grosso, Pará e Acre pretende levar a esses Estados uma experiência federal que ajudou a diminuir em 59% o desmatamento na Amazônia, e iniciar um projeto piloto para tentar contornar uma grande dificuldade da fiscalização atual: distinguir derrubada legal de árvores de derrubada ilegal.

Chamadas Planos Estaduais de Prevenção e Controle do Desmatamento na Amazônia Brasileira e Cadastramento Ambiental Municipal, as iniciativas serão administradas pelo PNUD e estarão ligadas ao PPCDAm (Plano de Ação para a Prevenção e Controle do Desmatamento na Amazônia Legal), programa do governo federal que começou em 2004 e cuja implementação coincide com uma expressiva queda no desmatamento anual da Amazônia — de 27.423 km² (de agosto de 2003 a agosto de 2004) para 11.532 km² (de agosto de 2006 a agosto de 2007), de acordo dados do INPE (Instituto Nacional de Pesquisas Espaciais).

O plano de ação federal abrange atuações como: criação de unidades de conservação e ênfase em política fundiária; uso de instrumentos de monitoramento e fiscalização; fomento, por meio de crédito rural, incentivos fiscais, pesquisa e assitência técnica, às atividades que conciliem conservação e produção; e políticas de infra-estrutura (sobretudo transporte e energia).

Os planos estaduais — que têm como objetivo fundamental deter o desmatamento da Amazônia nos três Estados — serão elaborados a partir da análise da situação local por consultores contratados especialmente para essa tarefa. Os técnicos deverão formular os planos em conjunto com diferentes setores dos governos estaduais (como os órgãos ambientais e as secretarias do desenvolvimento, de tecnologia e do planejamento) e da sociedade civil (sindicatos, federação de indústrias e ONGs). "A idéia é o plano ser construído junto com o Estado para ele ser apropriado pelo Estado. Se não houver o apoderamento do projeto pelo Estado, vira um projeto de gaveta", afirma Sérgio Travassos, consultor do Ministério do Meio Ambiente para esse trabalho.

Os projetos devem priorizar, de acordo com Travassos, o oferecimento de alternativas às pessoas que vivem nessas regiões e desmatam para sobreviver — e não ações esporádicas de fiscalização que, para ele, não resolvem o problema. "A idéia é fazer com que as ações pontuais não sejam mais tanto a regra, e sejam cada vez menos necessárias. É ter a fiscalização, mas junto com isso levar condições a essas populações locais de sobreviver economicamente sem desmatar ilegalmente, trazê-las para defender a floresta e valorizar a floresta em pé."

A previsão é que os planos comecem a sair do papel em abril do ano que vem; os consultores acompanharão sua implementação nos três meses seguintes. Então será iniciado o Cadastramento Ambiental Rural de três municípios, escolhidos pelos próprios governos estaduais (um em cada Estado contemplado pelo projeto), que levantará dados sobre a situação de no mínimo 80% dos imóveis rurais de cada local, com o objetivo de qualificar melhor os desmatamentos que venham a acontecer na região.

Atualmente, os satélites são capazes de mostrar que uma área foi desmatada, mas é difícil dizer quem é o responsável por aquela área, ou se o desmatamento foi legal ou ilegal. Segundo Travassos, com o cadastramento a idéia é estabelecer um marco zero, a partir do qual as eventuais mudanças serão interpretadas. Assim, após o cadastramento será possível encontrar mais facilmente o proprietário de uma área desmatada e responsabilizá-lo.

Apesar de abranger apenas três municípios, o levantamento é visto como um importante passo para controlar de modo mais eficiente o desmatamento amazônico. A expectativa do consultor do ministério é que, após a apresentação dos resultados dessa primeira experiência, seja possível conseguir financiamento para cadastrar novas áreas e dar continuidade ao projeto. Além disso, as informações coletadas devem ser compartilhadas num sistema coletivo, com IBAMA (Instituto Brasileiro do Meio Ambiente e dos Recursos Naturais), INCRA (Instituto Nacional de Colonização e Reforma Agrária) e órgãos estaduais de meio ambiente, fazendo com que todos tenham acesso a dados importantes ao controle do desmatamento e possam cotejas suas próprias informações com as obtidas pelo cadastramento.

Tanto os planos estaduais quanto o cadastramento dos municípios serão financiados pelo governo da Noruega, que doou US$ 4,3 milhões. Travassos conta que, como com esses recursos não seria possível elaborar planos estaduais para todos os nove Estados da Amazônia Legal, foram escolhidos os dois que mais desmatam atualmente (Mato Grosso e Pará) e o Acre, por já ter ações voltadas para a floresta, como uma forma de apoiar as iniciativas existentes. Segundo o consultor, já há outros projetos que prevêem o apoio a Rondônia e Tocantins. Os demais Estados amazônicos (Amapá, Amazonas, Roraima e Maranhão) serão apoiados na medida em que aparecerem novos recursos.
Tags: Acre, Amapá, Amazon, Amazonas, Amazonia, deforestación, deforestation, desmatamento, IBAMA, INCRA, INPE, Maranhão, Mato Grosso, Pará, PNUD, Rondônia, Roraima, Tocantins, UNDP
Subscribe to My Comments Feed
Leave a Reply