« Youth Smoking in Mexico / Tabaquismo y los jovenes en México | Home | Warped Priorities »
By Keith R | May 30, 2007
Topics: Corporate Social Responsibility, Environmental Protection, Packaging, Waste & Recycling | No Comments »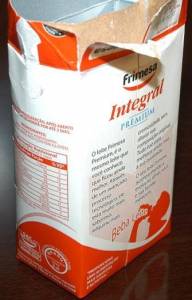 Synopsis in English: In a meeting held in Curitiba in the middle of May, the government of the southern Brazilian state of Paraná gave Tetra-Pak executives (including the Vice President for Central and South America) 60 days to come up with their own proposal to solve the post-consumer waste problem in that state associated with their long-life (aseptic) packaging — or face drastic action by the government, such as banning the sale of such packaging within the state. The Government says that its Zero Waste Program has tried unsuccessfully several times over the last two years to engage the company in dialogue and programs to promote collection and recycling/reuse of post-consumer waste involving their packaging, and it lost its patience. For its part, the company claims that it was all a communications problem, and that the company is willing to work with the government and expects to "quickly find a common denominator" between the two. Tetra-Pak says that of the 500 million aseptic cartons made by the company sold in the Paraná market, 32% are already being recycled. During the meeting Tetra-Pak executives presented Paraná officials with a prototype of a solar water heater made entire of recycled tetrabrik and PET bottles, which the company says can be made employing and training catadores (waste piackers).
Desde a Agência Estaudal de Noticias:
Governo dá prazo de 60 dias para que a Tetra Pak apresente solução para embalagens

Em reunião realizada em Curitiba nesta segunda-feira (14), o secretário do Meio Ambiente e Recursos Hídricos, Rasca Rodrigues, estabeleceu prazo de 60 dias para que a empresa Tetra Pak elabore uma proposta para solucionar a questão do recolhimento e destinação final, além de estimular o reaproveitamento, das embalagens longa vida cartonadas que disponibilizam no Estado.

"Solicitei à empresa a apresentação de uma proposta, até 16 de julho, que contemple uma estratégia de recolhimento. Agora retomamos o diálogo e vamos pensar no presente", destacou. A elaboração da proposta será feita em parceria entre a Coordenadoria de Resíduos Sólidos da Secretaria, (responsável pelo Programa Desperdício Zero) e diretoria de Meio Ambiente da empresa.

O prazo foi definido na reunião realizada em Curitiba entre o secretário do Meio Ambiente e o vice-presidente para a América Central e a América do Sul da Tetra Pak, Nelson Findeiss, que contou ainda com a presença do presidente da empresa no Brasil, Paulo Nigro.

Findeiss antecipou que a empresa irá colaborar. "Iremos elaborar um projeto a quatro mãos e vamos fazer tudo o que for possível. O Paraná sempre foi vanguarda na área ambiental, portanto vamos cooperar e fazer disso um grande sucesso", afirmou Findeiss.

Ele também admitiu que houve falhas na comunicação interna e justificou que não existem gerências administrativas da empresa no Paraná (estão todas em São Paulo). "Nós pecamos na comunicação. Mas agora acredito que caminharemos rapidamente para um denominador comum", comentou.

Segundo informações repassadas pela própria empresa ao governo, a cada ano são colocadas no mercado paranaense 500 milhões de embalagens. Ainda conforme a Tetra Pak, apenas 32% deste total – cerca de 160 milhões de embalagens – são recicladas, restando outras 340 milhões dispostas em aterros sanitários, lixões e no meio ambiente de forma inadequada, gerando um grande passivo ambiental.

A iniciativa para aumentar o recolhimento destas embalagens comercializadas no Paraná, com a participação de fabricantes, é do Programa Desperdício Zero, coordenado pela Secretaria do Meio Ambiente. O objetivo é aproximar as recicladoras da matéria-prima usada por elas, assim como foi feito com as embalagens de agrotóxicos. Atualmente, de cada 100 embalagens de agrotóxico comercializadas no Paraná, 98 são devolvidas pelos agricultores e recicladas.

Histórico – Quando o Programa foi criado, em 2003, a Tetra Pak foi a primeira empresa a ser convidada a formar parceria com o governo do Estado e reduzir o volume de lixo encaminhado aos aterros sanitários – com ações de reutilização do seu produto. Eles não aceitaram.

Em 2004, o então secretário do Meio Ambiente, Luiz Eduardo Cheida, novamente tentou convencer a empresa a desenvolver uma ação conjunta para solucionar o problema das embalagens com ações de educação ambiental.

A terceira tentativa de aproximação com a Tetra Pak foi realizada no ano passado, quando o Programa começou a realizar as oficinas para montagem do aquecedor solar confeccionado materiais recicláveis – como as embalagens longa vida cartonadas e garrafas PET. A idéia era contar com a colaboração da empresa na logística de recolhimento das embalagens que são utilizadas no aquecedor – retirando do meio ambiente milhares de embalagens.

Ainda no final do ano passado, a Secretaria e o Ministério Público decidiram encaminhar dois ofícios à Tetra Pak solicitando informações para dimensionar a cadeia produtiva e buscar alternativas para a reciclagem das embalagens.

Na última semana, a Secretaria do Meio Ambiente informou que estudava a possibilidade de proibir a comercialização de embalagens longa-vida cartonadas no Estado, em razão da falta de responsabilidade ambiental do fabricante do produto. Por lei, a empresa deve ter uma logística de recolhimento das embalagens que coloca no mercado – o que não acontece.

Aquecedor solar – Durante a reunião, Rasca apresentou ao vice-presidente da Tetra Pak um protótipo do aquecedor solar feito à base de materiais recicláveis que a Secretaria vem divulgando em todo Estado através de capacitações.

Para a montagem do sistema com capacidade para esquentar a água para banho de quatro pessoas são utilizadas 200 embalagens longa vida e 200 garrafas PET. "O sistema é o mesmo dos aquecedores solares produzidos industrialmente, conhecidos tecnicamente de termo-sifão. A diferença está no material utilizado", explicou Rasca.

Findeiss disse estar animado e impressionado com os aquecedores feitos com as embalagens cartonadas e garrafas PET. "Acho que tem que ser divulgado e quem sabe expandido para todo o país", completou.

Além de utilizar garrafas PET e embalagens longa-vida pós-consumo que iriam para o aterro, o aquecedor solar também representa alternativa de trabalho e geração de renda para associações de coletores.
Tags: aquecedor solar, aseptic cartons, aseptic packaging, aterros sanitários, basura cero, Brasil, Brazil, catadores, Curitiba, desperdício zero, destinação final, educação ambiental, embalagem longa vida, embalagens de agrotóxicos, garrafas PET, materiais recicláveis, Ministério Público, packaging waste, Paraná, reaproveitamento, reciclagem, reciclaje, recolhimento, recycled materials, recycling, resíduos de embalagens, residuos de envase, responsabilidade ambiental, reutilização, solar water heater, Tetra-Pak, zero waste
Subscribe to My Comments Feed
Leave a Reply