« Passive Smoking Evidence from Entre Rios, Argentina | Home | Energy Efficiency Grant for Argentina / Donación para eficiencia energética en Argentina »
By Keith R | June 24, 2008
Topics: Biodiversity, Conservation, Environmental Protection, Marine/Coastal Issues | 2 Comments »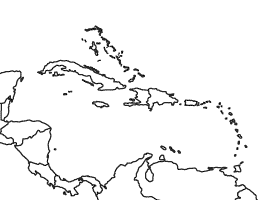 Yes, I know, this announcement was made publicly at the end of May. I held off talking about here, in part to work first on older backlog from The Temas Blog queue, and in part to see if, as hinted, Antigua and Barbuda, St. Kitts and Nevis, Dominica and St. Lucia would quickly announce that they were joining the Bahamas, Dominican Republic, Jamaica, Grenada and St. Vincent in this initiative. But I grew impatient waiting for them to step up to the plate, so here it is.
I hope that not only that the aforementioned four nations will formally sign on very soon, but also that they will be in short order be joined by much of the rest of the Caribbean, such as Barbados, Belize, Cuba, Trinidad and Tobago — well, all the Caribbean Basin nations and territories with significant reefs, mangroves and other marine and coastal habitats to protect (just peruse the Temas collection of reef maps if you want an idea of who should be part of this initiative).
Normally I would be more skeptical of government promises of protecting marine resources, but this initiative has a few things going for it that just might make it work:
money — from The Nature Conservancy (TNC) (kudos to TNC for stepping up first to make this happen!), probably the German Government and Global Environment Facility (GEF) as well and maybe even the US Government and World Conservation Union (IUCN) (these latter two helped sponsor the event at which the Challenge was launched);
technical help, not only from TNC, but also probably from the UN Environment Programm's (UNEP) Caribbean office (CEP), the UN Development Programme (UNDP) and groups such as Reef Check;
mutual reinforcement, not only among themselves, but also from other members of the Global Island Partnership (GLISPA) (kudos to GLISPA for inspiring some concrete initiatives);
the desire not to fail where the two Pacific initiatives on which the Caribbean Challenge was modeled appear to be succeeding.
Or am I letting optimism get the better of me?
________________________

From The Nature Conservancy (TNC):
Caribbean Nations Launch Unprecedented Challenge Initiative to Protect Marine and Coastal Resources

The Nature Conservancy joins Caribbean leaders to launch "Caribbean Challenge" at United Nations COP-9 conference

Today, The Nature Conservancy and Caribbean leaders announced the launch of the Caribbean Challenge, an effort by regional governments to build political support and generate long-term funding to protect at least 20 percent of participating countries' marine and coastal habitats by 2020.

"The Caribbean Challenge will endow more than US$40 million in protected area trust funds to ensure that important marine and coastal habitats are protected in perpetuity," said Stephanie Meeks, acting president and CEO of The Nature Conservancy. "This is a small investment today for the priceless, long-term benefit of protecting the fish stocks and tourism-related livelihoods of the more than 10 million people living within the Challenge's participating nations."

Over the next four years, the Conservancy will work alongside Caribbean governments in The Bahamas, the Dominican Republic, Jamaica, Grenada and St. Vincent and the Grenadines — with several other nations slated to endorse the Challenge in the coming weeks — to set aside nearly 7.4 million acres (3 million hectares) of marine and coastal habitat in protected areas, improve fisheries management and establish sustainable finance mechanisms.

The Caribbean Challenge is the third large-scale regional initiative to be launched in the past three years, adding to a global trend of island leaders standing up and pledging to protect vast percentages of their marine and coastal resources.

The Caribbean Challenge was inspired by the "Micronesia Challenge," launched by Palau President Tommy Remengesau in 2006 to protect 30 percent of marine resources and 20 percent of terrestrial resources in the Northern Pacific by 2020, and the "Coral Triangle Initiative," which was unveiled at the COP-13 climate change conference in Bali in 2007 to bring together Indo-Pacific governments in a multilateral partnership to safeguard the area's rich marine resources.

Together, these initiatives, which span regions containing 83 percent of the world's coral biodiversity and 82 percent of the world's mangrove species, have the potential to protect a significant portion of the world's marine biodiversity and the livelihoods of over 130 million people living within these areas.

In the Caribbean, destructive fishing methods, pollution and climate change are posing enormous threats to the area's coral reefs, which nurture marine life, attract tourists and provide local jobs. Marine Protected Areas are considered to be an effective method for combating these threats, by establishing no-take fishing zones and promoting restoration of coral reefs and marine ecosystems. However, only 7 percent of the Caribbean's marine resources have official marine protected area status, and just one in six of these protected areas are considered by scientists to be effectively and sustainably conserved for the long-term. This puts the Caribbean's marine habitats and coral reef resources at great risk, threatening island economies as well as the region's unique plants and animals.

"The Caribbean Challenge supports these countries in their efforts to protect their coasts for the long-term," said Rebecca Patton, Chief Conservation Strategies Officer for The Nature Conservancy. "Their leadership is an inspiration, and has the potential to spark similar initiatives in other countries within the Caribbean, and around the globe."

At the invitation of Caribbean nations, The Nature Conservancy is coordinating with participating countries to execute the Caribbean Challenge, which represents the largest coordinated, multi-nation conservation campaign in the region.

Countries that sign-on to the Challenge will gain access to millions of dollars in new funding to meet their conservation goals, leading to more rangers, patrol boats, scientific expertise and education programs that will help to ensure effective protection of marine and coastal resources. So far The Bahamas, the Dominican Republic, Jamaica, Grenada and St. Vincent and the Grenadines have endorsed the Challenge, while Antigua and Barbuda, St. Kitts and Nevis, Dominica and St. Lucia consider the initiative and are reported as likely to sign on.

The Conservancy has pledged US$20 million to launch and support the Caribbean Challenge, with $8.6 million of this pledge directed toward capitalizing protected area trust funds and leveraging additional dollars. The German government is considering a matching grant of $8.6 million for the trust funds. In addition, these Caribbean countries are working with the Global Environment Facility and its implementing agencies to access additional support for conservation and sustainable livelihoods projects that will advance the goals of the initiative.

The Caribbean Challenge was launched today at a high level event held by the Global Island Partnership (GLISPA), a group of island nations and nations with islands — small and large, developing and developed — to mobilize leadership, increase resources and share skills, knowledge, technologies, and innovations in a cost-effective and sustainable way that will catalyze action for conservation and sustainable livelihoods on islands. In addition to providing funding for the Caribbean Challenge, the Conservancy also committed $500,000 to support GLISPA, recognizing the important role that the partnership plays in supporting and catalyzing island commitments to nature conservation and sustainable livelihoods.

"Globally, the island nations most threatened by climate change are doing the most to protect their coasts," added Patton. "They are on the front lines and feeling the heat, but they're taking proactive measures to protect their resources."
Tags: Alemania, Antigua and Barbuda, arrecifes coralinos, Bahamas, Caribbean, Caribbean Challenge, Caribe, coastal ecosystems, coral reefs, Dominica, Dominican Republic, ecosistemas costeros, GEF, Germany, GLISPA, Grenada, Jamaica, manglares, mangroves, marine protection areas, República Dominicana, St. Kitts and Nevis, St. Lucia, St. Vincent and the Grenadines, TNC
2 Responses to "The Caribbean Challenge"
Global Voices Online Says:
July 6th, 2008 at 22:40

[…] Temasactuales writes that he would normally be skeptical about such a governmental endeavor of this monetary […]

Global Voices in Italiano Says:
July 11th, 2008 at 6:45

[…] blogger Temasactuales aggiunge che solitamente vedrebbe con scetticismo un investimento governativo di queste proporzioni (40 […]
Leave a Reply