« BNDES Supports Cogeneration Using Sugarcane Waste | Home | Digitizing the Fight Against Chagas »
By Keith R | July 8, 2008
Topics: Environmental Protection | No Comments »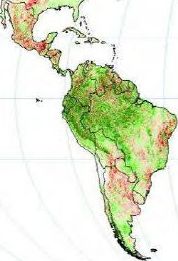 I must admit that, just as was the case with deforestation, in the past I paid very little attention to the issue of land degradation. I won't bore you with the explanations and excuses as to why, just suffice it to say that it was not high enough on my list of priority environment issues.
From what I've read in a report* just released by the UN Food and Agriculture Organization (FAO), that needs to change.
The report is part of FAO's Global Assessment of Land Degradation and Improvement (LADA), funded by the Global Environment Facility (GEF) and produced using remote sensing data with the help of the UN Environment Programme (UNEP). The report defines land degradation as "a long-term decline in ecosystem function and productivity and measured in terms of net primary productivity" (NPP). NPP in turn is defined as "the rate at which vegetation fixes CO2 from the atmosphere less losses through respiration."
Why do I think the report shows a need for me (and us all) to get up-to-speed on the issue? It's not just the seriousness of land degradation globally, and its linkages to global climate change, water supply, agricultural production and food security, although all that merits attention and action.
No, it's how serious the issue is to the region I love, Latin America and the Caribbean (LAC).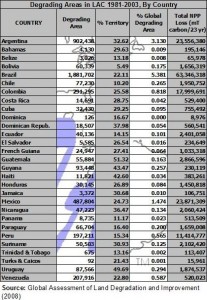 How so? Well, first off, one of the areas identified as experiencing serious degradation is the Pampas of South America.
Other reasons emerge if one examines the handy table for LAC nations I made using the report's data (click on image at right to enlarge). Brazil's degrading area alone constitutes over 5% of the global figure, Argentina's over 3%.
Just as startling is the percentage of national territory represented by degraded land: 51.32% for Guatemala and 49.69% for Uruguay (the country trying so hard to market itself as an environmentally responsible nation), with Argentina (32.62%), the Bahamas (29.63%), Costa Rica (28.75%), Cuba (29.25%), Dominican Republic (37.98%), Guyana (43.47%), Haiti (42.60%), Honduras (26.89%), Jamaica (30.68%), Nicaragua (36.47%) and Suriname (30.93%) all above one-fourth of their national territory degraded.
Not a minor issue for LAC, then, by any stretch of the imagination.
Although most LAC nations have ratified the principal international instrument for cooperation and action on this issue, the 1994 UN Convention to Combat Desertification (UNCCD) [Mexico was actually the first nation to ratify], few have translated their ratifications and lofty words of concern into concrete action to prevent further degradation and turn back degradation already in progress.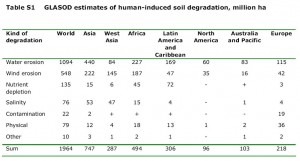 A few key findings of the report:
Land degradation is cumulative. A 1991 assessment indicated that 15% of the land surface was degraded; the 24% identified by the present assessment hardly overlaps. This implies that land degradation over the past 23 years has mainly affected new areas; while some areas of historical land degradation have been so severely affected that they are now stable at stubbornly low levels of productivity.
Almost 20 per cent of degrading land is cropland – more than 20% of all cultivated areas; 24% is broadleaved forest, 19% needle-leaved forests, 20-25% rangeland. Cropland occupies only 12% of the land area, so degradation is over-represented in cropland globally.
Some 16% of the land area shows an increase in climate-adjusted net primary productivity. 18% of the improving land is cropland (20% of the total croplands), 23% is forest and 43% rangeland.
There is only a weak correlation with biophysical factors other than land cover: 78% of degrading land is in humid regions, 8% in the dry sub-humid, 9% in the semi-arid, and 5% in arid and hyper-arid regions. There is no obvious relationship between degrading land and the nature of soil or terrain – degradation is driven mainly by management.
_____________
* Bai ZG, Dent DL, Olsson L and Schaepman ME 2008. Global assessment of land degradation and improvement 1: identification by remote sensing. Report 2008/01, FAO/ISRIC
_________________________
From the UN Food and Agriculture Organization (FAO):
Land degradation on the rise

One fourth of the world's population affected, says new study

Land degradation is intensifying in many parts of the world, according to a study using data taken over a 20-year period, FAO announced this week.

Defined as a long-term decline in ecosystem function and productivity, land degradation is increasing in severity and extent in many parts of the world, with more than 20 percent of all cultivated areas, 30 percent of forests and 10 percent of grasslands undergoing degradation.

An estimated 1.5 billion people, or a quarter of the world's population, depend directly on land that is being degraded.

The consequences of land degradation include reduced productivity, migration, food insecurity, damage to basic resources and ecosystems, and loss of biodiversity through changes to habitats at both species and genetic levels.

"Land degradation also has important implications for climate change mitigation and adaptation, as the loss of biomass and soil organic matter releases carbon into the atmosphere and affects the quality of soil and its ability to hold water and nutrients," notes Parviz Koohafkan, Director of FAO's Land and Water Division.

The data indicate that despite the stated determination of 193 countries that ratified the United Nations Convention to Combat Desertification of 1994, land degradation is worsening rather than improving.

Some 22 percent of degrading land is in very arid to dry-subhumid areas, while 78 percent of it is in humid regions. The study found that degradation is being driven mainly by poor land management.

Comparing with previous assessments, the present study shows that land degradation since 1991 has affected new areas; meanwhile some historically degraded areas were so severely affected that they are now stable having been abandoned or managed at low levels of productivity.

The data on global land degradation are part of a study released by FAO, the United Nations Environment Programme and the World Soil Information (ISRIC) on global land degradation entitled Land Degradation Assessment in Drylands. Funding for the study was provided by the Global Environment Facility.

Bright spots

But the news is not all bad. Bright spots were also identified in the study in cases where land is being used sustainably (19% of cropland) or is showing improved quality and productivity (10% of forests and 19% of grassland).

Many gains in cropland are associated with irrigation, but there are also swaths of improvement in rain-fed cropland and pastures in the prairies and plains of North America and western India. Some gains are a result of increasing tree cover, either through forest plantations, especially in Europe and North America, and some significant land reclamation projects, for instance in northern China. However, some of the positive trends represent woodland and bush encroachment into rangeland and farmland – which is not generally regarded as land improvement.

The study shows that land degradation remains a priority issue requiring renewed attention by individuals, communities and governments.
____________________________
Desde la Organización de las Naciones Unidas para la Agricultura y la Alimentación (FAO):
Aumenta la degradación del suelo

Un cuarto de la población mundial está afectada, según un nuevo estudio

La degradación del suelo está aumentando en muchas partes del mundo, según un nuevo estudio que recoge datos de un período de 20 años hecho público hoy por la FAO.

Definida como el declive a largo plazo en la función y la productividad de un ecosistema, la degradación del suelo está aumentando en severidad y extensión en muchas partes del mundo, con más del 20 por ciento de las tierras agrícolas afectadas, el 30 por ciento de los bosques y el 10 por ciento de los pastizales.

Cerca de 1 500 millones de personas, un cuarto de la población mundial, dependen directamente de suelos sujetos a degradación.

Las consecuencias de este fenómeno incluyen una disminución de la productividad agrícola, la migración, la inseguridad alimentara, los daños a recursos y ecosistemas básicos, y la pérdida de biodiversidad debido a cambios en los hábitat tanto a nivel de las especies como a nivel genético.

"La degradación del suelo tiene también importantes implicaciones para la mitigación y la adaptación al cambio climático, ya que la pérdida de biomasa y de materia orgánica del suelo desprende carbono a la atmósfera y afecta a la calidad del suelo y a su capacidad de mantener el agua y los nutrientes", señaló Parviz Koohafkan, responsable de la División de Tierras y Aguas de la FAO.

Los datos del estudio indican que a pesar de la determinación de los 193 países que han ratificado de la Convención de Naciones Unidas para combatir la desertización de 1994, la degradación del suelo está empeorando en vez de mejorar.

Cerca del 22 por ciento de las tierras sujetas a degradación se encuentran en zonas muy áridas o zonas subhúmedas secas, mientras que el 78 por ciento está en regiones húmedas. El estudio desvela que la principal causa de la degradación del suelo es la mala gestión de la tierra.

En comparación con evaluaciones previas, el presente estudio desvela que la degradación del suelo ha afectado a nuevas zonas desde 1991, mientras que algunas áreas muy degradadas históricamente se encuentran ahora estables tras haber sido abandonadas o explotadas con un bajo nivel de productividad.

Los datos sobre la degradación del suelo a nivel mundial son parte de un informe presentado por la FAO, el Programa de Naciones Unidas para el Medio Ambiente (PNUMA) e Información Mundial del Suelo (ISRIC). El estudio se denomina Evaluación de la Degradación del Suelo en Zonas áridas (LADA, por sus siglas en inglés), y cuenta con financiación de Global Environment Facility.

Buenos ejemplos

Pero las noticias no son tan malas. El estudio ha identificado una serie de lugares en donde el suelo se utiliza de forma sostenible (19 por ciento de las tierras agrícolas), o se está alcanzando mayor calidad y productividad (10 por ciento de los bosques y el 19% de los pastizales).

Muchos de los avances en tierras agrícolas están asociados con el riego, aunque también hay ejemplos de mejoras en tierras agrícolas de secano y los pastizales en las praderas de las Grandes Llanuras en Norteamérica y en India occidental. Algunas de las ganancias corresponden al incremento de la cubierta forestal, ya sea a través de plantación de bosques, en especial en Europa y Norteamérica, y algunos proyectos de bonificación de tierras, como sucede en el norte de China. Sin embargo, algunas de las iniciativas positivas se basan en la invasión por bosques y matorrales de zonas de pastos y tierras agrícolas, lo que por regla general no se considera una mejora del suelo.

El estudio demuestra que la degradación del suelo continúa siendo un asunto prioritario que requiere atención renovada por parte de los individuos, las comunidades y los gobiernos.
Tags: Bahamas, biodiversidad, Biodiversity, biomasa, biomass, Brasil, Brazil, cambio climático, carbon dioxide, China, Climate Change, CO2, Costa Rica, cropland, Cuba, cubierta forestal, degradação do solo, degradación del suelo, desertización, Dominican Republic, drylands, environment, FAO, farmland, food insecurity, forest cover, GEF, grasslands, Guatemala, Guyana, Haiti, Honduras, India, inseguridad alimentara, ISRIC, Jamaica, LADA, land degradation, medio ambiente, meio ambiente, Nicaragua, Norteamérica, North America, NPP, Pampas, pastizales, plains, PNUMA, prairies, productividad agrícola, rangeland, Suriname, tierras agrícolas, UNEP, Uruguay, zonas subhúmedas secas
Subscribe to My Comments Feed
Leave a Reply