« Eye on Ads: E-Waste | Home | LAC Ratification of the Framework Convention on Tobacco Control »
By Keith R | November 8, 2006
Topics: Biotechnology, Environmental Protection, Food/Beverage Issues, Hazardous Substances, Health Issues, Occupational Safety & Health, Pharmaceutical Issues, Sanitation, Tobacco Control | No Comments »
On Thursday the Geneva-based World Health Organization (WHO) will elect a new chief executive (Director-General – DG) and the campaigning has been more intensely and publicly contested than in prior elections. One of the leading candidates and lightning rods of the campaign is Mexico's Health Minister, Dr. Julio Frenk.

So what?
You may ask why you should care about WHO and the person leading it, and why are you reading about this in The Temas Blog? Some might even be saying, who cares about WHO when we have our own Pan American Health Organization (PAHO) here in this hemisphere?
I could answer you short and snippy like some blogs do, and respond that Frenk is a Latin American and WHO deals with global standards/campaigns for public health, sanitation, food safety, pharmaceuticals, tobacco control, occupational safety and health (OSH), environmental health and biosafety, all of which are topics covered by this blog, so there! But I won't. You deserve a more substantive answer.
WHO matters to us all, whether we realize it or not and whether we care to admit it or not:
Whenever there's an international epidemic – whether SARS, avian influenza ("bird flu"), Ebola, cholera, etc. — countries call on WHO to plan a central coordination and technical advisory role.
WHO was instrumental in the successful international efforts to eradicate smallpox and polio.
WHO has long worked on coordinating international R&D efforts to tackle so-called tropical diseases important to LAC nations, such as malaria, dengue, Chagas, and leishmaniasis.
WHO, together with UNICEF, has long played a central role in international child immunization (vaccination) efforts.
National lists of "essential medicines" used to focus the medicine budget and stocking priorities of national health program and clinics throughout the LAC region, are based on a Model List developed and frequently updated by WHO.
WHO's evaluation ("prequalification") of the safety of antiretroviral medicines (ARVs) often determine which are procured by LAC governments.
WHO was the driving force behind the negotiations and adoption of the Framework Convention on Tobacco Control (FCTC) that has in turn spurred so many LAC nations to adopt tougher controls on tobacco and smoking.
The biosafety guidelines and manuals used by medical and biotech laboratories throughout LAC are usually based on those developed and updated by WHO.
WHO's International Agency for Research on Cancer (IARC) coordinates international research work to identify and evaluate carcinogenic agents.
WHO and UNICEF have the international lead on the technical side in the implementation of the Millennium Development Goals (MDGs) regarding drinking water and sanitation.
WHO sets health criteria and guidelines — for such things as air and water contaminants, drinking water quality, proper management of hazardous wastes — and occupational exposure limits (for chemical, biological and physical agents) that are often copied, referenced or simply cut-and-pasted wholesale into national laws and regulations in LAC nations. [See, for example, my prior discussion of the revised WHO air quality guidelines (AQGs) and Peru's use of WHO AQGs.
Which narcotics and psychotropic substances are outlawed or controlled under international conventions are usually decided on the basis of WHO technical recommendations.
Most national pesticide residue limits for foods are based on scientific work done jointly by WHO and the UN Food and Agriculture Organization (FAO).
I actually could list a number of other ways WHO affects you and LAC, but hopefully by now you get the picture.
As for those you wondering why care about WHO when LAC has PAHO, well, while the latter is older than WHO (yes, you heard right!), PAHO has long served as WHO's regional office for the Americas and they work in tandem, usually hand in hand. So yes, changes in WHO's leadership will have an impact on PAHO as well.
Frenk's campaign website (click image to visit)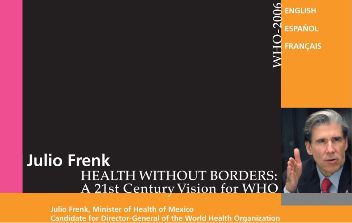 The Why's and Wherefore's of this Election
The current election is unique in WHO's history. It is being held to fill the void created when Dr. LEE Jong-Wook (South Korea) died suddenly on 22 May 2006 after only three years into a five-year term as DG. Although one of WHO's Assistant DGs was made acting DG, WHO's chief managing body, the Executive Board (EB), decided in late May to hold a special election for DG later in the year.
Normally political maneuvering for the DG post starts behind-the-scenes as much as a year ahead, even though the official nomination period is only six months. Any WHO member state government can put forth a candidate, but in the past some or all of WHO's six regions would decide who they'd get behind as a bloc so that there was not intra-regional competition for the post.
The EB then would meet in January of the year a DG's term is to end in order to to decide on who they'd recommend as the Organization's new DG. Under the rules, the EB's recommendation has to be approved by WHO's top decision-taking body, the annual World health Assembly (WHA) before the nominee can become DG. In the past, the WHA has always approved the EB nominee, although a time or two with some spirited lobbying and debate. But nothing in WHO rules prevents the WHA from rejecting the EB nominee and going on to vote in their own choice.
This time around the process is compressed and different. Once the EB announced procedures and the nomination period opened in June, 13 candidates announced their intention to run — an unusually large number of candidates. The list also included more than one candidate in each region. In LAC, for example, both Frenk and the President Alfredo Palacio of Ecuador vied for the spot, although the latter has since dropped out. Europe actually fielded five candidates.
A special session of the EB was convened yesterday (Monday) to narrow the field. It has already dropped to five: (1) Dr. Kazem Behbehani (Kuwait); (2) Dr. Margaret Chan (China); (3) Dr. Frenk; (4) Dr. Shigeru Omi (Japan); (5) Ms. Elena Salgado Méndez (Spain). Intensive interviews of the five were conducted Tuesday, and Wednesday 08 November the EB will pick its recommendation and submit it to a special session of the WHA on Thursday 09 November for a vote. The special WHA must also resolve the question of the length of the new DG's term: just serve out the rest of Lee's term, with possibly of re-election? or serve a full five years?
The Frenk Candidacy
Dr. Frenk is not new to WHO nor the race for DG. He has worked before for WHO and in 2003 he was on the short list of candidates for DG. His CV is impressive, as is his record in reforming Mexico's health care system. Like some of the other candidates, Frenk produced a "campaign website" to promote his candidacy, although his is probably better designed and more informative than the others. He includes a detailed manifesto of his plans for WHO in English, Spanish and French, and a series of short videos of him explaining (in flawless English) key points of his stances:
Click to listen to Dr. Frenk on "A Paradigm Shift in Health" (English)
Click to listen to Dr. Frenk on "Health as a Means to Fight Poverty" (English)
Click to listen to Dr. Frenk on "The Globalization of Health" (English)
Click to listen to Dr. Frenk on "Health is a Human Right and Universal Value" (English)
A Smoking Gun or Just Blowing Smoke?
One group that has worked to derail the Frenk candidacy has been NGOs opposing tobacco products and smoking, led by the Campaign for Tobacco-Free Kids. They are upset at Frenk because of a deal he negotiated with tobacco companies operating in Mexico. In return for the companies agreeing to contribute US$400 million to health and social programs in return for dropping a proposed ban on billboard ads and a short-term moratorium on raising taxes on tobacco products (and, reportedly, for softening their opposition to other anti-smoking legislation). It sets a bad precedent for other countries, they argue, and they question whether they could trust a DG that has cut deals in the past with tobacco MNCs.
Their efforts resulted in a Wall Street Journal (WSJ) story along similar lines. Frenk, however, defended his record on tobacco control well in an interview with the International Herald Tribune (IHT).
I'm somewhat familiar with Frenk's record on tobacco reform, and in my judgment, the NGOs are making more of this than they should. I did not like the tax deal, but then I know that President Fox badly needed revenue to fund healthcare reform and social programs but had been rebuffed twice by Congress, in part due to the muscle of the tobacco and alcohol lobbies. And Frenk has a pretty good anti-tobacco record: an early advocate of the FCTC, pushed for its ratification, banned radio and TV advertising, increased visibility of warning labels, raised taxes on filtered cigarettes, increased the number of smoking cessation clinics supported by the state, and took steps to block sales to, and smoking by, minors. Yes, the FCTC calls for such steps, but none of them were easy to achieve in Mexico and in fact, many other large LAC nations, including Argentina, Brazil, Colombia and Venezuela, have yet to do so (on a national level, at least).
Judge for yourself: read Frenk's answers to questions put to him by the anti-tobacco NGOs.
And for Frenk's answers to health policy questions, including pharmaceuticals policy matters, put to all DG candidates by the People's Health Movement (PHM), click here.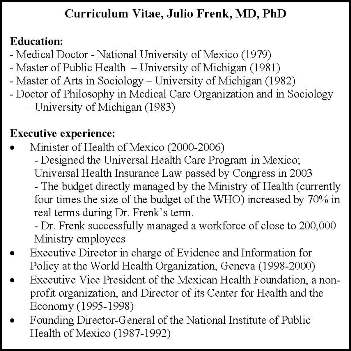 Judging Him on His Merits?
The prestigious medical journal, The Lancet, put a list of questions about WHO reform and future policy directions to each of the original 13 candidates. Click here to read Frenk's answers to The Lancet's questions.
Richard Horton, the Lancet's Editor, recently called for WHO's Executive Board to judge the candidates based on what they should be evaluated upon, rather than on what single-issue parties opine or the secret political horse-trading traditionally attributed to WHO DG elections.
Horton rated the candidates in three technical aspects: (1) does he/she have 5-10 years experience of global health practice or research; (2) does he/she have proven scientific capacity and competence, particularly in translating it into policy; (3) does he/she have direct experience in managing a health system in a low- or middle-income country. He also rated the candidates in three administrative skills: (1) high-level political experience; (2) proven ability to manage a complex organization while delivering results; (3) strong communication/advocacy skills.
He found that only candidate among the original 13 proposed fit all six criteria: Frenk. To read his analysis (free registration required), go to this link.
I would also suggest reading closely the comments to Horton's article, particularly those by Joshua Cohen, former senior advisor (and during the 1980s some said he was the "power behind the throne") to former WHO DG Hafden Mahler, and Dr. Pierre Boutros Mansourin, formerly Director of Research Policy Coordination at WHO. Mansourin, who served under five DGs, declares that Frenk "is in my view a spiritual heir to this distinguished and varied line of leaders, having participated in WHO's life in various capacities (scientific, administrative and political) and having also acquired precious experience at the helm of a big national health system, at minister's level."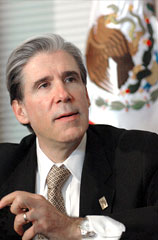 And the Winner Is?
Will Frenk succeed in getting the post this time?
Perhaps. Since both the EB and WHA votes will be by secret ballot, there is no way of knowing what sort of backroom deals might be made to win votes. As mentioned before, if history is any guide, the EB's pick will be rubberstamped by the WHA. But then, this WHO DG election has hardly been traditional in other respects.
In the Monday EB vote to winnow down the candidates list, the top vote-getters were Chan and Omi, followed by Frenk and Behbehani. While both China and Japan reportedly have made a lot of informal offers to line up votes, one has to wonder if the Americas and African members of the Board are ready for another Asian DG, much less another Japanese. [It is widely rumored that Chan entered the race primarily to derail the chances for Omi, by splitting Asian votes.] There is also the factor that an Asian has been picked to be the next UN Secretary-General, and in UN politics, this usually means the other regions rule out someone from the SG-designate's region for next major open UN post (in this case, WHO DG).
Europe has also had more than one turn at WHO DG, and many feel Salgado does not have as strong credentials as Frenk.
So it may just be that, for the first time, a LAC official will head a major United Nations specialized agency. Stay tuned on Thursday!
— Keith R
Tags: air quality guidelines, ARVs, biological agents, biosafety, biosegurança, bioseguridad, bird flu, Chagas disease, chemical agents, China, cholera, dengue, drinking water, Ebola, Ecuador, enfermedad de Chagas, environmental health criteria, essential medicines, FAO, FCTC, food safety, IARC, immunization, Japan, Julio Frenk, Kuwait, leishmaniasis, malaria, Margaret Chan, MDGs, Mexico, Millennium Development Goals, narcotics, OMS, OPS, OSH, PAHO, pharmaceuticals, physical agents, prequalification, psychotropic substances, public health, salud pública, saneamiento, Sanitation, SARS, saude, smoking, Spain, tabaco, tobacco, Tobacco Control, tropical disease, UNICEF, vaccination, WHO
Subscribe to My Comments Feed
Leave a Reply