« Bahia to Adopt Paraná's Zero Waste Program Model | Home | Alcohol Consumption in Brazil IV: Drinking-Related Problems; Policy Responses »
By Keith R | October 14, 2007
Topics: Biofuels, Energy & the Environment, Environmental Protection | No Comments »
The UN Economic Commission for Latin America and the Caribbean (ECLAC/CEPAL) recently released a report* it commissioned from a consultant that evaluates the prospects for biodiesel development in Central America generally, and individually in Costa Rica, El Salvador, Guatemala and Honduras. All four nations have expressed strong interest in replacing imported fossil fuels with locally produced biofuel.
The report examines feasibility in terms of which crops would best serve as primary material for each country and whether the agricultural conditions (including appropriate lands and soils) are available; whether the crops would harm food production and/or exports; whether appropriate legal framework is in place; whether the necessary technical standards and capacity to guarantee fuel quality; and under what conditions (if any) production would be economically competitive.
There is some environmental discussion too, although it's clear to me it took a back seat in this analysis. Even so, it's an interesting, detailed analysis that I am adding to the energy section of the Temas Recommended Reading List.
Points in Common
The report finds several aspects shared by the four countries. To begin with, all four countries already have taken the "first steps": possible primary materials identified, evaluation of the quantity/quality of lands needed; pilot plants to test the concept; some experimentation with captive fleets; the creation of integrated high level commissions to plan the different stages.
Second, collectively they have already developed Central American Technical Regulation that defines technical specs for biodiesel (B100) and its mixtures with diesel fuel. The Regulation is generally well-regarded as a solid composite of a US standard (ASTM D 6751-06) and a European standard (EN 14214:2003). It still awaits final approved by the Central American Integration System's Council of Ministers of Economic Integration (COMIECO), though, and must be faithfully implemented by the member states if consumers are to be assured the minimum quality of biodiesel.
Third, and related to the second, is an infrastructure problem they all share: the lack of national laboratories needed to perform regular testing and certification of biodiesel quality.
Fourth, all four have sufficient experience/technical capacity to handle the technologies involved in production of the inputs needed.
Costa Rica
While Costa Rica does not yet have a biofuel law, a bill to create one is pending in the Legislative Assembly. The Environment Ministry (MINAE) has also prepared a series of general policies to promote biofuel. An existing decree would permit biodiesel mixtures of up to 5%, but more than that would require new rules.
Costa Rica has been cultivating the African palm for about 60 years, and produces 175,000 metric tons of crude palm oil every year. Currently most of that is mixed with other oils for making cooking oil or used in food production.

The availability of land is not a critical issue for biodiesel development in Costa Rica. More African palms can be planted without displacing other crops, while the areas chosen for Jatropha are not good for food crops. The cultivation area needed for each in order to achieve a B5 biodiesel blend is shown in the two tables at right (click to enlarge). The author cautions that the palm numbers depend on oil productivity being raised from the current average of 4,000 liters per hectare to 5,725 liters. As for the Jatropha number, he warns that the numbers are tentative, based on available data and a series of assumptions (38% by weight of the seed is oil, productivity will be 1.5 metric tons per hectare, successful oil extraction of 85%, etc.).
He notes that in these estimates, the area needed to plant Jatropha in order to meet projected B5 demand would be 10 times greater than that for African palms, although he opines that the palm numbers are probably too optimistic and the Jatropha number too pessimistic.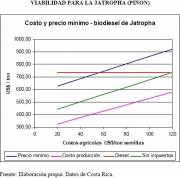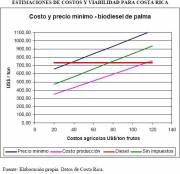 The study suggests that in the case of Costa Rica, the more probable barrier would be more economic in nature — i.e., that the cost of producing biodiesel with palm oil or Jatropha might be too much more than the price of regular diesel unless the government gave special tax breaks to biodiesel (click on charts to enlarge). Basically, if the agricultural production costs can be kept under US$58 per metric ton of fruit, then the resulting biodiesel will be economically competitive even with the full tax burden. Absent the normal tax burdens, the agricultural production costs can be allowed to rise to as much as US$120 per metric ton. The author cautions, though, that if the international price of oil slips significantly then all bets are off.
El Salvador
El Salvador has several legal and technical challenges to tackle regarding its desire to pursue biodiesel. For one it has not yet adopted a biofuel law or regulation, nor has it decided key questions such what kind of mixture to allow/encourage, how to guarantee fuel quality and under what rules would the fuel be sold in service stations.
A key issue for El Salvador is availability of land to cultivate oilseeds for biodiesel use. Most of what is available is already used for food production (and yet El Salvador remains dependent on food imports) and production of sugar and coffee for export. Simply to meet projected B5 demand, 54,000-63,000 hectares would have to be planted in the case of castor seed (higüerillo), 25,700-30,000 for Jatropha. In either case, the author warns, the scale of such planting "should be planned very carefully" and target mostly marginal lands if El Salvador is not to compromise lands for food production.
While El Salvador has some vegetable oil production, it is small and the country depends primarily on imports for its oils (soy, palm, olive, sunflower). The only crops that currently could possibly present the economic conditions necessary to act as primary material for biodiesel are cotton and coconut oil. Nonetheless, the Agriculture Ministry (MAG) would like to promote production of higüerillo and Jatropha with a view to possible biodiesel production.
El Salvador already has two biodiesel production plants, one a pilot plant with small production capacity (400 liters per day) paid for by Finland and an industrial plant of medium-large capacity (37,850 l/d) bought from Argentina. The former was intended to be used with castor seed, but poor results prompted a switch to tests with palm (which worked well).
Getting reasonably priced primary materials for the larger plant has been a problem, but Salvadoran officials are pinning their hopes on Jatropha. While the study's author acknowledges that Jatropha is already well-known in El Salvador and valued for its resistance to drought and ability to grow in poor soils., he notes that Salvadorans have little experience in cultivating it with methods, management, variety selection and adaptation with a view to improving productivity of its fruit and oil output. Hence he suspects that El Salvador will have to go up the learning curve a bit before it can fruitfully produce biodiesel from Jatropha as primary input.
The author doubts that El Salvador's finances will all enable it to afford to grant tax breaks to biodiesel production.
A key environmental argument for pushing biodiesel (reduced vehicle emissions) in El Salvador is undermined by the fact that so much of the motor fleet is old and not well maintained.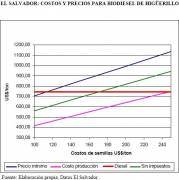 The author calculates that Jatropha could be economically viable without tax breaks if El Salvador can achieve agricultural production costs of about US$54 per metric ton (mT) of dry seed, and up to US$100 per mT if exempt from usual Salvadoran taxes (click on chart to enlarge). Calculations for higüerillo find it difficult to make biodiesel economically viable.
To produce biodiesel from palm oil with normal taxes in play, El Salvador would have to import the oil at a price of around US$340 per mT, far lower than world prices in recent years. Without taxes, the import price could go as high as US$470/mT.
Guatemala
Guatemala started producing African palms around 1985 and now has about 45,000 hectares planted and produces around 290,000 mT/yr. Guatemala is self-sufficient in palm oil used for cooking, and actually exports some to Mexico.
Guatemala already has four biodiesel producers working on small scale, and another firm that produces palm oil ready for use in motors.
Legally speaking, Guatemala already has enough laws/regs in place to deploy biodiesel.
There is some Guatemalan resistance to adopting the aforementioned Central American Technical Regulation because they fear that the specifications are too tough for biodiesel produced locally utilizing Jatropha.
Guatemalans all seem to agree that the problem is not one of having sufficient land to plant oilseeds, but rather balancing the costs and the need to use marginal lands. For this reason, while the Agriculture Ministry (MAGA) would like to see African palms planted, most farmers and biodiesel producers rule it out because of cost involved in planting the estimated 25,000 hectares needed to meet estimated B5 demand, not to mention the fact that it would take five years before the palms could start producing the oil needed. Guatemala currently produces enough palm oil to meet the demand, but only if they use all currently going to cooking and exports.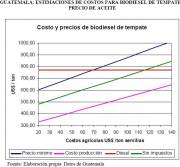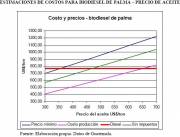 It is estimated (click on charts to enlarge) by the author that in order make biodiesel economically competitive in Guatemala the agricultural production costs would have to be about US$75/ton of fruit without taxes, US$45/t with. For Jatropha the cost would have to be US$70/ton of seed with taxes, and up to US$115/ton without taxes.
Producers instead are exploring alternatives, such as higüerillo, aceituno, piñuela, jaboncillo, and paraíso.
Honduras
Honduras only produces one oil crop on a large scale, the African palm, which was introduced to the country back in 1936. Honduras now has over 7,000 small producers, most of them belonging to a national federation (FENAPALMA). Honduras produced around 238,000 mT of palm oil in 2006. About 40% is consumed domestically, and the rest exported (primarily to El Salvador, Mexico and Nicaragua).
The Honduran environmental authority, SERNA, is undertaking an environmental audit of the industry; while it has found no real environmental problems in the growing phase, it has found problems in extraction (oxidation lagoons) and it is promoting capture of biogas (methane) released during digestion. [The report does not mention the good agricultural practice agreement reached between Honduran palm producers and WWF in order to protect the Mesoamerican Reef — perhaps because this report was being drafted before the agreement was signed?]
Although Honduras does not yet have a biofuel law, one is pending in Congress.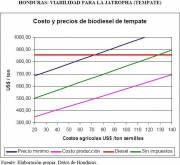 In early 2006 the Honduran President proposed a major commitment to biodiesel involving the cultivation of about 200,000 hectares of African palm in order to produce around 200 million gallons of biodiesel. By May 50,000 hybrid seeds had been imported from Malaysia to get the ball rolling by planting in Hondura's Caribbean region around 20,000 hectares involving about 3,000 producers. However, recent high international prices for palm oil are undermining the plans, as palm oil producers are tempted to export their production for higher profit than deliver it to the pilot project the government is conducting in the national capital to run public buses on biodiesel.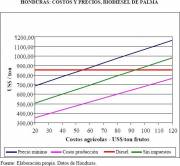 According to the author's analysis (click on charts to enlarge), for biodiesel containing palm oil to be economically competitive, it would have to have an agricultural production cost of not more than US$55 per mT of fruit when fully taxed, US$92 if exempt from tax. He also thinks it would only work if the price of palm oil is US$370 per ton when taxed, or up to US$710 if exempted from tax. In the case of Jatropha, the price of seeds has to be US$72 per mT if taxed, or US$128 per mT if exempted from tax. If between the two prices, partial tax exemption might be enough to make it competitive.
General Conclusions
The study concludes that, in the short term, biodiesel can only be produced in these countries if African palm is utilized. But even that can be problematic, as the current high price for palm oil will prompt competition between palm oil as cooking oil vs. palm oil as biodiesel input.
The author feels that in all probability, in order to make biodiesel work in these countries some sort of fiscal benefit or economic subsidy will be necessary, at least in the initial stages of implementation. The key questions are, which kind of incentive, how much, to whom and for how long.
General Recommendations
Each country needs to do its own assessment of the interaction of four factors: strategic (reduction of external debt, diversification of the energy matrix, energy security, export diversification, etc.), economic (financial viability, impact on prices, cost of any tax breaks, etc.), environmental (impact on vehicle emissions, impact on greenhouse gas emissions, protection of forest cover and vegetation, sustainable soil use, etc.) and social (employment, keeping jobs in the countryside, etc.).
Consider carefully the impact of shifting oils to fuel on other market segments, such as food, chemicals and pharmaceuticals.
To gain acceptance among consumers, CAM must pay close attention to ensuring and certifying the quality of the biodiesel.
Biodiesel delivers slightly less energy than regular diesel; at levels of B5, the consumer will hardly notice nor care, but above, pricing and consumer understanding/acceptance of the trade-offs is important.
Consider the motor fleet in each country. Not all have modern engines that deal well with biodiesel mixtures above 5% (B5).
Careful about assumptions about the full cycle environmental sustainability of biodiesel. It has been well-studied for soy as primary material, but not for Jatropha or palm oil.
Central American countries might wish to explore other inputs, such as fish oil or recycled used cooking oils.
In the case of Central America, production at small-scale is not advisable.
Keep in mind forecasts of international oil costs. If there is a strong chance the price per barrel will fall significantly, then biodiesel projects in Central America would probably not be economically viable.
Given all the other uncertainties, it is all the more important that the policies governing biodiesel are clear, transparent and stable — for example, any tax changes should be clear and consistent, with firm terms of application.
* Perspectivas para el Biodiesel en Centroamérica: Costa Rica, El Salvador, Guatemala y Honduras. CEPAL document LC/MEX/L.791 (2007). 201 pp. Downloadable (only in Spanish) in three parts: I (introduction and overview); II (Costa Rica, El Salvador, Guatemala); III (Honduras, conclusion & general recommendations)
Tags: African palm, América Central, Argentina, ASTM, B5, biodiesel, Biofuels, biogas, castor oil, Central American Technical Regulation, CEPAL, coconut oil, COMIECO, Costa Rica, cotton, ECLAC, El Salvador, Finland, fuel quality, greenhouse gases, Guatemala, higüerillo, Honduras, Jatropha, MAGA, Malaysia, metano, methane, MINAE, oilseeds, olive oil, oxidation lagoons, palm oil, SERNA, service stations, soja, soy, soya, sunflower oil, tax breaks, vehicle emissions, WWF
Subscribe to My Comments Feed
Leave a Reply