« WHO Issues Guidance on Groundwater Management | Home | IBD Finances Montevideo's Sanitation Program / BID Financiará Programa de Saneamiento de Montevideo »
By Keith R | December 14, 2006
Topics: Design for the Environment (DfE), Energy Efficiency, Environmental Protection | 3 Comments »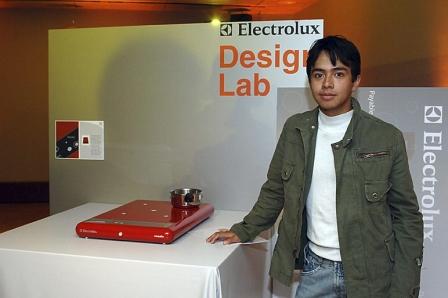 Every year Electrolux Design Lab sponsors a competition aimed at producing greener appliances and accessories that are also stylish. In 2004 the winner was a waterless dishwasher, in 2005 a waterless washing machine. This year the theme was healthier lifestyles, and the first place winner was a multi-layered food carrier.
But we're not going to talk here about the first or even second place winners in this year's competition. No, if you want to read about them, visit Electrolux Design's pages on the other finalists. Instead we're going to focus on the third place winner submitted by Eduardo Altamirano, a graphic design student at Mexico's Universidad La Salle.
The third place winner was a very special stove nicknamed the "Vessto." According to the official Electrolux blurb on it:
is a sleekly-designed, portable cooker that uses renewable energy as a power source through an advanced version of the Stirling Engine. The concept uses heat from the stove to expand and contract small quantities of gas inside the appliance, which in turn power the product. The initial start-up of VESSTO, an anagram for "Stirling Stove," only uses a small integrated battery until cooking points reach a high enough temperature to run the Stirling engine independently. VESSTO's touch sensitive and digital control panel manages the four cooking points while also offering a screen displaying recipes, notes or other related cooking information that can be downloaded from the Web.
Don't know what a Stirling Engine (also sometimes called the Stirling Motor) is? I didn't. Look it up at Wikipedia. Fascinating reading. Evidently this is a very old technology that is just now getting its due.
Click on photos to enlarge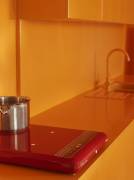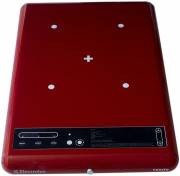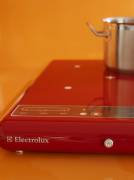 What the press blurb omits is that Altamirano specifically picked and adapted the Stirling Engine concept not so much because he wanted to conserve energy or cut carbon emissions, but rather than to have a stove that could operate off the grid in areas that have no power hookups or intermittent power.
Altamirano says that Electrolux believes that the design can on the market and in home within 10 years, after some of its features have been fine-tuned and further tested.
Tags: eco-desenho, eco-design, eco-diseño, Electrolux, environmental design, estufas, Mexico, Stirling Engine, stoves, Universidad La Salle, Vessto
3 Responses to "The Stove of the Future May be Mexican"
zandperl Says:
December 15th, 2006 at 9:19

A Stirling engine isn't 100% efficient. It has to use up a heat difference in order to produce its energy, so eventually if you don't put in any extra energy the formerly hot surface of the stove will approach the temperature of the air around it, cooling down. It can however be very efficent, it just needs some start energy to get it going.

Keith R Says:
December 15th, 2006 at 9:48

Welcome to The Temas Blog, zandperl, and thanks for the comment. Hope you'll return.

Yeah, in a Mexican newspaper interview of Eduardo I read, he claimed it used 20% less energy than conventional electric stoves. [Is there such a thing as 100% energy efficiency???] That's still quite a good efficiency level, and as I pointed out in the article, he's also aiming for something you can use where the power grid is not available or is unreliable. I used to live in the Dominican Republic, where blackouts are frequent, unpredictable and usually long, and where many parts of the countryside still are not wired. I can see where this product would be very useful there and other places in Latin American and the Caribbean. It'd be nice to have something to cook on after hurricanes and tropical storms, when power lines can be down for days or weeks and cooking gas (propane) supplies can be tight or hard to obtain.
Best Regards,
Keith

David Says:
January 13th, 2007 at 21:58

This invention sounds very good. What is the fuel?

The most efficient Srirlings have efficeincies in the 30 percent area, far better than internal combustors. Does this device use a closed loop working gas? This significantly burdens the design requirements, especially in the area of speceialty materials that must be incorportated.
Leave a Reply