« Importance of the IPCC Report for LAC | Home | IDB Board Approves Climate Change Initiative »
By Keith R | March 9, 2007
Topics: Conservation, Environmental Protection, Extractive Sectors, Sustainable Forestry | No Comments »
The North Amazon Mosiac of Protected Areas – Map by WWF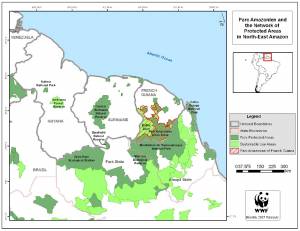 Synopsis in English: On 28 February a French decree effectively created the world's largest rainforest protected area in the northern Amazon. The decree created a 2-million hectare Parc Amazonien de Guyane ("Guyana Amazonian Park") along the southern border of French Guiana, France's "overseas department" in South America. The park boundaries were drawn in part to link to existing protected areas across the border in Brazil to create (de facto) the world's largest rainforest protected area, a mosaic (click on image from WWF at right to view full version) covering some 12 million hectares of tropical forest. WWF has been lobbying for 15 years for the creation of the Parc, and they welcomed the decree as a possible deterrent to further deforestation in the northern Amazon. They fret, however, that without strong, coordinated enforcement follow-up between Brazil, Suriname and French Guiana, the informal gold miners (popularly known by their Brazilian nickname "garimpeiros") operating illegally in the area will so pollute the area with mercury that much of the ecological benefit in creating the protected area will be lost.
Création du Parc Amazonien de Guyane : une avancée importante dans la protection des forêts tropicales

Le WWF se réjouit de la création du Parc Amazonien de Guyane car il formera, avec les aires protégées adjacentes du Brésil, comme le parc des Tumucumaque, la plus grande zone de forêt tropicale protégée au monde soit plus de 12 millions d'hectares en superficie. Le parc, en lui-même, comporte une zone cœur de près de 2 millions d'hectares et une zone de libre adhésion de 1,3 millions d'hectares.

La protection du patrimoine naturel du parc, mondialement reconnu, et l'accompagnement d'un développement respectueux des modes de vie des communautés locales seront deux enjeux du projet qui devront rassembler les acteurs guyanais. La mise en réseau et la création de vastes zones protégées sont un point essentiel pour la conservation des milieux rares, le maintien de processus écologiques et la survie à long terme d'espèces ayant besoin de grands territoires, comme le jaguar ( Panthera onca) ou encore l'aigle harpie ( Harpia harpyja).

Peu après les conclusions alarmistes du GIEC (le Groupe d'experts Intergouvernemental sur l'Evolution du Climat), la création d'un Parc Amazonien de Guyane apparaît comme une avancée déterminante pour la lutte contre la déforestation, l'un des principaux facteurs du réchauffement climatique planétaire. « L'aboutissement de ce projet constitue une satisfaction pour l'ensemble du réseau WWF qui accompagne ce projet depuis plus de 15 ans. Néanmoins, l'absence d'extension du cœur de Parc aux zones de vie des populations autochtones du Sud Ouest de la Guyane constitue une faiblesse notable », souligne Serge Orru, directeur général du WWF-France.

Cependant, il est impératif que la création de ce parc soit accompagnée d'un renforcement de la lutte contre l'orpaillage illégal.

En Guyane, la filière aurifère légale emploie 400 personnes déclarées mais elle a un fort impact sur l'environnement et la santé des autochtones. En effet, l'orpaillage est une opération composée de plusieurs étapes qui nuisent gravement à l'environnement. Tout d'abord la déforestation du site à exploiter, puis l'ouverture d'une « barranque » qui est une fosse creusée dans l'argile, enfin l'exploitation du gisement et le traitement de l'or. Toutes ces étapes dégradent la nature notamment par l'utilisation de mercure, pourtant interdite depuis janvier 2006, l'érosion des sols et l'asphyxie des rivières.

Cependant, l'orpaillage illégal est le plus dangereux car ce dernier utilise systématiquement du mercure et toute l'exploitation de l'or se fait sans aucun respect des normes environnementales . Il fait venir des clandestins majoritairement brésiliens, entre 6 .000 et 20 000, qui vivent dans des conditions d'hygiène, de travail et de sécurité extrêmement précaires, exploités pas des patrons peu scrupuleux. Au-delà des dégâts sanitaires (contamination au mercure) et des atteintes portéesà l'environnement, l'exploitation clandestine s'accompagne d'une série de trafics (vols, braquages, meurtres, prostitution,…).

« La création du Parc Amazonien représente un engagement fort pour la conservation à long terme du massif forestier de Guyane. Toutefois, malgré les efforts déjà déployés, la situation sur le terrain reste alarmante», souligne Laurent Kelle, responsable du bureau WWF en Guyane. « C'est par une coopération forte avec le Brésil et le Suriname que l'on parviendra à lutter efficacement contre l'exploitation illégale de l'or et, à terme, à optimiser la gestion de ce grand réseau d'aires protégées ».

A travers son programme pan-amazonien d'aires protégées (ARPA), le WWF appuiera l'ensemble des acteurs pour que ce nouveau Parc Amazonien associe les populations résidentes et contribue rapidement à l'amélioration des conditions de vie des communautés concernées.
Criação de parque nacional na Guiana Francesa reforça também a proteção da Amazônia brasileira

Após 15 anos do início de um processo, foi decretada hoje, 28, a criação do Parque Amazônico da Guiana, na Guiana Francesa. Com quase dois milhões de hectares de proteção estrita e uma zona envoltória de desenvolvimento sustentável de aproximadamente 1,3 milhões de hectares, a área se caracteriza como a maior unidade de conservação francesa e se integra ao complexo formado pelo Parque Nacional das Montanhas do Tumucumaque, no Amapá, e por duas áreas protegidas estaduais no Pará, criadas em novembro do ano passado: a Reserva Biológica Maicuru e a Estação Ecológica de Grão-Pará. "No total, são pouco mais de 11 milhões de hectares de terras contínuas amazônicas estritamente protegidas, sendo a maior zona contínua de floresta tropical de proteção integral no mundo", comemorou a secretária-geral do WWF-Brasil, Denise Hamú.

Essas três unidades de conservação brasileiras e o recém-criado parque nacional fazem parte também de um mosaico maior, constituído por outras 14 unidades de conservação de proteção integral e por 20 unidades de conservação de uso sustentável, além de 15 terras indígenas. Essa imensa área contínua tem aproximadamente 48,6 milhões de hectares, a maioria (quase 45 milhões) deles no Brasil, mas parte na Guiana Francesa (pouco mais de 3,5 milhões) e no Suriname (quase 100 mil hectares). Além do Amazonas e do Pará, ela se estende também pelo Amazonas e Roraima.

A Rede WWF tem acompanhado e apoiado o processo de criação de unidades de conservação na Guiana Francesa e se vê com boas perspectivas a próxima fase, de implantação das UCs, contando com a integração entre as áreas protegidas dos diferentes países envolvidos. Sergio Orru, secretário-geral do WWF França, afirmou que "a concretização do projeto do Parque Amazônico da Guiana é uma satisfação para todos os membros da Rede WWF", a maior rede conservacionista do mundo.

Na região onde foi criado o parque nacional a prática do garimpo é preocupante. Essa atividade, geralmente ilegal, pode trazer consigo sérios impactos ambientais, como a destruição de rios, o comprometimento de mananciais de água para abastecimento e a poluição com mercúrio. O sonho do enriquecimento fácil, via de regra, transforma-se em pesadelo para as pessoas que são atraídas por ele, condenadas a condições sociais degradantes, como aumento da prostituição e da violência.

A relativa dificuldade de controlar o movimento de pessoas nas fronteiras amazônicas, inclusive de garimpeiros, é uma ameaça que as áreas protegidas podem ajudar a combater. Mas, para isso, elas precisam ser efetivamente implantadas e consolidadas. Caso contrário, o garimpo pode, por outro lado, transformar-se em um risco para essas unidades de conservação, tanto no Brasil quanto na Guiana Francesa.

Além de obstáculo ao avanço do garimpo ilegal, a proteção de uma grande área de floresta representa uma contribuição determinante à luta contra o desmatamento, um dos principais responsáveis pelo aquecimento global. Ela também é importante para a conservação de ecossistemas raros, a manutenção do equilíbrio ecológico e a sobrevivência de espécies ameaçadas que precisam de territórios extensos, como a onça Panthera onca e o gavião-real Harpia harpyia.
Tags: Amapá, áreas protegidas, Brasil, Brazil, conservação, conservación, Conservation, Estação Ecológica de Grão-Pará, França, France, Francia, French Guiana, garimpeiros, Guiana Francesa, mercure, mercurio, mercury, Montanhas do Tumucumaque, national parks, Parc Amazonien de Guyane, Parque Amazônico da Guiana, parques nacionales, protected areas, rainforest, Reserva Biológica Maicuru, Suriname, UCS, unidades de conservação, WWF
Subscribe to My Comments Feed
Leave a Reply