« Carbon Credits for Light Bulbs | Home | Wood Pellets, "Green" Energy and Carbon Credits / Pellets de madera, energía "verde" y créditos de carbono »
By Keith R | October 2, 2007
Topics: Design for the Environment (DfE), Environmental Protection, Green Building | 1 Comment »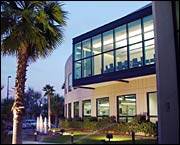 Quiz time, folks.
Did you know that Mexico has one of the two Latin American buildings that are Leadership in Energy and Environmental Design (LEED) certified? That nine other Mexican projects await LEED certification by the US Green Building Council (USGBC)?
That Mexico has had its own green building council since 2005? That the Council is developing its own LEED standard, adapted to location conditions?
That the 3-nation (Canada, Mexico, US) North American Commission on Environmental Cooperation (CEC) has been working with Mexico over the past two years to foster green building in that country? That it has now decided to take it a step further, and help it develop a national rating system?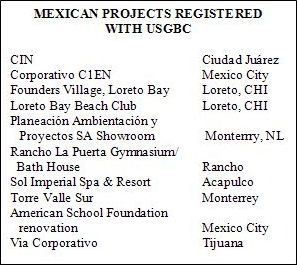 Stirrings of a Green Building Movement
Now let's check the answer sheet.
The LEED-certified building in Mexico is the International Business Center (Centro Internacional de Negocios – CIN) in Ciudad Juarez, Chihuahua. [The other is a bank in São Paulo, Brazil. More on green building in Brazil in a future post.]
The other Mexican projects registered with the USGBC are listed in the box at right.
Not all "green" buildings in Mexico of note are registered with the USGBC. These include the Torre Cube office building in Guadalajara, the Vasconcelos public library being built in Mexico City, and last but not least, the new Cinepolis headquarters in Morelia, Michoacán (Cinepolis is the sixth largest multiplex cinema chain in the world and the leading theater operator in Mexico). The Cinepolis HQ will feature a green roof and extensive use of natural lighting and ventilation.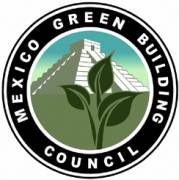 As for the Mexico Green Building Council (MexicoGBC), it was created in 2005, is a founding member of the World Green Building Council (WorldGBC) and an affiliate member of the International Initiative for a Sustainable Built Environment (IISBE).
MexicoGBC is developing a National Green Building Rating Tool (SICES), a voluntary certification standard for sustainable buildings and developments. SICES has a particular stress on site management, water conservation, energy efficiency, material selection and interior air quality.
The CEC Role
The CEC agreed in 2004 to initiate work on green building in North America. The principal product of this first round of work is a report that will examine the status and prospects for green building in North America — more specifically, what is working and why, and what public and private measures can be taken to foster the adoption of green building practices. The final report is to contain specific recommendations to the CEC's top decision-taking body, the Council (composed of the top environment officials from the three Member States), for follow-up, both individually and together.
One of the steps was to appoint in 2006 an 20-member advisory group to advise the CEC secretariat on the process and the preparation of the report. Mexico's five group members includes the director of MexicoGBC, someone from the Energy Ministry (SENER), an architect, a civil engineer and an expert from the Autonomous University of Mexico (UNAM).
Next a symposium on "Mexican Perspectives on Green Building in North America" was held in Mexico City this past February. The presentations made at the symposium are downloadable at this link. An international symposium on green building was convened by the CEC in Seattle in May.
At the end of June the CEC Council decided that the next step should be a workshop on "building capacity to develop a green building rating system in Mexico" before end-2007. The workshop is now scheduled for Cuernavaca 24-26 October. As directed by the Council, it will cover:
the status of current rating systems in North America — not only LEED, but also Green Globes, Energy Star, Built Green, Better Bricks, and the Building Owners and Managers Association's (BOMA) Go Green;
efforts to put LEED and other rating systems into model building codes;
private sector use of ratings systems, not just by architects and developers, but also financial institutions;
public sector use of ratings systems, such as references to them in building codes, zoning laws, procurement policies, etc.
Tags: Better Bricks, BOMA, building code, Built Green, CCE, CEC, certification, Cinepolis, Ciudad Juarez, desenho sustentável, eco-desenho, eco-design, eco-diseño, Energy Efficiency, Energy Star, environmental design, Green Building, Green Globes, Guadalajara, IISBE, indoor air quality, LEED, Mexico, Mexico City, procurement policy, SENER, SICES, sustainable building, symposium, Torre Cube, UNAM, USGBC, water conservation, WorldGBC, zoning
One Response to "Toward a Green Building Rating System for Mexico"
arq+studio Says:
November 26th, 2009 at 17:44

There are other green buildings in Mexico who are not registered with USGBC, like the "El Pinacate Visitors Center" a 100% solar building.
For more info about the center visit http://elpinacate.wordpress.com

Thank you!
Leave a Reply