« Inequities in Water and Sanitation Services in Argentina | Home | Gas Flaring, LAC & Climate Change »
By Keith R | October 4, 2007
Topics: Economics & the Environment, Environmental Protection, Waste & Recycling | No Comments »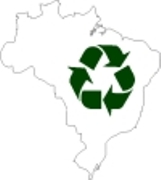 Recently Brazil's National Confederation of Industry (CNI) pulled together a meeting in Curitiba, Paraná (PR) of officials from Brazil's existing 12 state waste exchanges operated by state industry associations. Also attending were industry representatives from Argentina, Paraguay and Portugal. The focus of discussion: a CNI proposal to link the exchanges electronically and create a de facto national waste exchange for Brazil.
A waste exchange is a marketplace where people with recovered materials — for example, aluminum or steel scrap, baled paper, PET flake from ground up drink bottles, or metals recovered from electronic equipment — can offer them for sale by other companies seeking them as industrial process inputs. Most of the waste exchanges in Brazil are now offered in some online form. They are a sort of Ebay for recovered/recycled materials, you might say.
Currently in Brazil the industry associations run such exchanges at the state level in Amazonas, Bahia, Ceará, Goiás, Minas Gerais, Pará, Paraná, Pernambuco, Rio de Janeiro, Rio Grande do Sul, Santa Catarina, and São Paulo. [Although not mentioned in the press release reproduced below, Sergipe is also in the process of creating one.] More and more these exchanges are finding participants registering from other states, usually (but not always) adjoining states. For example, of the 4,530 enterprises registered on the exchange operated by the Industry Federation of Paraná (FIEP), only 1,270 are actually from that state. Nearly half — 1,977 — are from São Paulo.
The most active exchange currently is FIEP's, which receives 10 new announcements (of lots of recovered material to sell) and 300 site visits every day, and has registered nearly 8,000 buy and sell offers since its creation in 2001. FIEP gets an average of 30 new registrants every month.
The CNI proposal is to link these exchanges and aid them in "conversing" and sharing information. A central idea is that when material is offered on one of the state exchanges, a mirror of it will be offered somewhere on the other exchanges. That way if a potential buyer does not find what he wants on one exchange, he can easily see if what he's looking for is listed on other exchanges.
______________________________
Desde Federação das Indústrias do Estado do Paraná (Fiep):
CNI propõe integração entre Bolsas de Reciclagem

Em Curitiba, gestores de Bolsas de Reciclagem de todo o país discutem nesta quinta-feira (26), no Cietep, a criação de uma rede nacional integrada

A Confederação Nacional da Indústria (CNI), por meio do Sistema Federação das Indústrias do Estado do Paraná (Fiep), promove nesta quinta-feira (26), das 9 horas às 17h30, no Cietep, o Encontro das Bolsas de Reciclagem das Federações de Indústrias de todo o país. O objetivo é criar uma rede nacional integrada de Bolsas de Reciclagem.

De acordo com a CNI, existem atualmente 12 Bolsas de Resíduos instaladas, atendendo a indústria com sistemas e metodologias diferentes: Amazonas, Pará, Ceará, Pernambuco, Bahia, Goiás, Minas Gerais, Rio de Janeiro, São Paulo, Paraná, Santa Catarina e Rio Grande do Sul. A Bolsa paranaense é a que tem a maior movimentação de anúncios de oferta e procura de resíduos do Brasil.

"A proposta é fazer com que as bolsas conversem entre si. Para isso elas têm que ter plataformas de softwares que permitam essa troca de informações", considerou Wanderley Coelho Baptista, analista na área de meio ambiente da CNI, organizador do evento. Segundo ele, a proposta prevê que quando o empresário pesquisar na bolsa regional, realize também um levantamento em todo o país.

"Outro ponto que será discutido é a proposta de manter o caráter regional das Bolsas. A idéia é fazer com que elas permaneçam com suas características e peculiaridades. Vamos apenas estimular uma sinergia entre elas", explicou Baptista. Além disso, a CNI vai propor ainda que as bolsas transformem-se em Centros de Excelência na Gestão de Resíduos. "Para prestar serviços nessa área", completou o analista da CNI.

De acordo com ele, a CNI planeja também estimular a troca de experiências que estão dando certo nesta área. "Idéias novas surgem todos os dias. E a interação permitirá esse contato entre as Bolsas. Existem outros desdobramentos que também serão debatidos, como pregões eletrônicos, que poderiam viabilizar a venda de lotes regionais de resíduos. A CNI planeja fomentar essa ação em nível regional e nacional", revelou Baptista, destacando o trabalho desenvolvido pela Bolsa de Reciclagem do Sistema Fiep. "Foi a Bolsa de Reciclagem do Paraná que propôs este debate. Por isso vamos realizar o Encontro em Curitiba", disse.

A mais movimentada do Brasil – Com a maior movimentação de anúncios de oferta e procura de resíduos do Brasil, a Bolsa de Reciclagem do Sistema Fiep (Federação das Indústrias do Estado do Paraná) recebe em média 10 novos anúncios de resíduos todos os dias, o que faz com que mais empresas que trabalham com reciclagem ampliem as oportunidades de negociação e a qualidade de seus produtos ou resíduos.

"As empresas precisam estar diariamente antenadas com o mercado, pois a margem de lucro somente é compensatória para aqueles que comercializam resíduos limpos e bem segregados", alertou Elisabeth Stapenhorst, coordenadora da Bolsa de Reciclagem. De acordo com ela, as empresas podem obter 30% de valorização em seus produtos, quando o resíduo já possui algum processo, como prensagem, enfardamento, lavagem ou segregação por tipo e cor.

"Somente entre janeiro e maio passado, a Bolsa de Reciclagem do Sistema Fiep movimentou R$ 180.600,00 em negócios", citou Flávia Noronha, técnica da Bolsa. Segundo ela, os anúncios de oferta e procura de resíduos podem ser efetuados tanto através do site da Bolsa – www.bolsafiep.com.br – quanto no Boletim Informativo, que é impresso e elaborado pela equipe do Senai CIC/Cetsam (Centro de Tecnologia em Saneamento e Meio Ambiente).

"No Boletim Informativo, o empresário encontra os mesmos anúncios de oferta e procura de resíduos do site, além de matérias e informações técnicas de reciclagem, entrevistas com profissionais do ramo, reportagens sobre inovações na prestação de serviços e gestão de resíduos", explicou Flávia.

Todos os meses, em média, 30 novas empresas cadastram-se na Bolsa de Reciclagem do Sistema Fiep. Em sua maioria, empresas de plástico. "Essas empresas precisam estar bem informadas sobre tudo que acontece no mercado", completou Elisabeth.

Abrangência nacional – Criada em abril de 2001 por iniciativa do Senai-CIC/Cetsam, a Bolsa de Reciclagem registrou desde então 7.808 anúncios de oferta e procura por resíduos. Empresas de todo o país cadastram-se na Bolsa de Reciclagem do Paraná. Participam também indústrias do Uruguai, Argentina e Portugal.

Um dado curioso registrado na Bolsa de Reciclagem paranaense aponta que a maioria das 4.530 empresas cadastradas – 1.977 – é paulista. "Do Paraná, são 1.270 as empresas cadastradas. Essa invasão paulista ocorreu de forma lenta. Aconteceu, especialmente, porque o Paraná tem um setor de plástico bastante desenvolvido. E hoje é o que mais movimenta o mercado de reciclagem brasileiro", justificou a coordenadora da Bolsa.

O interesse das empresas pelo mercado de resíduos vem aumentando muito ao longo dos anos. Em 2001, a Bolsa registrou apenas 11 manifestações de interesse. "Até o momento registramos 44.961 manifestações de interesse por anúncios", salientou Flávia.De acordo com ela, o volume de manifestação de interesse das empresas cresceu a partir de 2003, quando a Bolsa de Reciclagem aprimorou o layout do site e alterou o sistema. "Tornando mais ágil a sua atualização, permitindo que a resposta ao atendimento fosse mais rápida e oferecendo mais qualidade aos clientes", considerou.

A página da Bolsa de Reciclagem na Internet recebe, em média, cerca de 300 visitas por dia. O cadastro das empresas no site é gratuito. "Ao se cadastrarem, as indústrias recebem senha e login. Então, podem fazer o anúncio de oferta ou procura por categoria, descrição do produto, quantidade e periodicidade. A Bolsa representa oportunidades de negócios, de compra e venda de resíduos via Internet e boletins impressos", concluiu a técnica.
Tags: Amazonas, Argentina, Bahia, bolsa de residuos, bolsas de reciclagem, Ceará, CNI, Curitiba, drink bottles, FIEC, FIEG, FIEPE, FIEPR, FIESP, Firjan, Goiás, Minas Gerais, Pará, Paraguai, Paraguay, Paraná, Pernambuco, PET flake, reciclagem, reciclaje, recyclables, recycling, residuos, Rio de Janeiro, Rio Grande do Sul, Santa Catarina, São Paulo, Sergipe, steel scrap, waste, waste exchange
Subscribe to My Comments Feed
Leave a Reply