« Eco-Certification for Tourism: The Role of Blue Flag, Part II | Home | Chile constituye comisión para pronto desarrollo de politica sobre biocombustibles »
By Keith R | December 9, 2006
Topics: "Trash Photos" Series, Environmental Protection, Waste & Recycling | No Comments »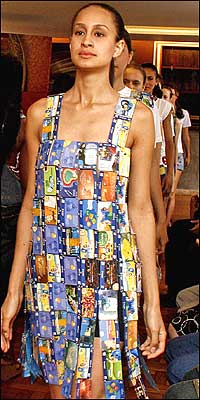 The picture at right is from a fashion show now underway in Belo Horizonte (capital of the Brazilian state of Minas Gerais) for dresses, pants, blouses and accessories.
Why is it featured here?
Look closer.  The dress that first model is wearing is made from used telephone calling cards stitched together.  In fact, all the fashions on display at this particular show are made with recycled materials.  Creative recycling you can wear!
The "fashion show" marked the opening in Belo Horizonte of the third annual "Festival of Recycled Products" held by the Association of Catadores (wastepickers) of Paper, Board and Recyclable Material (Associação dos Catadores de Papel, Papelão e Material Reciclável – Asmare).  The show, like the Feria itself, is designed to show the average citizen that, with just a touch of creativity, the "useless" "waste" can be converted into interesting works of art and/or useful products.
If you happen to be in BH, stop by the Feria.  It runs until 24 December.
Source:  http://www.uai.com.br/uai/noticias/agora/local/277309.html
Tags: Asmare, Belo Horizonte, calling cards, catadores, creative recycling, reciclagem, recycling, wastepickers
Subscribe to My Comments Feed
Leave a Reply