« Clean Shores I: International Coastal Clean-Up Day in LAC | Home | Eco-Help for the Cold Chain »
By Keith R | October 11, 2006
Topics: "Trash Photos" Series, Environmental Protection, Waste & Recycling | No Comments »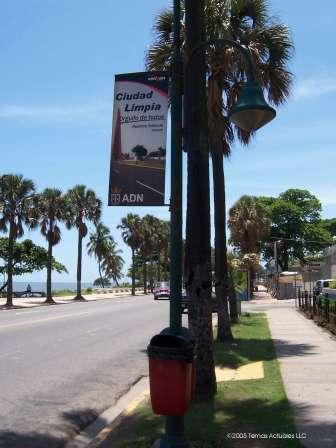 Municipal governments often try to influence their citizenry through slick banners hung from lamp posts that carry inspirational or educational messages. They look good and make nice photos. But they do not always reflect the reality "on the ground."
A case in point: the picture at right was taken in August 2005 along the Malecon (seaside boulevard) in Santo Domingo, the Dominican Republic. The banner says "A Clean City: Everyone's Pride."
The City Administration (ayuntamiento) of the National District (DN) is exhorting capitaleños to keep their city streets litter-free. The DN mayor is justly proud of the progress he has made in cleaning up and keeping clean the District. It was one of the principal issues he campaigned on and he has worked hard to address it, in stark contrast to his predecessors.
That said, however, the postcard-like scene along the Malecon and some of the city's main avenues masks continuing trash problems that are the legacy of decades of neglect of the problem and the resulting bad habits. Look, for example, just past that row of palms along the sea and the benches behind them, and you will see something like this picture below: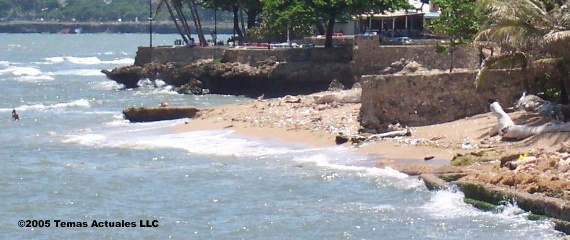 Yes, the beaches along the Malecon remain choked with litter. And in many side-streets of the DN you will find scenes like the following (the second one was taken close to the National Palace):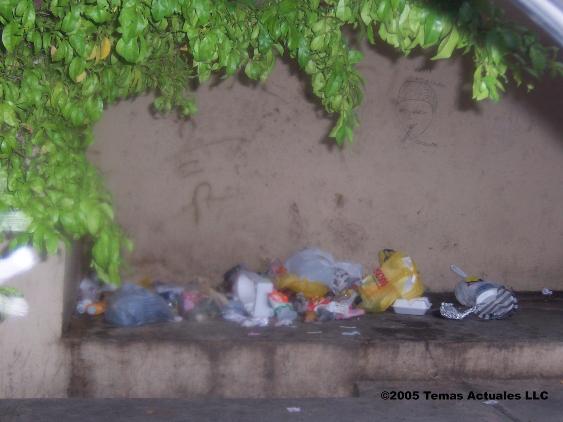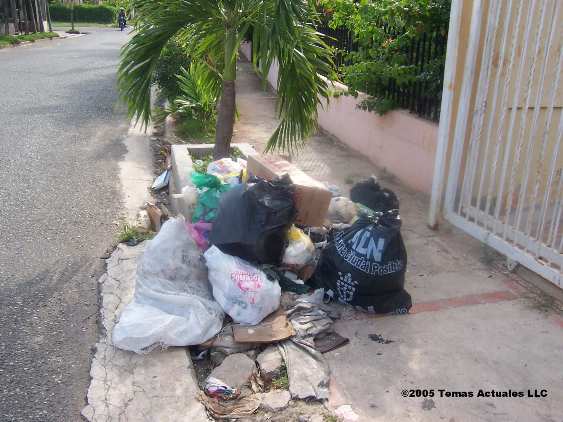 This second banner was photographed in Mexico City in September 2005 along the Paseo de la Reforma. The banner is claiming that one out of every 20 inhabitants (in other words, 5%) already separates his organic trash from his inorganic, as the Federal District's (DF) recently adopted Waste Law requires them to. "Are You [separating]? You have to sort." (hay que separar).
I met with DF Government (GDF) officials in charge of implementing the Law in 2004, and at that time they mentioned their plans for this campaign. I expressed several reservations about this approach which I won't bog down this entry by detailing here. One of my concerns, though, was that I felt too little was being allocated in the limited implementation budget to get City residents to stop littering and simply put trash where it belonged.
Was I worrying over nothing? Well, see below what I found just a few hundred feet from this banner: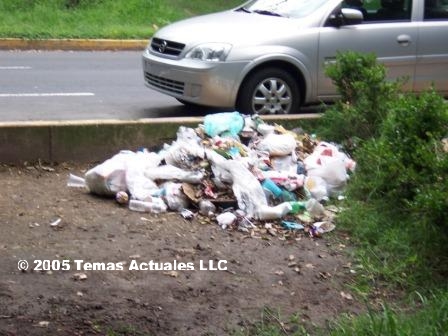 Tags: banners, basura, Ciudad de Mexico, desechos, litter, lixo, Malecon, Mexico City, Paseo de la Reforma, residuos, rubbish, Santo Domingo, trash, waste
Subscribe to My Comments Feed
Leave a Reply