« Chile constituye comisión para pronto desarrollo de politica sobre biocombustibles | Home | Two ECLAC Technical Studies on Biofuels / Dos estudios técnicos de CEPAL sobre biocombustibles »
By Keith R | December 11, 2006
Topics: "Trash Photos" Series, Environmental Protection, Personal Choices, Waste & Recycling | 2 Comments »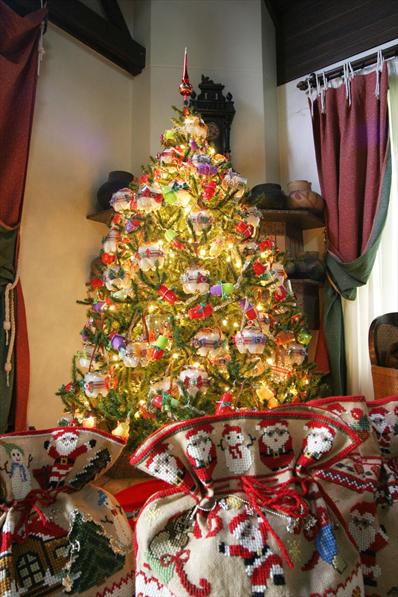 Hope you are not yet tired of pictures of the creative way people are taking everyday used recyclable material and turning them into Christmas trees and decorations. I just found this one, and it's stunning!
The 64-year old Brazilian grandmother who decorated this tree did so with used wrapping paper, yogurt cups, PET bottles and plastic beverage can rings. The only thing decorating not a reused material, she claims, is the ribbon, which she already had a supply of in the house.
She put the decorations together with used materials found around the house, she says, in order to teach her four grandchildren (ages 2-5) about reusing materials. "I find it's not enough for the school to talk to them about reusing materials. We need to teach it at home. I want to teach my grandchildren that [Christmas] is not just about buying everything."
She has taught them how to make their own tree ornaments, and wants to teach them how to make their own toys too. In this way, she hopes, in the future the kids will grow up associating used wrapping paper, yogurt cups and such with Christmas and the fun of making decorations, and not simply as trash to be forgotten and tossed aside.
Source: http://www.sulmix.com.br/principal_brasil/PAGINAS/brasil1738.htm
Tags: Brasil, Brazil, Christmas tree, crafts, creative recycling, garrafas PET, materiais recicláveis, PET bottles, plastic beverage can rings, reciclagem, recyclables, recycling, wrapping paper, yogurt cups
2 Responses to "Trash Photos X: A Stunning Christmas Tree Made with Recyclables"
Galli Says:
December 11th, 2006 at 18:23

More people should find the time and inspiration to get creative with recycling. Keep the good blogging coming.
ggss

Keith R Says:
December 11th, 2006 at 19:06

Thanks GGSS. I'll never be as productive and varied a blogger as you, though. How on Earth do you manage to produce 3 blogs???
Leave a Reply