« Trash Photos X: A Stunning Christmas Tree Made with Recyclables | Home | WHO Issues Guidance on Groundwater Management »
By Keith R | December 12, 2006
Topics: Biofuels, Economics & the Environment, Energy & the Environment, Environmental Protection | No Comments »
It's the second week of December already, and I still have so many draft posts in the queue from this autumn (Sept.-Nov.) that I really should finish and publish, so don't be surprised if entries start coming fast-and-furious, particularly shorter ones briefly presenting and/or commenting on studies and reports pertinent to environmental, health or consumer protection issues in Latin America and the Caribbean (LAC). Yes, I know that I could probably save some of these for a "rainy day" when I am out of issues to blog about, simply recasting them to make them appear fresh and relevant. But I don't foresee running out of blogging material anytime soon, and I just hate to see materials gathering dust…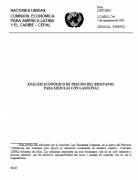 This autumn the UN Economic Commission for Latin American and the Caribbean (ECLAC) came out with two studies regarding biofuels worth a look. Both are part of ECLAC's effort to help Central American nations develop a common approach to biofuels policy and development. Both reports are only available for download in Spanish, though, with no word from ECLAC on if and when they might become available in English as well.
The first, Especificaciones de la calidad del etanol carburante y del gasohol (mezcla de gasolina y etano) y normas técnicas para la infraestructura ("Quality Specifications for Ethanol Fuel and for Gasohol (Mixture of Gasoline and Ethanol) and Technical Norms for Their Infrastructure"), looks at the potential benefits of a bioethanol/gasoline (or "petrol," as my European friends call it) mixture as a gasoline substitute, presents the specifications needed for anhydrous ethanol to be added to make a 10% mixture, as well as the quality specifications for the gasohol itself necessary to ensure proper operation of the vehicle, the useful life of the motor, and proper protection of human health and the environment. It discusses the effect each additional percentage of ethanol content has on the properties of the fuel, based primarily on data from the Brazilian experience (Brazil has added bioethanol to its motor fuel since 1931 and presently has a 25% blend). The study also includes the technical norms and methods used in Brazil for fuel analysis, details of some of the equipment used, their costs and their Brazilian providers, and Brazil's technical norms for the fuel transport and storage.
Based on its findings, the study makes several recommendations to Central American policymakers:
The Central American nations should continuously raise the quality of the gasoline in sold in their territories, specifying specific levels of paraffins, aromatics, oleofins and naphthas, as well as sulfur and benzene content;
The Central American nations should jointly set specifications for both regular gasoline and gasohol, including octane levels, oxidation stability, and coordinated lowering of sulfur content;
require that ethanol grades be set when the fuel arrives at delivery to fuel service stations, with standardized visual and specific mass tests, in order to ensure that what is actually sold to the consumer is uniform;
continuous quality monitoring of the anhydrous ethanol, especially during the mixing process;
organizing study groups with vehicle and fuel manufacturers to discuss technical specifics, using the model followed successfully in Brazil;
implement a quality monitoring program designed to detect adulteration or fuel sold not matching its specifications, perhaps following the Brazilian example of contracting university laboratories to conduct the checks and tests.
You can download a PDF of part I of the study at this link, of Part II at this one.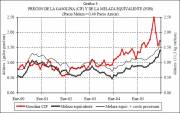 The second study, Análisis económico de precios del bioetanol para mezclas con gasolinas (Economic Analysis of Bioethanol Prices for Gasoline Mixtures"), attempts a detailed economic analysis of the costs of local production of bioethanol using different international references. It examines the historical evolution of sugar, ethanol and gasoline, estimates the unit cost of ethanol processing and the economic viability of producing ethanol from sugar and molasses. It also suggests several complementary studies of the costs/benefits of bioethanol, namely:
analysis of the historical prices for sugar and molasses specifically in the context of the market of the three main Central American producers;
a detailed analysis of the investment and operation costs for an ethanol production facility that operates only during the sugar harvest period, versus an analysis of one that produces year-round.
You can download the PDF of the study at the following link.
——————————————
Ya llega la segunda semana de diciembre, y ¡todavía tengo tantos borradores de artículos desde este otoño (sep.-nov.) esperando estar terminados y publicados! Por eso por favor no se sorprende si los artículos empiecen a salir pronto y rápidamente, especialmente los breves que presenten y/o comentan sobre estudios y informes pertinentes a los temas de protección del medio ambiente, de las salud pública, y del consumidor en el contexto de América Latina y el Caribe (ALC). Si, yo sé que debo guardar algunos para algún día en que no tengo asunto para discutir en el blog, presentándolos en otra forma para que aparezcan "frescos" y "relevantes." Pero la verdad es que, no preveo una falta de temas para el blog para los meses que vienen, y honestamente no me gusta ver los materiales cubiertos en povo…
Este otoño la Comisión Económica para América Latina (CEPAL) emitó dos estudios técnicos sobre los biocombustibles que vale la peña conocer. Ambos son parte de un proyecto de CEPAL para ayudar las naciones de América Central desarrollar un marco común de política y fomento de los biocombustibles. Ambos estudios están disponibles para bajar solamente en castellaño.
El primero, Especificaciones de la calidad del etanol carburante y del gasohol (mezcla de gasolina y etano) y normas técnicas para la infraestructura, examina los beneficios potenciales de una mezcla de gasolina con etanol como sustituto de la gasolina pura, presenta las especificaciones para el etanol anhidro a ser adicionado a la gasolina regular a fin de producir un gasohol con un grado del 10% de bioetanol, y presenta, también, la especificación de ese gasohol, discutiendo la importancia e influencia de cada propiedad en el funcionamiento de los automóviles, la vida útil de los motores, el medio ambiente y la salud humana. Discute el efecto que cada porcentaje adicional del contenido del etanol tiene en las características del combustible, basadas sobre todo en datos de la experiencia brasileña (el Brasil ha agregado bioethanol a su combustible desde 1931 y tiene actualmente una mezcla del 25%). El estudio también incluye las normas y los métodos técnicos usados en el Brasil para el análisis del combustible, los detalles de algunos equipos usados, sus costos y sus proveedores brasileños, y las normas técnicas del Brasil para el transporte y el almacenaje del combustible.
De acuerdo con sus resultados, el estudio hace varias recomendaciones a los lideres centroamericanos:
las naciones centroamericanas deben hacer un levantamiento continuo de la gasolina regular producida en todos los países de América Central, cuantificando los grados de parafinas, aromáticos, oleofinas ynafténicos, así como el grado de azufre y benceno.
las naciones centroamericanas deben trabajar de manera conjunta en la especificación de la gasolina regular y del gasohol, incluyendo parámetros de octanaje, la estabilidad a la oxidación, y la reducción gradual de azufre;
obliga que el grado de etanol en el gasohol esté determinado cuando este producto es entregado en las estaciones de servicio, con ensayo armonizado de aspecto visual y masa específica, a fin de uniformizar el producto comercializado.
Monitoreao continuo de la calidad del etanol anhidro, sobre todo al iniciar el proceso de mezcla;
Organizar grupos de estudio con empresas manufactureras de automóviles y fabricantes de combustibles para discutir especificidades técnicas y minimizando problemas para el consumidor de forma similar a lo que se está haciendo, con éxito, en Brasil.
Implementar un programa de monitoreo de calidad de los combustibles a fin de detectar adulteraciones o no conformidades, quizás utilizando el model brasileño de acuerdos con los laboratorios de las universidades para conducir el chequeo y ensayos.
Se puede bajar un PDF de parte I del estudio aqui, of Part II at this one.
El segundo estudio, Análisis económico de precios del bioetanol para mezclas con gasolinas, presenta un análisis detallado del precio del bioetanol de producción local con diferentes referencias internacionales. El estudio muestra la evolución histórica de los precios internacionales del azúcar, el etanol y las gasolinas; estima el costo unitario de procesamiento de etanol y analiza la viabilidad económica de producir etanol con azúcar y melaza. También proporciona recomendaciones para realizar estudios complementarios en el tema de costos y precios del bioetanol:
de los precios históricos para el azúcar y la melaza específicamente en el contexto del mercado de los tres productores centroamericanos principales;
un análisis detallado de los costos de inversión y de operación para facilidad de producción del etanol que funciona solamente durante el período de la zafra, contra análisis de uno que produce durante todo el año.
Se puede bajar un PDF del estudio aquí.
— Keith R
Tags: América Central, anhydrous ethanol, aromáticos, aromatics, azúcar, azufre, benceno, benzene, biocombustibles, biocombustiveis, bioethanol, Biofuels, Brasil, Brazil, Central America, CEPAL, ECLAC, estabilidad a la oxidación, etano, etanol anhidro, etanol carburante, gasohol, gasolina, gasoline, melaza, molasses, nafténicos, naphthas, octane levels, oleofinas, oleofins, oxidation stability, paraffins, parafinas, petrol, service stations, specific mass test, sugar, sulfur content, zafra
Subscribe to My Comments Feed
Leave a Reply