« The Costs of Vaccinating and of Not Vaccinating: The Case of Pneumococcal Disease in LAC | Home | Colombia Gets Cell Phone Battery Agreement »
By Keith R | April 20, 2007
Topics: Corporate Social Responsibility, Electronic/Electrical Equipment, Environmental Protection, Waste & Recycling | No Comments »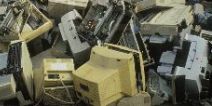 Synopsis in English: Colombia has decided it's time to take action regarding e-waste (WEEE). An agreement signed between the National Cleaner Production Center (CNPML), the Environment Ministry (MAVDT), the Swiss Secretary of State for Economic Affairs (SECO) and the Swiss Federal Institute of Materials Science and Technology (EMPA) launches an e-waste project with two phases: diagnosis and plan of action. The project will (1) identify the responsible actors (vendors, distributors, manufacturers, importers, recyclers, scrap dealers, etc.); (2) provide an overview of current WEEE efforts; (3) establish "an integrated WEEE management system"; (4) create a "national roundtable" of government, industry, civil society, etc. to agree on courses of action.
Desde el Centro Nacional de Producción Más Limpia (CNPML):
La demanda de aparatos eléctricos y electrónicos para ser utilizados en procesos de producción de bienes y servicios es cada vez mayor. Esto hace necesario que países y empresas definan políticas claras frente al manejo de los llamados Residuos de Aparatos Eléctricos y Electrónicos – RAEE, cuya disposición final tiene repercusiones sociales, económicas y ambientales.

Igualmente, los fabricantes, importadores y distribuidores deben hacerse responsables de estos aparatos incluso luego de que hayan cumplido su vida útil. Estas son dos de las premisas que justifican el desarrollo del proyecto de E-Waste (Desechos Electrónicos, por su sigla en inglés), que surge como iniciativa de la Secretaría del Estado Suizo para Asuntos Económicos – SECO – y el Instituto Federal Suizo de Prueba e Investigación de Materiales y Tecnologías – EMPA –, con al apoyo del Ministerio de Ambiente, Vivienda y Desarrollo Territorial – MAVDT –, el Centro Nacional de Producción Más Limpia y Tecnologías Ambientales – CNPMLTA y otros actores clave relacionados con el tema.

El proyecto consta de dos fases: Diagnóstico y Plan de Acción. Con la primera se busca identificar y apoyar a los actores responsables (como vendedores, distribuidores, importadores, recicladores, gobiernos y entidades sociales, entre otros.); establecer un sistema integral de gestión de RAEE; definir el panorama de la gestión actual, en cuanto a manejo, cantidades, impactos, política, normatividad, instrumentos jurídico económicos, mecanismos financieros y esquemas de organización; y sensibilizar a las instituciones y entidades involucradas en el sector de los RAEE.

La segunda fase tiene como objetivos concertar una mesa de trabajo nacional, integrada por los diferentes actores, que permita recoger experiencias y fijar lineamientos acordes con las necesidades y expectativas del medio y, como resultado final, ejecutar el proyecto adaptado a las necesidades específicas de Colombia. Lo anterior representa, entre otros beneficios, la generación de puestos de trabajo alrededor de su implementación y sostenimiento.

De acuerdo a los modelos de gestión de RAEE aplicados en muchos países de Europa, y las experiencias en otros países en vía de desarrollo, se ha demostrado que es importante tener soluciones para todo tipo de E-Waste, partiendo de proyectos piloto enfocados hacia un grupo determinado de estos residuos, por ejemplo, los equipos de Tecnologías de Información y Comunicación – TIC – (básicamente computadores y teléfonos celulares) por su creciente uso, potencial de reciclaje y los efectos ambientales negativos que se desprenden si se hace una mala disposición de ello.

Aunque ciertos componentes y materiales se pueden reciclar de manera lucrativa, el sistema no es auto sostenible, razón por la cual se hace necesario encontrar alternativas de financiación. Una práctica que ha sido aplicada en muchos países de Europa es la de financiar el aprovechamiento y reciclaje de estos residuos a través de tasas de importación, venta o disposición. Por ejemplo, puede adicionarse al precio de venta de un computador un pequeño porcentaje destinado a cubrir el costo de su disposición final.

Este proyecto podrá garantizar su efectividad si cuenta con el apoyo, participación y compromiso de todos los actores involucrados en el tema. En este orden de ideas, Suiza se constituye como un aliado estratégico no sólo por su amplia experiencia en la gestión de los RAEE en su territorio, sino también por el acompañamiento dado a países como China, India y Sudáfrica.
Tags: aparatos eléctricos y electrónicos, CNPML, Colombia, computadoras, desechos electrónicos, e-lixo, e-scrap, e-waste, EMPA, MAVDT, RAEE, reciclaje, scrap electronics, SECO, Switzerland, teléfonos celulares, WEEE
Subscribe to My Comments Feed
Leave a Reply