« Even the Small Guys… | Home | MERCOSUR Targets Advertising »
By Keith R | February 2, 2007
Topics: Environmental Protection | No Comments »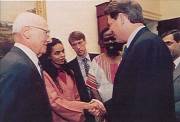 The United Nations Environment Programme (UNEP) just announced its seven "Earth Champions" to honor in 2007, just ahead of its Governing Council (GC) meeting Nairobi. While I am sure most blogs and news reports will focus on Al Gore and/or the International Olympic Committee (IOC), this is The Temas Blog, so we'll spotlight the Latin American chosen instead!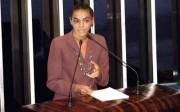 The Latin American chosen is Marina Silva, the Environment Minister for Brazil. [Her real, full name is Maria Osmarina Marina Silva de Souza Vaz de Lima.] The reasons for her selection as "Champion of the Earth" cited by UNEP are:
H. E. Ms. Marina Silva has been a tireless fighter for the protection of the Amazon rainforest. Her work has championed conservation while taking into account the perspectives of people who use the resources in their daily lives. In this respect, she is a champion of the objectives of the Convention on Biological Diversity, which promotes conservation, sustainable use and equitable sharing of the benefits of biodiversity.

Ms. Silva has recognized that, in protecting the environment, building a coalition of support demands adherence to a core set of values. Her belief that the success of the fight to save life on Earth demands that principles are at the forefront of our efforts has made her a deserving recipient of the 2007 Champions of the Earth award.

As a member of Brazil's senate, she has successfully legislated rainforest preservation, defended her people against poverty and protected their way of life. As the Brazilian Minister of the Environment since 2003, her contribution to preserving the biologically diverse, complex and rich Brazilian Amazon is remarkable, with deforestation estimated to have decreased by more than 50 per cent in the last two years – a result undoubtedly linked to a new government process implemented by her and fundamentally based on the idea of a cross-cutting approach to environmental issues in all governmental and non-governmental sectors.
The honor will be formally bestowed on the recipients in a special "environmental gala" to be held in Singapore on 19 April.
It should be noted that this is not the first time Marina has been honored by UNEP: in 1997 she was named among UNEP's "25 Women in Action in the World for Life on Earth." In fact, Marina has received a long string of public accolades over the past 10 or so years, including Time Magazine's "Young People with a Future for the World" in 1995, the Goldman Environment Award in 1996, Woman of the Year from Ms. Magazine in 1997, and Woman of the Year by Brazil's National Women's Council in 1998.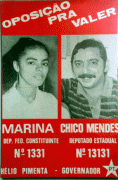 The choice of "Marina" as many Brazilians affectionately call her is almost ironic: since the re-election of President Lula last year, she has repeatedly had to beat back rumors that she would be asked to step down as Environment Minister. Although she was the first Ministerial appointment Lula announced when first elected in 2002, in recent years she has vexed many in his Administration by openly opposing government policies and proposals on biotech regulation, nuclear power, and changes in environmental licensing.
No one should be quick to count her out yet, though. Marina has a long history as a tough fighter, and she might be more of a political liability to Lula outside his government than as part of it.
Born poor in rural Acre, Marina did not learn to read or write until she was 16 working as a maid in Acre's capital, Boa Vista. Ten years later she had graduated with a degree in history from the Federal University of Acre and started teaching there as a professor. She also became one of the early militants for the Workers Party (PT) formed and led by Lula. (Yes, they go that far back.)
While still at college she helped the legendary Chico Mendes form the rubber tappers union, and ran ran for office on a ticket with him. When he was murdered in an attempt to intimidate the union, Marina carried on the work anyway.
During her life she has fought hepatitis and mercury poisoning that nearly killed her. As a result to this day she still must stick to a special diet and series of health restrictions.
In 1988 she was elected to Boa Vista's city council as the only leftist — but the vereador with the most votes. In 1990 she was elected State Deputy, also with the most votes. In 1994, just 36 years old, she became the youngest Federal Senator ever elected in the history of the Republic. She went on to serve for a while as PT leader in the Senate and the PT's chief spokesperson on environmental policy. By the time of her second re-election in 2002, she won by three times as many electoral votes as before. Even so, she heeded Lula's call and took a leave of absence to serve as Environment Minister. Should she leave office now, it is unlikely she will fade away quietly from Brazilian political life.
Tags: Acre, Amazon, biodiversidade, Boa Vista, Brasil, Chico Mendes, conservação, Goldman Environment Award, hepatitis, Lula, Marina Silva, mercury poisoning, PNUMA, rainforest, rubber tappers, Time Magazine, UNEP
Subscribe to My Comments Feed
Leave a Reply