« Brazil to Release GHG Inventory for Waste & Sanitation Sectors / Brasil vai divulgar dados sobre a emissão de gases de efeito estufa do setor de resíduos sólidos e efluentes | Home | Minas Seeks to Lead in Environmental Policy / Minas Pretende Ser Lider na Política Ambiental »
By Keith R | December 29, 2008
Topics: Chemicals, Economics & the Environment, Environmental Protection, Protection of the Ozone Layer, Waste & Recycling | No Comments »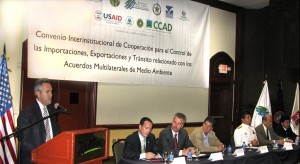 Earlier this month Ministers from Central America and the Dominican Republic responsible for the environment, agriculture, health, defense and customs signed an Inter-Institutional Cooperation Convention for the Control of Imports, Exports and Transit Related to Multilateral Environment Agreements.  The accord is supposedly the first of its kind in the world (I would be interested to hear whether that is, in fact, true).
The accord sets up mechanisms joint work on rules and regulations, training, regular information exchange and immediate control actions involving imports, exports and the transit of goods covered by certain multilateral environment agreements (known by their English acronym MEAs or Spanish acronym AMUMAS), namely:
The accord was inspired by the DR-CAFTA agreement with the United States (which includes provisions on cooperation on environment matters), and the US Agency for International Development (USAID) and US Environmental Protection Agency (EPA) have pledged their help in implementing it.
___________________
Desde la Comisión Centroamericana de Ambiente y Desarrollo (CCAD):
Convenio interinstitucional facilita cooperación a Aduanas en cumplimiento de Acuerdos Multilaterales de Medio Ambiente

Titulares de los Ministerios de Medio Ambiente, Agricultura y Ganadería, Salud, Defensa, de la Dirección General de Aduanas y del Consejo Superior de Salud Pública firmaron hoy un documento en el que se comprometen a cooperar con el trabajo en las Aduanas para el cumplimiento de los Acuerdos Multilaterales Medioambientales (conocidos como AMUMAS).

El documento firmado, denominado "Convenio Interinstitucional de Cooperación para el Control de las Importaciones, Exportaciones y Tránsito relacionado con los Acuerdos Multilaterales de Medio Ambiente", es una experiencia única e inédita en el mundo, tanto en su enfoque como en la profundidad con que aborda el tema.

En el Convenio, las instituciones acuerdan trabajar juntas en una serie de temas relacionados con el desarrollo de reglas y regulaciones, construcción de capacidades, procedimientos de manejo de riesgo ambiental, intercambio regular de información, y acción inmediata para un mejor control de las importaciones y exportaciones bajo los AMUMAS. No se conoce otro país que tenga un instrumento similar con participación de todas las instituciones vinculadas al cumplimiento de los AMUMAS.

La firma de este documento se enmarca en la Iniciativa conocida como "Cooperación Ambiental y Aduanas", que se desarrolla con la cooperación de la Agencia de los Estados Unidos para el Desarrollo Internacional (USAID) y la Agencia de Protección Ambiental de los Estados Unidos (USEPA).

La iniciativa nació con la firma del Tratado de Libre Comercio Centroamérica-EU-República Dominicana (conocido como CAFTA-DR), sustentada en el artículo 17.12 del Tratado, que establece que "las Partes reconocen que los acuerdos multilaterales medioambientales juegan un papel importante en la protección del ambiente a nivel global y nacional" y señalan que continuarán buscando los medios para aumentar el apoyo mutuo a dichos acuerdos, para contribuir a alcanzar sus objetivos.

El Convenio firmado incluye aspectos relacionados a los siguientes AMUMAS (ya firmado y ratificados por el Gobierno de El Salvador):

Convenio de Basilea para el Control de Movimientos Transfronterizos de Desechos Peligrosos y su Disposición
El Protocolo de Montreal relativo a las Sustancias que Agotan la Capa de Ozono
Convenio de Rotterdam sobre el Procedimiento de Consentimiento Fundamentado Previo aplicable a ciertos plaguicidas y productos químicos peligrosos objeto de comercio internacional
Convención de Estocolmo sobre Contaminantes Orgánicos Persistentes
Convención sobre el Comercio Internacional de Especies Amenazadas de Fauna y Flora Silvestres
Protocolo de Cartagena sobre Seguridad de la Biotecnología del Convenio sobre la Diversidad Biológica.

La firma fue realizada por el Ing. Roberto Escalante, Ministro en Funciones de Medio Ambiente y Recursos Naturales; Lic. Mario Salaverría, Ministro de Agricultura y Ganadería; Dr. Ernesto Navarro, Viceministro de Salud; Almirante Marco Antonio Palacios Luna, Viceministro de la Defensa Nacional; Lic. Héctor Gustavo Villatoro, Director General de Aduanas; y el Lic. Elías Daniel Quinteros, Secretario General del Consejo Superior de Salud Pública. Acompañó el acto el Sr. Carl Derrick, Subdirector de la Agencia de los Estados Unidos para el Desarrollo Internacional (USAID)

En sus discursos, los representantes de USAID, Aduanas y Ambiente destacaron por igual la enorme importancia que reviste este documento, ya que vendrá a fortalecer los canales de coordinación y comunicación de cara al cumplimiento de los AMUMAS, del CAFTA-DR y de la Constitución salvadoreña.
Tags: aduanas, AMUMAS, Basel Convention, biosafety, bioseguridad, CAFTA-DR, Cartagena Protocol, CCAD, chemicals, CITES, contaminantes organicos persistentes, Convención de Estocolmo, Convenio de Basilea, Convenio de Rotterdam, desechos peligrosos, Dominican Republic, El Salvador, endangered species, environment, EPA, especies amenazadas, exportaciones, exports, hazardous waste, importaciones, imports, MEAs, medio ambiente, Montreal Protocol, ozone depleting substances, persistent organic pollutants, pesticidas, pesticides, PIC, plaguicidas, POPs, Protocolo de Cartagena, Protocolo de Montreal, químicos, químicos peligrosos, República Dominicana, residuos peligrosos, Rotterdam Convention, Stockholm Convention, sustancias peligrosas, trade, USAID
Subscribe to My Comments Feed
Leave a Reply