« IDB Supports Wind Turbine Blade Factory in Brazil / BID Ajuda a expansão de fábrica de pás para turbinas eólicas no Brasil | Home | IDB Help for Sanitation & Waste Management in Manaus / Apoio do BID para Saneamento e Gestão dos Resíduos em Manaus »
By Keith R | August 8, 2008
Topics: Environmental Governance, Environmental Justice, Environmental Protection | No Comments »
Last year I did a post about Colombia's Environment Minister, Juan Lozano Ramírez, calling upon that country's Senate to finally give environmental authorities "teeth" — a true, tough environmental sanctions regime. Proposals for such a law had been before the national legislature for years (Lozano says it's been decades).
A few weeks ago the legislature finally gave the Minister the law he wished for. And it looks like it offers some rather sharp canines! It still awaits presidential signature, though, which is why I have so far held off blogging about it. Generally, when weeks pass without a presidential signature in a LAC nation, probabilities increase that the bill will be vetoed or allowed to die without signature ("pocket veto"). But Lozano continues to talk about it as if it is a published fait accompli, and he has seemed to have the backing of President Uribe in everything else he has done, so I'm going to assume it will safely emerge any day now…
You may be wondering why I use the plural "authorities" in my opening paragraph. In Colombia, while the Environment Ministry (MAVDT) sets national environment policy, implementation/enforcement is usually left in the hands of a wide variety of actors, including the 33 "autonomous regional corporations" (corporaciones autónomas regionales – CARs*)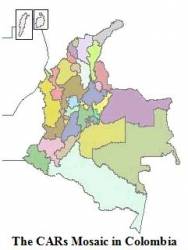 and the environmental authorities of the four largest metropoles, Barranquilla, Bogotá, Cali, Medellín.
Guilty Until Proven Innocent
What changes would the new law make? The one that MAVDT emphasizes most is reversal of burden of proof in environmental matters (Article 1). Simply put, under the approved bill, those that environmental authorities accuse of environmental crimes would now have to prove that they are not guilty, rather than the authorities having to prove the guilt of the accused beyond reasonable doubt. Environmental authorities could impose "preventive measures" just based on reasonable suspicion, and then the accused will have to fight to prove their innocence to avoid definitive sanctions.
Aggravating Circumstances
The approved bill lists (under Article 7) several conditions under which Colombian environmental authorities could impose tougher than normal sanctions, including:
Recidivism;
Infractions that generate grave, irreversible damage to the environment, natural resources, landscape or to human health;
Committing one infraction in order to hide another;
Shirking responsibility or attributing it to another;
Violating several laws with the same conduct;
Obtaining economic benefit for one's self or a third party;
Obstructing action by environmental authorities;
Partial or total noncompliance with preventive measures;
Offenses involving hazardous waste;
Offenses involving natural resources located in protected areas, or reported as endangered or under threat of extinction, or those for which there is some prohibition, restriction or ban;
Realizing an action or omission in an area designated as being of "special ecological significance" (áreas de especial importancia ecológica).
Statute of Limitations
Under the approved bill (Article 10), environmental authorities could impose environmental sanctions on a party up to 20 years after the last act or omission was committed that generated an infraction. If the conditions that generated the violation of environmental norms or an environmental damage still persist, then sanctions could be imposed at any point.
MAVDT says that this is the power that they and one of the CARs, CORPOCESAR, needed in the infamous El Copey toxic pesticide cleanup case.
Preventive Seizure or Decommissioning
Article 38 of the approved bill would allow environment officials to both seize materials involved in environmental crimes (such as wood gotten through illegal logging, or endangered species) and articles used in the commission of the crime (such as the truck hauling the illegal logs). Any seized items that cannot be stored would be given to public agencies for their own use or benefit.
If the seized items pose a hazard to human health, the environmental authorities would be allowed to immediately destroy, neutralize or incinerate them. The cost of doing so will be charged to the party committing the infraction that led to the seizure.
Tougher Fines
The limit on daily fines that environmental authorities can impose would be more than doubled, from equivalent to 2,000 legal minimum monthly salaries to 5,000. The legal minimum monthly salary is modified by presidential decree every year. Currently it is 461.50 Colombian pesos, so the new daily fine limit would be roughly US$1,384.50.
Community Service
The approved would allow environmental authorities to impose community service working on environmental projects for those found committing environmental crimes.
Other Key Provisions
Among other things the approved bill
differentiates between who can sanction and who can impose preventive measures (example: municipal and departmental (state) authorities can do latter, but most cannot do former);
sets out clear procedures and timelines;
outlines what range of sanctions are available, from fines to permanent plant closure to mandatory community service in environmental projects;
prevents the subject of enforcement from using court or administrative procedures to impede the imposition of sanctions or remedial measures, and allows for sanctions in addition to (rather than instead of) remedial or compensatory measures.
________________________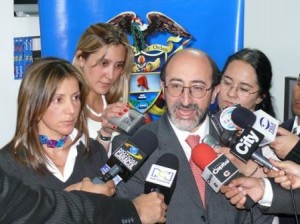 Desde el Ministerio de Ambiente, Vivienda y Desarrollo Territorial (MAVDT):
Colombia ya tiene Nuevo Régimen Sancionatorio Ambiental

El país espera desde hace 24 años nuevos trámites y procedimientos para sancionar a los infractores ambientales.
Incremento de multas diarias hasta por 5 mil salarios mínimos mensuales vigentes, presunción de culpa o dolo cuando ocurre un daño, ampliación a 20 años de las acciones sancionatorias, decomisos preventivos y trabajo comunitario en materia ambiental para el infractor son otras de las nuevas disposiciones.
La acción sancionatoria en materia ambiental es independiente de las acciones penales, civiles o disciplinarias que puedan surgir por la comisión de la infracción.

Esta ley, aprobada hoy por el Congreso de la República, modifica el decreto 1594 de 1984 – recogido después por la ley 99 de 1993 – el cual establecía trámites y procedimientos que no están acordes con las nuevas obligaciones que en esta materia se establecen por parte de la Constitución.

"Considero que la aprobación de esta Ley es un hito, fruto de un esfuerzo de años. Por primera vez el país cuenta con un articulado fuerte y actualizado para castigar a los infractores ambientales" destacó el ministro Juan Lozano.
_____________
* I like the Humboldt Institute's definition of the CARs: "entes corporativos de carácter público, creados por la Ley, integrados por las entidades territoriales que por sus características constituyen geográficamente un mismo ecosistema o conforman una unidad geopolítica, biogeográfica o hidrogeográfica, dotados de autonomía administrativa y financiera, patrimonio propio y personería jurídica, encargadas por la Ley de administrar dentro del área de jurisdicción, el medio ambiente y los recursos naturales renovables y propender por su desarrollo sostenible, de conformidad con las disposiciones legales y las políticas del Ministerio del Medio Ambiente."
Tags: acciones sancionatorias, áreas protegidas, autonomous regional corporations, Barranquilla, Bogotá, Cali, Colombia, corporaciones autónomas regionales, dano ambiental, decomisos preventivos, derecho ambiental, desechos peligrosos, El Copey, environment, environmental crime, environmental enforcement, environmental law, environmental sanctions, hazardous waste, human health, Humboldt Institute, Juan Lozano, MAVDT, Medellín, medidas preventivas, medio ambiente, natural resources, obstruction of justice, paisaje, pesticides, plaguicidas, presunción de culpa, protected areas, recidivism, recursos naturales, reincidencia, residuos peligrosos, reverse burden of proof, salud humana, trabajo comunitario
Subscribe to My Comments Feed
Leave a Reply