« Does Payment for Watershed Services Work in LAC? | Home | WHO and World Bank Join Forces on Global Health / La OMS y el Banco Mundial aúnan esfuerzos en salud mundial »
By Keith R | August 20, 2008
Topics: Environmental Protection, Food/Beverage Issues, Packaging, Waste & Recycling | No Comments »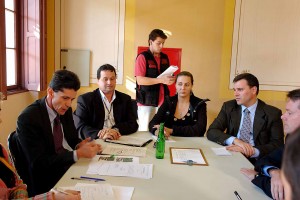 Synopsis in English: For those of you curious about the outcome of that ultimatum that environment officials in Paraná gave to producers and distributors of long-neck beer bottles to take responsibility for their wastes or else, only two distributors (out of the expected five) and a representative of the glass manufacturers industry association (instead of the glass manufacturers themselves) showed up with recycling action plans on the deadline day. The distributors were the brewers Ambev (bottlers of Antártica, Brahma and Skol) and Kaiser (which is actually owned by FEMSA), the trade association was the Brazilian Technical Association of the Automated Glass Industries (Abividro).

Paraná officials did not hide their displeasure. Environment Secretary Rasca Rodrigues said that the companies that did not fulfill their pledge to present plans by 11 August would be subjected to fines for environmental damages caused by their waste bottles. He said that SEMA would review the plans submitted and would let the companies involved know quickly whether the plans must be modified in order to avoid rejection.
The representative of the State Public Ministry (MP)* signaled that it does not consider simple promotion of bottle recycling to suffice. Saint Clair Onorato Santos said that the Ministry they will seek punitive action against the companies if they do not switch to returnable bottles.
For his part, the coordinator of SEMA's Zero Waste (Desperdício Zero) Program stressed the need for the entire product chain — packaging manufacturers, packagers/fillers, and retailers — to be involved with state environment officials in order for recycling a given waste stream to work. "That's not happening."
____________
* Under Brazil's 1988 Constitution, every state and all large cities have MPs charged with protecting the public interest through special investigations, lawsuits and negotiated "adjustment of conduct" agreements with parties violating or undermining existing law. One of the few areas explicitly targeted for action in the Constitution is environmental protection.

Loading ...
________________________
Desde a Secretaria do Meio Ambiente e Recursos Hídricos (SEMA):
Apenas duas distribuidoras de cerveja apresentam plano para recolher long neck

Apenas duas empresas distribuidoras de cerveja – Companhia de Bebida das Américas (Ambev) e Kaiser – e um representante dos fabricantes de garrafas long neck – a Associação Técnica Brasileira das Indústrias Automáticas de Vidro (Abividro) – apresentaram nesta segunda-feira (11) o plano de ação solicitado pela Secretaria do Meio Ambiente e Recursos Hídricos e o Ministério Público Estadual para estimular a reciclagem das garrafas long neck no Paraná.

"Esta era a data final para apresentação do plano informando a quantidade de long necks disponibilizadas no Paraná, a taxa de reciclagem do produto e formas de evitar que este resíduo chegue aos aterros sanitários. Agora as empresas que não apresentaram estão sujeitas à multa", informou o secretário do Meio Ambiente, Rasca Rodrigues. Em reunião realizada há 30 dias, três fabricantes e cinco empresas distribuidoras se comprometeram a apresentar as informações solicitadas.

Segundo Rasca, os planos serão analisados pela Secretaria do Meio Ambiente e Ministério Público e, se aprovados, colocados em prática para evitar que as garrafas sejam descartadas nos aterros sanitários. "Caso não sejam aprovados e sejam necessárias complementações, estas deverão ser apresentadas o mais breve possível para evitar uma eventual autuação", antecipou.

O coordenador do Centro de Apoio Operacional às Promotorias de Meio Ambiente, Saint Clair Onorato Santos, é ainda mais incisivo. "A proposta do Ministério Público continua a mesma. Se as empresas não utilizarem embalagens reutilizáveis, devem ser punidas pelo passivo ambiental que geram", afirmou.

A garrafa long neck foi criada para concorrer com outros segmentos de embalagens de bebidas, como garrafas PET e latas de alumínio, sem considerar o seu prejuízo ambiental. Para baratear custos, os fabricantes desenvolveram uma garrafa que é reciclável, mas não é retornável e ainda possui menor resistência. Isso a torna menos interessante que suas concorrentes para a indústria da reciclagem.

DESPERDÍCIO ZERO – A iniciativa de incluir grandes geradores de resíduos nos processos de coleta e reciclagem dos produtos que disponibilizam no mercado – como determina legislação federal 6.938/81 que aborda, entre outros temas, a 'responsabilidade solidária' na destinação final dos resíduos sólidos, e a lei estadual 12.493/99, que dispõe sobre a destinação final dos resíduos no Paraná – é do programa Desperdício Zero, desenvolvido pela Secretaria do Meio Ambiente.

O coordenador do programa, Laerty Dudas, explicou que as parcerias são fundamentais para o sucesso da estratégia. "O que não está acontecendo. Afinal, foram dois distribuidores e um representante dos fabricantes que apresentaram os planos de ação. Isso já demonstra a falta de integração da cadeia", alertou.

De acordo com Dudas, sem integração entre os diferentes atores desta cadeia produtiva (que são os envasadores, fabricantes de embalagens e pontos de venda, por exemplo), a destinação final fica sob a responsabilidade dos consumidores. "E aqui no Paraná a lei determina que estes atores todos participem do processo de destinação final", concluiu.
Tags: Abividro, bebidas, beer, beverage containers, botellas retornables, Brasil, Brazil, cerveja, cerveza, desperdício zero, embalagem, embalagens de bebidas, embalagens de vidro, embalagens reutilizáveis, envase, environment, environmental damage, FEMSA, garrafas long neck, garrafas reutilizáveis, glass, glass packaging, Kaiser, meio ambiente, Ministério Público, packaging, packaging waste, Paraná, passivo ambiental, Rasca Rodrigues, reciclagem, recycling, resíduos de embalagens, responsabilidade solidária, returnable bottles, SEMA, vidrio, zero waste
Subscribe to My Comments Feed
Leave a Reply