« IDB Help for Sanitation & Waste Management in Manaus / Apoio do BID para Saneamento e Gestão dos Resíduos em Manaus | Home | Getting Tough About Lamp Take-Back »
By Keith R | August 9, 2008
Topics: Climate Change, Environmental Protection, Sustainable Agriculture | No Comments »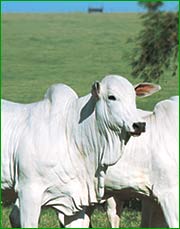 When in June I recommended a good article about the contribution of farm animal production to global climate change, I noted the significance for Latin America and the Caribbean (LAC): the importance of farm animal production throughout the region, in terms of employment, land use and contribution to gross domestic product (GDP).
One month later, Latin America took an important step toward addressing the issue: Uruguay hosted the region's first Livestock Emissions and Abatement Research Network (LEARN) workshop.
Although the Network's name basically explains what it is about, you may still be scratching your head and asking what is LEARN. It started as an idea proposed at a side session of the May 2007 Bonn meeting on the United Nations Framework Convention on Climate Change (UNFCCC), but was formalized in November.
The Network aims at improving measurement and monitoring of greenhouse gas (GHG) emissions from animal agriculture, and helping develop mitigation strategies. LEARN focuses on four areas: (1) methane emissions from ruminant livestock; (2) nitrous oxide emissions from ruminant livestock; (3) integrated whole farming system impacts at all scales (including region and watershed); (4) national livestock inventory development.
While LEARN has posted the abstracts of the presentations at the Uruguay workshop, it has not yet done so for the papers themselves.
If you are interested in the subject matter and want to get involved, visit their site and drop them a line.
________________________

Desde la Dirección Nacional de Medio Ambiente (DINAMA) de Uruguay:
El primer Taller LEARN en Latinoamérica se realiza en Uruguay

Nuestro país es sede del primer Taller LEARN (Livestock Emissions & Abatement Research Network) que se realiza en Latinoamérica, en Comunicación y Verificación de las Emisiones de Gases con Efecto Invernadero y Mitigación en Sistemas Ganaderos de Pastoreo.

Este taller pretende reunir a la política, ciencia y la industria con un interés colectivo en los sistemas ganaderos de pastoreo y se concentrará en la medición, verificación y comunicación de las emisiones de gases con efecto invernadero en este sector. Los temas específicos a cumplir incluyen: caracterización de las poblaciones ganaderas que varían en tiempo y espacio, pasando de los defectos del IPCC a valores específicos de cada país, modelando las emisiones de gases con efecto invernadero a diferentes escalas, capturando datos de actividad.

El sector agrícola produce entre 12 y 14% de las emisiones mundiales de gas con efecto invernadero. Las emisiones de gas invernadero que surgen del sector agrícola provienen de las siguientes fuentes: metano de la fermentación entérica, deshechos, quema de biomasa, producción de arroz, y óxido nitroso de los suelos, quema de biomasa, y estiércol. El metano entérico y el óxido nitroso del suelo constituyen el principal componente, siendo responsables del 70% de todas las emisiones agrícolas.

A nivel global, las emisiones de gas invernadero del sector agrícola han crecido casi 17% desde 1990 a 2005. Durante ese período, las regiones en desarrollo mostraron un 32% de aumento, y eran, para 2005, responsables de alrededor de tres cuartos de las emisiones agrícolas totales.

A nivel mundial, dentro del sector agrícola, la producción ganadera, y en particular los sistemas ganaderos de pastoreo, ocupan entre 26 y 40% del total de área de tierra del mundo. El sector ganadero emite 37% del metano antropogénico (fundamentalmente proveniente de la fermentación entérica de los rumiantes) y 65% del óxido nitroso antropogénico. La gran mayoría de esto proviene de los sistemas de pastoreo de América Latina y Asia.

La mitigación es un reto muy importante en este sector. Globalmente, es necesario diseñar estrategias de mitigación que sean costo-efectivas y que se adapten a los diferentes sistemas de producción agrícola. La demanda por alimentos está creciendo a medida que aumenta la población y sus ingresos, y los costos crecientes de los alimentos a nivel mundial, están aumentando las inquietudes por la seguridad alimentaria. Es necesario encontrar soluciones de mitigación que no tengan un efecto nocivo sobre la productividad. Teniendo esto en cuenta, una parte principal del taller estuvo destinada a analizar métodos alternativos de mitigación y métodos para la incorporación de estas estrategias de mitigación en inventarios de gas invernadero nacionales para posibilitar la reducción de dichos gases.

La situación de Uruguay

El Coordinador de la Unidad de Cambio Climático de nuestro país, Ing. Luis Santos, en su alocución explicaba que "Uruguay tiene establecida por ley una Unidad de Cambio Climático en el Ministerio del Ambiente que es el punto focal ante la Convención Marco de las Naciones Unidas sobre Cambio Climático, participamos en las negociaciones y somos los que coordinamos la realización de las comunicaciones nacionales, que es el principal compromiso que todas las partes tienen en el ámbito de la Convención".

Uruguay realizó su primera Comunicación Nacional en el año 1997, en 2004 realizó la segunda y en estos momentos se está elaborando la tercera. Fue el primer país en desarrollo que utilizó las directrices establecidas en la Conferencia de las Partes.

Uruguay también ha ratificado el Protocolo de Kyoto y participa del Mecanismo para un Desarrollo Limpio, que es un mecanismo que ha sido negociado para que las partes desarrolladas puedan cumplir con las metas establecidas en el Protocolo de Kyoto, y para que las partes en desarrollo, como el caso de Uruguay, puedan acceder el mercado del carbono y allí puedan acceder al desarrollo sostenible con medidas muy concretas.

Las medidas que Uruguay ha adoptado en este sentido pueden consultarse en www.ozono.gub.uy.

Santos sigue diciendo que "Uruguay ha realizado los inventarios como la mayoría de los países. Uruguay en sus comunicaciones nacionales ha detectado cuales son las principales fuentes de emisión, tanto de metano donde la fermentación entérica de ganado por lejos es la más importante, como el óxido nitroso proveniente de los suelos de pastoreo. En cuanto a las emisiones de dióxido de carbono de emisiones netas en el caso de Uruguay el transporte es la más importante, y en cuanto a las absorciones la forestación representa más del 70%, pero las que más interesan son las emisiones de metano y de óxido nitroso".

"Visto el panorama del inventario, el segundo paso que hemos adoptado es mejorar esos factores de emisión y trabajar con factores propios en la medida de la existencia de la información. Para ello es muy importante la creación de un grupo de trabajo multidisciplinario donde participan los principales expertos que el país tiene para recopilar esa información y ver como mejoramos esos factores de emisión. Este grupo ya tiene algunos resultados, donde la principal característica es que en un país donde el sector agropecuario es muy importante, hay mucha información que anteriormente no se vinculaba a la temática de los gases de efecto invernadero porque no estaba en la agenda", termina diciendo el técnico.
Tags: América Latina, arroz, biomasa, biomass, cambio climático, Climate Change, climate change mitigation, DINAMA, dióxido de carbono, efeito estufa, enteric fermentation, environment, estiércol, farm animals, fermentación entérica, ganado, gases de efecto invernadero, greenhouse gases, IPCC, Kyoto Protocol, Latin America, Latinoamérica, LEARN, livestock, medio ambiente, metano, methane, MVOTMA, nitrous oxide, óxido nitroso, producción ganadera, Protocolo de Kyoto, rice, sector agropecuario, UNFCCC, Uruguay
Subscribe to My Comments Feed
Leave a Reply