« Update: Tetra Pak & Aseptic Packaging Recycling in Paraná | Home | A Safe, Easy to Use Chagas Treatment for Children / Un tratamiento más seguro y fácil para los niños infectados con la enfermedad de Chagas »
By Keith R | August 17, 2008
Topics: Conservation, Economics & the Environment, Environmental Protection, Marine/Coastal Issues | No Comments »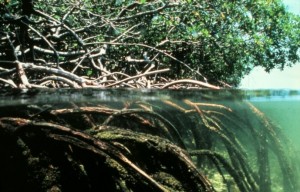 When last May I blogged about the importance of Mexico's inventory of its mangroves, I declared that mangroves matter. One of the reasons I cited was that they usually serve as nurseries and homes for many fish, shrimp, crabs, mollusks and other marine life (in the Dominican Republic, for example, many of the endangered manatees make the mangroves their homes).
Recently an article* in the journal Proceedings of the National Academy of Sciences (PNAS) looked at the value of Mexico's mangroves along the Gulf of California to the fishing industry there. The study they report on found that
fisheries landings are positively related to the local abundance of mangroves and, in particular, to the productive area in the mangrove–water fringe that is used as nursery and/or feeding grounds by many commercial species. Mangrove-related fish and crab species account for 32% of the small-scale fisheries landings in the region. The annual economic median value of these fisheries is US $37,500 per hectare of mangrove fringe, falling within the higher end of values previously calculated worldwide for all mangrove services together. The ten-year discounted value of one hectare of fringe is >300 times the official cost set by the Mexican government. The destruction of mangroves has a strong economic impact on local fishing communities and on food production in the region.
I'm glad to see this type of economic assessment done of the value of mangroves, and hope to see others like it for mangroves and other forms of wetlands in Mexico. May the Mexican Government heed them and adjust it own valuations used in making decisions on environmental management of wetlands and development nearby.
I also hope to see such economic studies done for the rest of Latin America and the Caribbean (LAC). Too few LAC governments understand the ecosystem services provided by mangroves until they're gone and the damage is done.
_________________________
* Aburto-Oropeza, Octavio, et. al. Mangroves in the Gulf of California increase fishery yields. PNAS 2008 105:10456-10459
Tags: crabs, environment, fisheries, Gulf of California, manglares, mangroves, medio ambiente, Mexico, mollusks, PNAS, shrimp, wetlands
Subscribe to My Comments Feed
Leave a Reply