« Cost-benefit of Iron Deficiency Interventions in Argentina | Home | Paraná Promotes Energy from Biodigestors »
By Keith R | February 17, 2009
Topics: Environmental Protection | No Comments »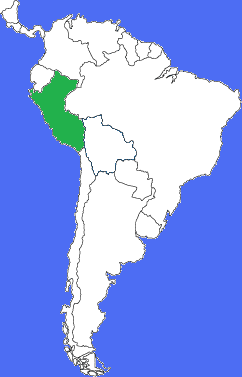 From the World Bank:
US$330 Million to Support the Environment

Program components include environmental management, mining, biodiversity, urban transport and fisheries

The World Bank Board of Executive Directors today approved a US$330 loan million to Peru to strengthen the new Ministry of the Environment and improve environmental management in key sectors of the Peruvian economy, including mining, urban transport, fisheries and biodiversity conservation.

"The World Bank has decided to support Peru resolutely in the implementation of environmental policies permitting sustainable development," said Felipe Jaramillo, World Bank Director for Bolivia, Ecuador, Peru and Venezuela. "In the context of the global financial crisis, it is key to identify and adopt an increasing number of policies that could make progress in both the economy and environmental protection," he added.

Urban air pollution is one of the most severe problems in Peruvian cities. It is estimated to cause approximately 4,000 deaths per year, most of them among poor sectors and children under five years old.

According to the 'Environmental Analysis of Peru', published by the World Bank, the cost of environmental damage amounts to 3.9 percent of the country's GDP: about US$2.3 billion in losses caused by air and water pollution.

The same report indicates that air pollution levels in Lima and Callao, in terms of particulate matter (PM10), exceed those of Mexico City, Sao Paulo and Santiago, all cities with a greater number of cars than Lima and less favorable geographic conditions. The diesel used in Peru is low quality, containing high levels of sulfur (5,000 parts per million), which contributes to the generation of particulate matter. Therefore, the need to introduce clean fuel, including diesel with no more than 50 parts per million of sulfur content, and optimize vehicular performance to help reduce particulate matter in urban areas.

"The program aims at improving the quality of fuels, especially diesel, the most commonly used fuel in public transportation. According to the law, by January 1, 2010, the quality of fuels must improve substantially. This means updating vehicles in Lima, where there are currently many old and highly polluting cars, to improve air quality," said Minister of the Environment Antonio Brack.

The World Bank's programmatic loan is the first in a series of three that will fund institutional reforms and policies in five key areas:

Improved environmental management, including supporting the strengthening of the Ministry of the Environment
Fuel and transport sector reform to improve air quality
Biodiversity conservation (Peru is among the eight countries with the greatest diversity in the world)
Sustainable environmental management in the mining sector
Sustainable development of the fisheries sector

Regarding the mining sector, Renán Poveda, environmental expert and World Bank project manager, stated that "the program will conduct an inventory of the current negative impacts of former mining and smelting operations, which are called mining environmental liabilities. This study will help identify and prioritize these liabilities to set up strategies for improvement. There is much to be done in this area." He also added that the program: "will promote citizen involvement in the entire mining cycle, including participatory environmental monitoring. This is an important innovation that could have major implications in reducing social conflict."

Finally, the program will support sustainable development and reduce the overcapacity of the fishing sector. It will additionally strengthen capacities to deal with potential social impacts associated with fleet reductions. Fishing resources in Peru are among the largest in the world but they are threatened by several factors, including overcapacity of the fishing fleet which had led to the overfishing of several marine species, including anchovies.

The Peru Programmatic Loan for Environmental Development Policy Loan reflects a strong commitment at the highest level to face environmental challenges and it has the benefit of coordinating the actions of the Ministries of Economy and Finance, of Energy and Mines, of Production, of Transportation and Communications, and the Ministry of Health, through DIGESA, and the recently created Ministry of the Environment, among other agencies.

The US$330 million loan includes a LIBOR rate plus a 0.75 percent fixed margin to be repaid in 21.5 years and a grace period of 13.5 years.
______________________
Desde el Banco Mundial:
US$330 millones para apoyar al medio ambiente

gobernabilidad ambiental en minería, biodiversidad, transporte urbano y pesca, ejes del programa

El Directorio Ejecutivo del Banco Mundial aprobó este martes un préstamo de US$330 millones para fortalecer el nuevo Ministerio del Ambiente y mejorar la gestión ambiental en el Perú en sectores claves de la economía de esta nación andina, desde la minería, al transporte urbano, pasando por la pesca y la conservación de la biodiversidad.

"El Banco Mundial apoyará decididamente al país en el desarrollo de políticas ambientales dado que permiten un desarrollo sostenible", dijo Felipe Jaramillo, director para Bolivia, Ecuador, Perú y Venezuela del Banco Mundial y agregó "en el contexto de la crisis financiera global, es clave poder responder al reto de identificar y aplicar la mayor cantidad posible de políticas que puedan incidir en avances simultáneos tanto en el frente económico como en el de la protección del ambiente".

La contaminación atmosférica urbana es uno de los problemas más agudos de los centros urbanos del Perú. Se estima que es responsable de la muerte anual de cerca de 4.000 personas, en su mayoría pobres y niños menores de cinco años.

Según el 'Análisis Ambiental del Perú', publicado por el Banco Mundial, el costo de la degradación ambiental del país equivale al 3,9% del PBI, esto es unos US$2,3 mil millones de pérdidas causadas por la contaminación atmosférica y del agua.

Lima y Callao, de acuerdo al mismo estudio, tienen niveles de contaminación atmosférica de material particulado (PM10) superiores a Ciudad de México, Sao Paulo y Santiago, ciudades con una flota vehicular mayor que Lima y con condiciones geográficas más desfavorables. El diesel que se utiliza en el Perú es de baja calidad ya que contiene altos niveles de azufre (5.000 partes por millón), el cual contribuye a generar el material particulado. Por ende, la necesidad de introducir combustibles limpios, incluyendo diesel con contenido de azufre de no más de 50 partes por millón, y optimizar el desempeño de la flota vehicular para contribuir a la reducción de material particulado en zonas urbanas.

"El programa apunta a mejorar la calidad de los combustibles, en especial del diesel, que es el más usado por el transporte público. La ley precisa que para el primero de enero de 2010 la calidad del combustible tiene que haber mejorado sustancialmente. Esto implica renovar el parque automotor de Lima, que tiene muchos vehículos antiguos y contaminantes, como medida para mejorar el aire", declaró Antonio Brack, Ministro del Ambiente.

El préstamo programático del Banco Mundial es la primera operación en una serie de tres, que financiará reformas institucionales y de políticas en cinco áreas claves:

Mejora de la gestión ambiental, incluyendo el apoyo al fortalecimiento del Ministerio de Medio Ambiente
Reformas en el sector transporte y de combustibles para la mejora de la calidad del aire
Conservación de la biodiversidad (Perú está entre los 8 países megadiversos más importantes del planeta)
Gestión ambientalmente sustentable en el sector minero
Desarrollo sostenible del sector pesca

Respecto al apoyo en el sector minería, Renán Poveda, especialista ambiental y gerente del proyecto por el Banco Mundial, señaló que "el programa desarrollará el inventario de los actuales impactos perjudiciales de las anteriores operaciones mineras y de fundición, que se denominan pasivos ambientales de la minería o PAMs y ayudará a identificarlos y priorizarlos para establecer estrategias de remediación. En esta área hay mucho trabajo por realizar". Indicó además que el programa "promoverá la participación ciudadana en todo el ciclo minero, incluyendo el monitoreo ambiental participativo. Esta es una importante innovación que puede tener repercusiones sustanciales en reducir los conflictos sociales", aseveró Poveda.

Finalmente, el programa apoyará al desarrollo sostenible y la reducción de la sobrecapacidad del sector pesquero, y fortalecerá la capacidad para atender los posibles impactos sociales asociados con la reducción de la flota. El recurso pesquero del Perú es uno de los más ricos del mundo, se encuentra amenazado por varios factores, particularmente la sobrecapacidad de la flota pesquera que han producido sobreexplotación de varias especies marinas, incluyendo la anchoveta.

El Préstamo programático de reformas ambientales del Perú refleja un fuerte compromiso asumido al más alto nivel para afrontar los desafíos ambientales y tiene la virtud de articular a los Ministerios de Economía y Finanzas (MEF), Energía y Minas (MEM), Producción (PRODUCE), Ministerio de Transporte y Comunicaciones (MTC); Ministerio de Salud a través de la DIGESA y el recientemente creado Ministerio del Ambiente, entre otras instituciones.

El financiamiento de US$330 millones, aprobado este martes, incluye una tasa Libor más un margen fijo 0,75% a pagar en 21,5 años y un período de gracia de 13,5 años.

Datos de interés

El parque automotor del Perú tiene 18 años, por lo que es uno de los más antiguos de América Latina.
Según el INEI, el Perú cuenta con 800,000 vehículos, y está en la cola de la región respecto a la renovación de su parque automotor.
La mayor cantidad de viajes de Lima se realizan en transporte público, generándose unos 10 millones de viajes al día.
Los principales contaminantes del aire emitidos por los escapes de los vehículos son el monóxido de carbono, los óxidos de nitrógeno, bióxido de azufre y los temibles hidrocarburos policíclicos condensados (HPC).
Tags: air pollution, Air Quality, Banco Mundial, biodiversidad, Biodiversity, bióxido de azufre, calidad del aire, Callao, conservación, Conservation, contaminación atmosférica, diesel, DIGESA, environment, environmental liability, fisheries, Lima, medio ambiente, MEF, MEM, minería, mining, monóxido de carbono, MTC, países megadiversos, particulates, Peru, PM10, PRODUCE, sector pesca, transporte público, transporte urbano, urban transport, World Bank
Subscribe to My Comments Feed
Leave a Reply