« A New Fund for Water and Sanitation in LAC / Nuevo fondo para agua y saneamiento en ALC / Novo fundo para água e saneamento em ALC | Home | Carbon Financing for Sustainable Farming / Financiación del carbono para estimular la agricultura sostenible »
By Keith R | November 5, 2008
Topics: Conservation, Environmental Protection | No Comments »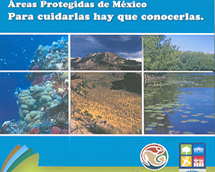 From the World Bank:
Additional US$5.44 Million For National Protected Areas System In Mexico

Twelve new areas with invaluable biospheres will be incorporated

The World Bank's Executive Board of Directors approved today an additional grant for US$5.44 million from the Global Environmental Facility (GEF) in order to assist the Mexican government; Mexico's Development Banking Institution, Nacional Financiera, and the Mexican Nature Conservation Fund, in its efforts to promote conservation and the sustainable use of biodiversity through the consolidation of the Protected Areas System Project.

"This grant is in response to the success we have observed in Mexico's endowment fund with the participation of the Secretariat of Environment and Natural Resources and the Mexican Nature Conservation Fund. Our collaboration in the project began many years ago and we recognize the positive outcome for the country and, above all, for the social groups directly involved. The idea is to expand the initial coverage set forth in 1997 by the Global Environmental Facility to twelve new areas, reaching a total of twenty-two protected areas in the program,¨ said Axel van Trotsenburg, World Bank Director for Mexico and Colombia.

These resources represent long term financing for three additional biosphere reserves: La Sepultura and El Ocote in Chiapas; and Mapimi in the states of Chihuahua, Coahuila and Durango. Each one encloses unique biodiversity that faces threat to its conservation and its sustainable use.

The Consolidation of the Protected Areas System Project (SINAP II) began in 2002 and aims to achieve its goals through:

(a) Conservation of biodiversity of global importance in selected areas of the SINAP II, through a trust fund;

(b) Promoting economic, social and environmental sustainability in productive activities throughout selected protected natural areas;

(c) Promoting co-responsibility in conservation; and

(d) Promoting the inclusion of biodiversity conservation and sustainable criteria in development projects and other practices that affect the selected protected natural areas.

"Even though it's a local effort, the benefits generated through the protection of these areas include long term conservation of biodiversity of global importance," said Adriana Moreira, World Bank Senior Specialist on Environment and team leader of the project. "This project would not be as successful if it wasn't for the collaboration of the residents in the areas and the indigenous communities that inhabit them. They are our strategic partners," she added.

The GEF started to finance protected natural areas in Mexico in 1992. Subsequently, in 1997, the project was restructured as a trust fund for ten protected areas (SINAP I). In 2002 the Consolidation of SINAP II was approved. The protected areas which were included were selected on the basis of the global value of its biodiversity, as well as the threats they were facing.

The SINAP II project was originally approved by the World Banks Executive Board of Directors in February 2002, when a commitment was made to finance an innovative multi-tranched structure with a total amount of US$31.1 million.

The first tranche of US$16.1 million included US$7.5 million endowment fund to cover the basic conservation of four protected areas. The second tranche of US$2.21 million was endorsed on July 2004 to support basic conservation in the Sierra de Alamos in Sonora. The third tranche was endorsed on June 2007 and corresponded to a US$7.35 million grant which was used to add another four protected areas to the program. In this fourth tranche, the approval is for US$5.44 million to support the three selected protected areas mentioned above.

The total cost of the project considering SINAP I and SINAP II is US$60.12 million.
______________________________
Desde el Banco Mundial:
$US 5.44 millones más para el Sistema Nacional de Áreas Protegidas en México

Se incorporan al programa doce nuevas áreas con biosferas invaluables

La Junta de Directores del Banco Mundial (BM) aprobó hoy una donación adicional por $US 5.44 millones del Fondo para el Medio Ambiente Mundial (FMAM) para asistir al gobierno de México, a Nacional Financiera y al Fondo Mexicano para la Conservación de la Naturaleza, en sus esfuerzos por promover la conservación y el uso sostenible de la biodiversidad a través de la consolidación del Sistema Nacional de Áreas Protegidas.

"Esta donación surge en respuesta al éxito que observamos en el fondo patrimonial de México, en el cual participan la Secretaría de Recursos Naturales y Medio Ambiente, y el Fondo Mexicano para la Conservación de la Naturaleza. Nuestra participación en el proyecto inició hace varios años y reconocemos los resultados para el país y sobre todo para los grupos sociales involucrados directamente en el proyecto. La idea es expandir la cobertura inicial planteada en 1997 por el Fondo para el Medio Ambiente Mundial a doce nuevas áreas para tener así un total de veintidós áreas protegidas en el programa¨, dijo Axel van Trotsenburg, Director del Banco Mundial para México y Colombia.

Estos recursos representan un financiamiento de largo plazo para tres reservas de biosferas adicionales: La Sepultura y El Ocote en Chiapas; y Mapimí en los estados de Chihuahua, Coahuila y Durango. Cada una cobija biodiversidad única que enfrenta amenazas para su conservación y uso sustentable.

La Consolidación del Proyecto de Sistema de Áreas Protegidas (SINAP II) inició en 2002 y busca lograr sus objetivos por medio de:

(a) Conservación de biodiversidad de importancia global en áreas seleccionadas del SINAP II, a través de un fondo patrimonial;

(b) Promoción de la sustentabilidad económica, social y ambiental en actividades productivas en áreas naturales protegidas seleccionadas;

(c) Promoción de la co-responsabilidad en conservación; y

(d) Promoción de la inclusión de la conservación de la biodiversidad y criterios sustentables en proyectos de desarrollo y otras prácticas que afectan a las áreas naturales protegidas seleccionadas.

"Si bien es un esfuerzo local, los beneficios generados por la protección de estas áreas incluyen la conservación a largo plazo de biodiversidad de importancia global", dijo Adriana Moreira, especialista Senior en Medio Ambiente del Banco Mundial y líder del proyecto. "Este proyecto no sería tan exitoso si no fuese porque lo hacemos en estrecha colaboración con los residentes de las áreas y las comunidades indígenas que las habitan. Ellos son nuestros socios estratégicos", añadió.

El FMAM empezó a financiar áreas naturales protegidas en México en 1992. Posteriormente, en 1997, el proyecto se reestructuró como un fondo patrimonial para diez áreas protegidas (SINAP I). En 2002 se aprobó la Consolidación del SINAPII.   Las áreas protegidas que incluye fueron seleccionadas con base en el valor global de su biodiversidad, así como en la amenaza real que enfrentan.

El Proyecto SINAP II fue aprobado inicialmente por el Directorio del BM en febrero de 2002, cuando la institución se comprometió a entregar financiamiento en el marco de una innovadora estructura de múltiples tramos por un monto total de US$31,1 millones.

El primer tramo de US$16,1 millones consideró fondos patrimoniales por US$7,5 millones para cubrir la conservación básica de cuatro áreas naturales protegidas. El segundo tramo de US$2,21 millones fue aprobado en julio de 2004 para apoyar la conservación básica del área natural protegida Sierra de Álamos en Sonora. El tercer tramo fue otorgado en junio de 2007 y correspondió a una donación de US$7,35 millones, y con él se añadieron cuatro áreas protegidas al programa. En este cuarto tramo, la aprobación es por US$5.44 millones para apoyar las tres áreas naturales protegidas señaladas anteriormente.

El costo total del proyecto entre el SINAP I y SINAP II asciende a US$60,12 millones.
Tags: áreas protegidas, biodiversidad, Biodiversity, biosphere reserves, Chiapas, Chihuahua, Coahuila, conservación, Conservation, Durango, El Ocote, FMAM, GEF, La Sepultura, Mapimi, Mexico, protected areas, reservas de biosferas, Sierra de Alamos, SINAP, Sonora, World Bank
Subscribe to My Comments Feed
Leave a Reply