« Postscript on the Battery Recycling Controversy in Paraná | Home | Carbon Credits for Light Bulbs »
By Keith R | October 1, 2007
Topics: Environmental Education, Environmental Protection, Waste & Recycling | 1 Comment »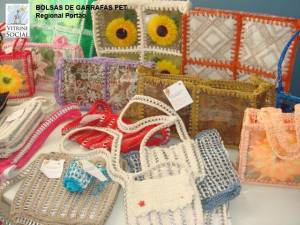 Last week I introduced you to some cool purses made in Rio de Janeiro and Maranhão from recycled materials, such as banana fiber and PET from drink bottles.
Here's more, this time from Curitiba, the capital of Paraná.  Curitiba has a longstanding and well-deserved reputation for promoting recycling through environmental education.
Thus it is not really a surprise (to me, anyway) to find that a city entity, the Social Action Foundation (Fundação de Ação Social – FAS), is aiding "socially vulnerable" people organize, improve and market — through the FAS' "Social Display Window"  (Vitrine Social) — crafts made using recycled and reused materials.  [Most of the purses pictured at right were made using PET from scrap drink bottles.]  The object is not only to help them become economically self-sufficient, but demonstrate in a concrete fashion that recovered materials have value as material inputs.
______________________________
Desde a Prefeitura de Curitiba:
FAS participa de projeto ecológico

A Fundação de Ação Social (FAS) participou nesta quinta-feira (20) do projeto Econutri, com ações de conscientização e educação ambiental para os funcionários da empresa Nutrimental. A Diretoria de Geração de Renda montou um espaço para apresentar o "Vitrine Social", com exibição de trabalhos sociais destinados a geração de renda com o uso de técnicas de reciclagem e aproveitamento de materiais.

O Vitrine Social é um projeto de capacitação e inserção profissional que tem como objetivo proporcionar autonomia a pessoas ou grupos que se encontram em situação de vulnerabilidade social. "Ensinamos um ofício para melhorar a qualidade de vida, a preservação do meio ambiente e o exercício da cidadania", diz Ana Maria Taques Ghignone, diretora de Geração de Emprego e Renda da FAS.

O projeto oferece apoio a grupos de produção regionais com potencial de trabalho, baixo poder aquisitivo, dificuldades de gestão e técnica de produção para que passem a ganhar em qualidade e produtividade, através da adoção de um conceito de agregação de valor nos produtos e de desenvolvimento pessoal.

Através do acompanhamento, qualificação e profissionalismo o programa rompe a barreira do assistencialismo gerando, de forma sustentável, o trabalho e renda para a população atendida.

A proposta é que os produtos sejam comercializados diretamente pelos artesãos, sem intermediação.
Tags: Brasil, Brazil, cartera, crafts, creative recycling, Curitiba, drink bottles, FAS, garrafas PET, Paraná, purse, reciclagem, reciclaje, recycled PET, recycling, rPET, Vitrine Social
One Response to "Using Crafts to Promote Recycling and Employment"
everydaytrash Says:
January 28th, 2009 at 8:57

[…] The post includes a fantastic roundup of past Temas posts on creative […]
Leave a Reply