« A Regional Waste Exchange for Central America | Home | Mexico's DF Promotes Organics »
By Keith R | August 4, 2009
Topics: Waste & Recycling | No Comments »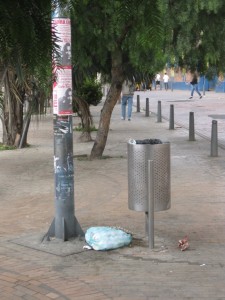 From the World Bank:
Financing to address health and environmental problems

The US$20 million for implementing the Solid Waste Management Program in Colombia will seek to improve the quality and coverage of the country's integrated waste treatment services, benefiting close to 400,000 people thanks to the appropriate management of solid waste in landfills built by the project.

"This program aims to leverage additional resources from different sources in the waste management sector. It will be implemented within the framework set by the Water and Waste Department Plans, in alignment with the institutional management, financial, social, and environmental instruments. We seek to modernize waste services and the institutions responsible for their management in order to improve Colombians' quality of life," declared Dr. Leyla Rojas Molano, Deputy Minister of Drinking Water and Waste.

The project involves three components:

Development of and investment in final solid waste disposal systems

. The resources will finance infrastructure, equipment, and services to facilitate solid waste management, particularly by eliminating open-air dumps. Technical assistance will also be financed.

Institutional strengthening

. This component aims to strengthen regional solid waste management planning systems through technical assistance: improve institutional capacities for applying regulatory schemes and sector tariffs; and develop a strategic framework for recycling.

Project management

. Includes associated costs for implementation.

The project's total cost is US$26.5 million, of which the World Bank will provide US$20 million and the Colombian government US$6.5 million. It aims to achieve the following outcomes:

a) Construction and operation of landfills:

b) Sustainable closure of open-air dumps:

c) Cost recovery in World Bank-financed landfills:

d) Establishment of companies specializing in solid waste management;

e) Social inclusion of garbage scavengers affected by project implementation.

The Colombian Ministry of Environment, Housing, and Territorial Development is responsible for project implementation. This fixed-rate loan in United States dollars has a 15.5-year payback period and a 10-year grace period. A front-end fee (FEF) of 0.25% of the total amount has been agreed upon, to be paid with government resources. The project period spans from October 1, 2009, to December 31, 2013.
___________________
Desde el Banco Mundial:
Financiamiento para revertir problemas sanitarios y de medio ambiente

Por su parte, los $US 20 millones para la implementación del Programa de Administración de Desechos Sólidos en Colombia, buscan mejorar la calidad y cobertura de los servicios de administración integrados de deshechos en el país, que beneficiarán a cerca de 400,000 personas, gracias a una administración adecuada de desechos sólidos en rellenos sanitarios construidos bajo el proyecto.

"Con este programa se pretende apalancar recursos adicionales de diferentes fuentes del sector de saneamiento básico y su ejecución estará en el Marco de los Planes Departamentales de agua y saneamiento, en armonía con los instrumentos de gestión institucional, financieros, sociales y ambientales. Buscamos modernizar el servicio de aseo y las instituciones a cargo de su administración, para mejorar la calidad de vida de los colombianos", aseguró la Doctora Leyla Rojas Molano, Viceministra de Agua Potable y Saneamiento.

El proyecto consta de tres componentes:

Desarrollo e inversión en sistemas de disposición final de desechos sólidos

. Los recursos financiarán la construcción de infraestructura, equipos y servicios que faciliten la administración de desechos sólidos, especialmente mediante la eliminación de basureros al aire libre. También se financiarán servicios de asesoría técnica.

Fortalecimiento institucional

. Este componente pretende fortalecer, a través de asistencia técnica, los sistemas de planeación de administración de desechos sólidos a nivel regional; mejorar las capacidades institucionales para la aplicación de esquemas regulatorios y de tarifas del sector; y desarrollar una estrategia marco para reciclaje.

Administración del proyecto

. Contempla los costos asociados a su ejecución.

El costo total del proyecto es de $US 26.5 millones, de los cuales el BM aportará $US 20 millones y el gobierno de Colombia $US 6.5 millones y busca obtener los siguientes resultados:

a) Construcción y operación de rellenos sanitarios;

b) Clausura sustentable de basureros al aire libre;

c) Recuperación de costos en rellenos sanitarios financiados por el BM;

d) Formación de compañías especializadas en manejo de desechos sólidos;

e) Inclusión social de pepenadores (recuperadores) afectados por la implementación del proyecto.

La agencia responsable para la ejecución del préstamo es el Ministerio de Ambiente, Vivienda y Desarrollo Territorial de Colombia. Es un préstamo con plazos fijos, en dólares estadounidenses, a pagar en el transcurro de 15.5 años con un período de gracia de 10 años. Se ha acordado una ¨Tasa al término del plazo¨ (Font end fee, FEF por sus siglas en inglés) de 0.25% del monto total, a ser pagada con recursos del gobierno. El plazo de ejecución del proyecto será del 1 de Octubre de 2009 al 31 de diciembre de 2013.
Tags: Banco Mundial, basureros, Colombia, desechos sólidos, landfills, MAVDT, rellenos sanitarios, residuos sólidos, solid waste management, waste, World Bank
Subscribe to My Comments Feed
Leave a Reply