« Oxfam Argues for New Global Climate Adaptation Fund / Oxfam aboga por un nuevo fondo mundial para adaptación al cambio climático | Home | Brazil to Build Tobacco Testing Lab for Latin America / Brasil vai construir laboratório »
By Keith R | September 21, 2009
Topics: Waste & Recycling | No Comments »

I've posted in the past about innovative Brazilian programs in the states of Ceará (CE), Mato Grosso (MT) and Rio de Janeiro (RJ) to get people to turn in recyclables in exchange for getting a reduction in their monthly electric power bill.  One of the programs I liked was Consciência EcoAmpla, run by Endesa's subsidiary in RJ state, Ampla.  Now it's added another twist that to my eyes makes it even more interesting.
What has made the EcoAmpla program noteworthy?  For one, the range of recyclables that they accept.  Their dozen collection posts [Araruama, Cabo Frio, Niterói (several), Petrópolis, São Gonçalo, São Pedro da Aldeia, Teresópolis] accept most metal (aluminum cans, iron, bronze, stainless steel, lead, antimony, tin — copper is not accepted), most paper (white paper, colored paper, cardboard, newspapers, magazines), plastic packaging (particularly PET, plastic bags), glass bottles and containers, Tetrapak, and used cooking oil (which will be sold to companies that make soap and biodiesel).
Another is the way Ampla arranges the trade — they use personalized electronic cards.  When a client brings in recyclables to the center, they are weighed and their value is calculated depending on type (aluminum cans or PET bottles, for example, get better values than cardboard). The value is credited to the card, which can be used as discounts when the client goes to pay his/her electric bill.
Ampla says that in one year its EcoAmpla program has received 400 metric tons of recyclables, registered 35,000 clients in the program and given $67,000 in discounts on electric bills.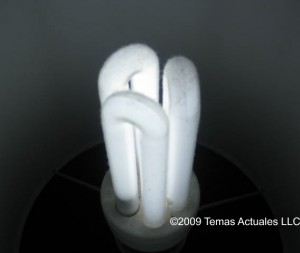 The new twist is that Ampla is encouraging clients to exchange their used "yellow" (incandescent) light bulbs for (more expensive but more efficient) compact fluorescents.  And if they trade in 10 bulbs in one month, they can participate in a drawing to win one of five (energy-efficient) Cônsul 300 refrigerators to be given away.  By getting their customers to switch to CFLs, Ampla helps households lower their monthly household bills — and of course it frees up some capacity for Ampla.
What's next for the program?  Introducing a mobile trade-in post in Niterói.
I've said it in the past, but it bears repeating: I would love to see Endesa implement this program in the other markets in which they operate in Latin America, namely Argentina (Edesur), Chile (Chilectra), Colombia (Codensa) and Peru (Edelnor).  I also would like to see other power utilities follow suit.

Loading ...
Tags: aço inox, aluminum cans, Ampla, antimônio, Araruama, aseptic packaging, biodiesel, Brasil, Brazil, bronze, Cabo Frio, cardboard, Ceará, chumbo, compact fluorescents, Cônsul 300, copper, EcoAmpla, electric bill, embalagem longa vida, embalagens plásticas, Endesa, environment, fatura de energia, ferro, garrafas, geladeiras, glass packaging, iron, jornal, lâmpadas fluorescentes, lata de alumínio, latão, lead, lixo reciclável, magazines, materiais recicláveis, Mato Grosso, meio ambiente, metais, metals, newspapers, Niteroi, óleo de cozinha, óleo vegetal, packaging waste, papel, papel branco, papel colorido, papelão, paper, PET, Petropolis, plastic bags, plastic bottles, plastics, potes de vidro, reciclagem, recipientes, recycling, refrigerators, residuos, resíduos de embalagens, revista, Rio de Janeiro, sacolas, São Gonçalo, São Pedro da Aldeia, soap, stainless steel, Teresópolis, Tetrapak, used cooking oil, vidro, waste
Subscribe to My Comments Feed
Leave a Reply