« OECS Goes Proactive Regarding Fake Medicines | Home | Nominate a LAC Candidate for the Skål Ecotourism Award! »
By Keith R | June 10, 2008
Topics: Waste & Recycling | No Comments »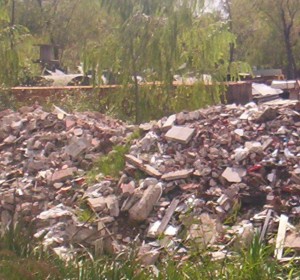 Brazilian researchers have developed a new cost-saving and energy-saving way to recycle construction and demolition (C&D) waste that they claim is so innovative that they are filing to patent the process. However, the essential idea behind it is so simple that many city planners and waste engineers will probably slap their foreheads and exclaim, "Why didn't I think of that?!"
The new process is the result of investigation into current C&D waste and recycling efforts in Brazil by researchers from the Polytechnical School of the University of São Paulo (Escola Politécnica da Universidade de São Paulo – Poli/USP), the Mineral Technology Center (Centro de Tecnologia Mineral – Cetem) and the Federal University of Alagoas (Universidade Federal de Alagoas – UFAL). The researchers looked into the C&D waste in three very different cities: São Paulo, Maceio (Alagoas) and Macae (Rio de Janeiro). They collected about 20 metric tons of C&D waste from the three cities and analyzed its composition. They also looked into how C&D wastes are currently recycled in Brazil.
Most C&D recycling centers use a mechanical crusher to reduce the waste (predominantly concrete and asphalt) into pieces no bigger than 63 millimeters (mm) in diameter. One of the traditional impediments to setting up C&D waste recycling facilities has been the initial purchase and installation costs of the crusher (usually representing half of the start-up costs of a C&D recycling center), and the cost of the large amounts of electricity needed to run it (usually representing up to 80% of the energy bill of a C&D waste recycling facility).
What the researchers found is that roughly half of the unprocessed C&D waste from the three Brazilian cities they studied already is 63 mm or smaller. So they developed a process which takes advantage of that fact. It features a first phase of manual separation of "contaminants" (wood, paper, ceramics, metal pieces, etc.), a screening of the remainder to sift out the pieces 63 mm or smaller, a second round of manual separation, and the remainder sent off to a different facility equipped with a crusher.
In this way, relatively cheap, small sorting facilities can be set up by municipalities of all sizes, and the sifted small pieces sold locally as aggregate to use in the manufacture of new pavement. [Conceivably the metal pieces can be sold to a local scrap dealer, and the sorted wood and paper pieces either used as fuel or composted.] The facilities are cheaper to set up and run because they do not involve the initial capital cost and later energy bills of the crusher. Catadores (waste-pickers) can be trained and employed to do the manual sorting. By having such facilities close to the final market, transportation costs are reduced, making the aggregate more price competitive as an input into pavement projects.
Tags: aggregate, Alagoas, Brasil, Brazil, C&D waste, catadores, ceramics, Cetem, civil construction, concrete, concreto, Macae, Maceió, madeira, papel, paper, patent, pavement, pavimento, reciclagem, recycling, residuos, Rio de Janeiro, São Paulo, UFAL, USP, waste, wood
Subscribe to My Comments Feed
Leave a Reply