« Environment-Friendly Mexican Diapers? | Home | Environment Provisions in LAC Constitutions Added to Tools Section »
By Keith R | July 2, 2007
Topics: Renewable Sources, Waste & Recycling | 48 Comments »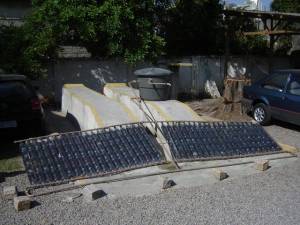 Synopsis in English: The government of the southern Brazilian state of Paraná has been conducting an interesting experiment in environmental design utilizing waste materials.
Since August 2006 state agencies have sponsored projects to construct solar water heaters constructed from used PET bottles and "long life" (aseptic) milk packaging. So far some 3,000 such heaters have been constructed and put into operation in 254 Paraná municipalities, in the process diverting about 1.2 million PET bottles and aseptic milk cartons that otherwise might have gone into landfills. It takes 200 PET bottles and 200 aseptic milk cartons to construct the solar water heater array.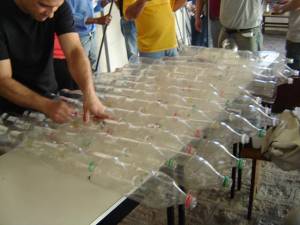 It's estimated that if the heater is used to heat the water for two bathrooms, it can save as much as 120 kilowatts per month.

The concept was first proposed by José Alano, who in 2004 had received the Ecology award from the Brazilian magazine Superinteressante ("Super interesting"). Alano received the support of the Paraná state government, and the "Hot Water for All" (Água quente para todos) project of the state's Zero Waste Program (Programa Desperdício Zero) was born.
To start with, the water heaters were installed in the regional offices of the various organs of the State Environment System — the Environment Secretariat (SEMA), the Environment Institute (IAP), the Superintendency of Water Resource Development and Environmental Sanitation (Suderhsa), and the Institute of Lands, Cartography and Geosciences (ITCG). They have also been installed in several university campuses around the state. Some of the waste collectors (catadores) enlisted in gathering the materials were so impressed with the solar heaters that they built their own for their association's headquarters.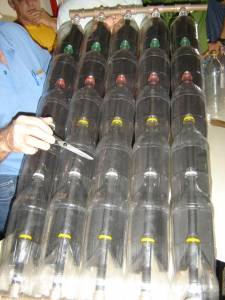 Desde a Agência Estadual de Noticias de Paraná (AEN):
Aquecedor solar ecológico retirou mais de 1 milhão de embalagens do meio ambiente

Cerca de 1,2 milhão de garrafas PET e de embalagens de leite longa-vida foram retiradas do meio ambiente e destinadas a montagem de aquecedores solares. Desde o início do ano passado, quando a Secretaria do Meio Ambiente e Recursos Hídricos começou a promover oficinas que ensinam a montagem do aparelho, montado com materiais recicláveis, já foram confeccionados 3 mil aquecedores em 254 municípios paranaenses. Para a montagem de cada sistema são reaproveitadas 200 garrafas PET e 200 embalagens de leite longa-vida.

A idéia de utilizar o material que geralmente é encaminhado aos aterros sanitários começou com o aposentado catarinense José Alano, que, em 2004, ganhou o prêmio Ecologia, da revista Superinteressante. No Paraná, a iniciativa de Alano conta com o apoio do Governo de Estado, que, através da Secretaria de Meio Ambiente, divulga o aquecedor no projeto "Água quente para todos", do Programa Desperdício Zero.

O secretário do Meio Ambiente e Recursos Hídricos, Rasca Rodrigues, contou que a primeira oficina foi realizada em agosto de 2006 e foi direcionada a técnicos que atuam nos escritórios regionais do Sistema Sema – composto pela Secretaria do Meio Ambiente e Instituto Ambiental do Paraná (IAP), Superintendência de Desenvolvimento de Recursos Hídricos e Saneamento Ambiental (Suderhsa) e Instituto de Terras, Cartografia e Geociências (ITCG).

"O objetivo foi capacitá-los para que pudessem divulgar a alternativa sustentável em suas regiões, aumentando o alcance da idéia e retirando do meio ambiente resíduos que podem e devem ser reaproveitados", comentou Rasca. Além dos escritórios regionais do Sistema Sema, faculdades como o Centro de Estudos Universitários de Maringá (Cesumar), Universidade Estadual do Oeste do Paraná (Unioeste) e União Dinâmica de Faculdades Cataratas (UDC) aderiram à iniciativa, que conta ainda com a participação da União dos Escoteiros do Brasil – Região Paraná.

Economia – O aquecedor solar também poupa energia elétrica. Por mês, até 120 quilowatts podem ser economizados para aquecer a água de dois banheiros. A economia chamou a atenção da Associação Umuaranense de Catadores de Matérias Recicláveis (Asucmar). Depois de participar da oficina dos técnicos do IAP, os associados viram a possibilidade de montar um aquecedor na própria associação utilizando as garrafas pet e as embalagens longa-vida, que eles mesmos recolhiam.

Ângela Morae, uma das associadas, já comemora a economia. "Depois que instalamos o aquecedor, a conta caiu pela metade. Isso é bom, porque sobra um dinheirinho a mais pra outras coisas. E o melhor disso tudo é que ainda ajudamos o meio ambiente", ressaltou Ângela.
Tags: aquecedores solares, aseptic cartons, aseptic packaging, Asucmar, Brasil, Brazil, catadores, Cesumar, desperdício zero, embalagem longa vida, garrafas PET, IAP, ITCG, materiais recicláveis, Paraná, PET bottles, reciclagem, reciclaje, recycling, SEMA, solar water heater, Suderhsa, Superinteressante, Unioeste, zero waste
48 Responses to "A Solar Water Heater Made of PET Bottles"
Leave a Reply