« Greenpeace Pushes Energy Efficiency Agenda in Mexico | Home | A Wind Map for Alagoas »
By Keith R | January 14, 2009
Topics: Waste & Recycling | 2 Comments »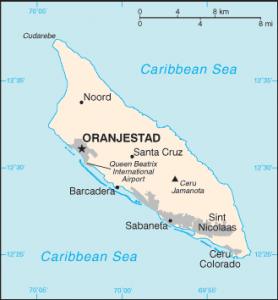 Temas Note: I'm not familiar with neither the technology mentioned, nor the company, but I'm frankly skeptical until I investigate further.  Is this really the best solution to that island's waste problem?
_________________
From WasteAway:
Island of Aruba Chooses Wastaway Technology to Solve Trash Problem

Bouldin and Lawson, a subsidiary of Bouldin Corporation, recently secured a $15.5 million project to build their first international WastAway (pronounced Waste-A-Way) system in the Caribbean island country of Aruba. The project will be used to recycle 50% of that island's municipal solid waste stream instead of sending it to landfills.

The Aruban contract comes after years of intense research by Aruban officials, who were facing a severe landfill crisis. "The country was literally running out of places to put household garbage," said Mark Brown, Bouldin Corporation's CEO, "and the WastAway system provides the ability to process the country's municipal solid waste and convert it into something beneficial."

"Like most island governments, Aruba's options were limited. Land is scarce, incinerators are unpopular, and shipping garbage off-island is very expensive," said Brown. Instead, the WastAway system will change this unwanted waste into something of value, without negatively impacting the environment in the way incineration can. It's a great solution for this country."

In just twenty minutes, the WastAway patented hydrothermal process converts a ton of unsorted household waste into a pathogen-free, environmentally safe medium called Fluff™, which can then be used for a variety of other applications. Aruba will initially process Fluff for use as a growing medium to supplement topsoil, which is a valuable commodity on the island. However, Fluff™ can also be used as a renewable energy source through gasification to generate steam and electricity, or can be converted to synthetic ethanol or diesel. It can also be compressed and extruded to make products such as building materials; other uses are under development.

In Aruba, the WastAway system is part of a comprehensive waste management plan, including household pick-up. "We have partners who can put together comprehensive systems for a municipality, a governmental agency or a corporation," said Brown. "In this case, Aruba needed an all-encompassing plan to manage the country's waste, from pick up to the creation of Fluff. Land is so scarce there, the country could not afford to devote another square inch to landfills. An added benefit is Aruba's ability to legitimately claim that they process household waste in an ecologically-friendly way. That's becoming more and more important in marketing to eco-aware travelers who want to be responsible as they vacation, and WastAway gives Aruba a marketing edge."

WastAway technology is not brand new. Warren County, Tennessee, has used the WastAway system to process its household garbage for almost seven years. "We developed the technology in middle Tennessee, refining and testing the process here at home," said Brown. "Although an island like Aruba is a great environment for our system, any community that is facing a landfill crisis is a candidate for WastAway. We can provide cost-effective solutions as small as 100 tons per day. Our system is much less expensive than more complicated technologies like plasma, and is more ecologically acceptable than incineration. In fact, systems are being tested in the United States and Canada right now that pelletize Fluff™ and gasify it to create steam and electricity, which is a needed commodity for many industries."

Bouldin Corporation, the parent company of Bouldin and Lawson, recently secured $5.6 million in new financing from shareholder equity and debt to continue the WastAway growth. The WastAway equipment will be manufactured by Bouldin and Lawson in their McMinnville, TN facility. The equipment will be assembled and operators trained from Bouldin's facility in the Warren County Industrial Park in Morrison, TN.

"We're proud of the Tennessee know-how that has gone into the creation and manufacture of this technology," said Matt Kisber, Commissioner of the Tennessee Department of Economic and Community Development. "As environmental responsibility becomes more and more of a concern, we're delighted to see Tennessee companies such as Bouldin & Lawson leading the way to help reduce our dependence on landfills. This is the wave of the future, and Wastaway proves once again that Tennessee can provide a leadership role in the growing sector of clean technology."

Initially, the company plans on hiring three new employees, a combination of professional and manufacturing jobs. As sales increase, the company hopes to hire more than 25 additional employees in the coming years.
Tags: Antilhas Holandesas, Antillas Holandesas, Aruba, aterro sanitário, Bouldin and Lawson, Bouldin Corporation, Caribbean, Caribe, Dutch Antilles, gasification, incineration, landfills, Netherlands Antilles, relleno sanitario, Tennessee, Warren County, WastAway, waste
2 Responses to "A True Solution to Aruba's Waste Problem, or Just Fluff?"
johnc Says:
September 14th, 2009 at 16:09

Have you seen Aruba's airport landfill lately? Since opening the Wastaway plant a month ago, the landfill is now almost covered up with lovely soil-like biomass mulch! The former landfill is reclaimed land and will be growing flowers by christmas time! Instead of garbage greeting visitors, they will have flowers. Exact same garbage, just 90% recycled!

Mwanza Alljobspo Says:
April 28th, 2018 at 7:23

I've been absent for some time, but now I remember why I used to love this site. Thanks, I will try and check back more often. How frequently you update your site?
Leave a Reply