« Implications of the World Cancer Declaration for LAC | Home | Transformando aceites usados a biodiesel / Transforming Used Oil into Biofuel »
By Keith R | September 18, 2008
Topics: Electronic/Electrical Equipment, Waste & Recycling | No Comments »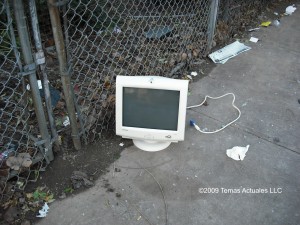 Earlier this month a bill was introduced in the southern Brazilian state of Santa Catarina (SC) to impose extended producer responsibility (EPR) for end-of-life electrical and electronic equipment — WEEE, e-waste or "technological trash" (lixo tecnológico) as Brazilians like to call it.
SC is not the first state to attempt legislation on this subject.  Mato Grosso (MG) and Paraná (PR) already have laws on the books, the governor of Mato Grosso do Sul (MS) vetoed one (but it has been reintroduced in the legislature), and bills have been introduced in Ceará (CE), Minas Gerais (MG), Rio de Janeiro (RJ) and São Paulo (SP).
The SC bill would make enterprises that produce, market or import electro-electronic products and components in the state responsible for creating a system of collection points for their EOL products and for the final disposition of those products.  The bill would limit "final disposition" permitted to
total or partial reuse of technological products or components;
recycling;
"neutralization" and final disposal of components containing chemical wastes.
For the purposes of the law, "technological trash" would be defined as household appliances and electro-electronic equipment and components for household, commercial, industrial or service use, that are in disuse and subject to disposal.  Specifically named are televisions and monitors, batteries and piles, computer components and peripherals, magnetized products and cellular equipment,
The bill would also require all electro-electronic products and components sold in the state to carry labeling that contains:
information on where the equipment can be returned at end-of-life;
the address and phone number of the party responsible for taking back the EOL product or component;
a warning about any heavy metal or toxic substance that may exist in the components.
Tags: acumuladores de energia, baterias, batteries, Brasil, Brazil, cell phones, cellular telephones, celulares, chemical waste, chemicals, componentes eletroeletrônicos, computadores, computer components, e-lixo, e-scrap, e-waste, electronic components, electronics, extended producer responsibility, heavy metals, household appliances, labeling, lixo tecnologico, magnetized products, metais pesados, monitors, peripherals, pilhas, produtos eletroeletrônicos, químicos, RAEE, reciclagem, recycling, reuse, Santa Catarina, scrap electronics, substâncias perigosas, technological trash, television, televisores, toxic substances, WEEE
Subscribe to My Comments Feed
Leave a Reply