« Climate Change as Employment Opportunity for the Caribbean | Home | Making Mexico City Bicycle-Friendly »
By Keith R | March 31, 2009
Topics: Waste & Recycling | No Comments »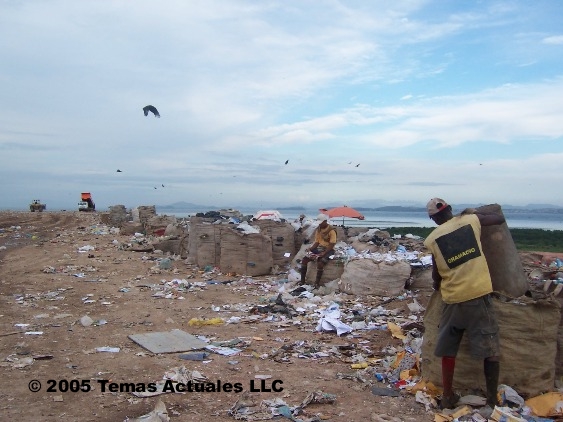 From the Brazilian Development Bank (BNDES):
Survey reveals better standard of living of waste pickers supported by the BNDES

The BNDES conducted a survey with recycling waste pickers associated to cooperatives supported by the Bank. The survey detected considerable improvements in the standard of living of these workers and their families.

The questionnaire was answered by 59% out of the 2,032 waste pickers who work in cooperatives supported by the BNDES. The answers reveal that household relationships got better (82%); members' personal hygiene also improved (79.6%); they and their families are eating better (78.85%) and their houses are more comfortable, as well (69.3%).

Other findings included improvements to the workplace and relationships at work, as well as a better awareness of their rights and duties.

The survey also detected that cooperatives saw their efficiency levels increase. Data on operational management disclosed an upturn in the quantities of waste picked (20.6%), material processed (25.5%) and installed processing capacity.

The BNDES Social Inclusion division performed the survey to assess human resources, operational and administrative management, relationships with partners and the pitfalls faced by the associates. The survey was conducted in February with the institutions funded by the Bank.

The BNDES is part of the Interministerial Committee for Social Inclusion of Recycling Waste Pickers, instituted by the Executive Order of 09/11/2003 and has provided a two-step support to the project. At a first step, in 2007, 34 operations were approved. Secondly, in 2008, 23 new projects were qualified. Out of this cycle, eight have been approved by BNDES' Directors and 15 are under analysis.

The financial support granted in the first cycle of operations totals R$ 21.6 million and the second cycle is expected to call for R$ 16.9 million. So far, R$9.4 million has been disbursed to 26 cooperatives belonging to the first cycle. The projects of both cycles are spread through 47 cities in eight Brazilian states. Around 3,200 waste pickers are to benefit from the BNDES' financial support.
_______________
Desde o Banco Nacional de Desenvolvimento Econômico e Social (BNDES):
Pesquisa aponta melhora na qualidade de vida de catadores apoiados pelo BNDES

Uma pesquisa realizada pelo BNDES junto a integrantes de cooperativas de catadores de materiais recicláveis apoiadas pelo Banco detectou avanços significativos na qualidade de vida dos cooperados e de suas famílias.

O questionário foi respondido por 59% dos 2.032 catadores que trabalham em cooperativas apoiadas pelo BNDES. As respostas mostram que houve melhora no relacionamento familiar (82%); nas condições de higiene dos cooperados (79,6%); na alimentação dos cooperados e da sua família (78,85%) e no conforto das moradias (69,3%).

Outros avanços evidenciados foram a melhoria no ambiente de trabalho e no relacionamento entre os cooperados, bem como na consciência em relação aos seus direitos e deveres.

A pesquisa também detectou um aumento da eficiência das cooperativas. Os dados apurados sobre a gestão operacional demonstraram que houve aumento do material coletado (20,6%), do material processado (25,5%) e da capacidade de processamento instalada.

O levantamento foi elaborado pela área de Inclusão Social do BNDES e avaliou as gestões de recursos humanos, operacional e administrativa, o relacionamento com parceiros e as dificuldades enfrentadas pelos cooperados. A pesquisa foi realizada durante o mês de fevereiro entre as instituições que receberam recursos do Banco.

O BNDES integra o Comitê Interministerial de Inclusão Social dos Catadores de Materiais Recicláveis, instituído por Decreto Presidencial de 11/09/2003 e já apoiou em duas etapas o projeto. Na primeira, em 2007, foram aprovadas 34 operações. Na segunda, em 2008, foram enquadrados 23 novos projetos. Deste ciclo, oito já se encontram aprovadas pela Diretoria e 15 estão em análise.

O valor do apoio no primeiro ciclo de operações totaliza R$ 21,6 milhões e a previsão para o segundo ciclo é de R$ 16,9 milhões. Até o presente momento, foram liberados recursos para 26 cooperativas do primeiro ciclo, no montante de R$ 9,4 milhões. Os projetos dos dois ciclos estão distribuídos em 47 municípios de oito estados da Federação. Prevê-se que 3,2 mil catadores serão beneficiados com o apoio financeiro do BNDES.
Tags: BNDES, Brasil, Brazil, catadores, cooperativas, reciclagem, recycling, residuos, waste, waste pickers
Subscribe to My Comments Feed
Leave a Reply