« IDEC Calls for National Do-Not-Call List | Home | An Andean Medicines Policy »
By Keith R | March 28, 2009
Topics: Chemicals, Packaging, Waste & Recycling | 1 Comment »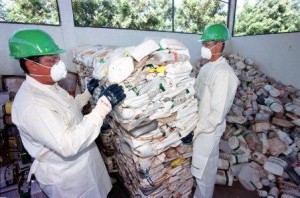 I've posted before on The Temas Blog (here, here and here) about Brazil's amazingly successful program at recovering used pesticide packaging, which is achieving recovery rates higher than in many OECD nations.
Well folks, Brazil continues to improve on this front: the National Institute for Processing Empty Packaging (inpEV), the industry-appointed group solely in charge of the recovery effort, reports that in 2008 24,400 metric tons of empty pesticide packaging was recovered, representing 80% of all that placed on the Brazilian market and a 14.5% increase in the tonnage collected in 2007.  The recovery rate for plastic pesticide packaging (the packaging form most used in the Brazilian market) is even higher, at 94%.
The states collecting the most were Mato Grosso (MT), Paraná (PR), São Paulo (SP) and Goiás (GO) at 5,800, 4.200, 3,000 and 2,400 metric tons, respectively.  The states topping the national average for tonnge increase over 2007 of 15.6% were Roraima (RR) at 375%, Rio de Janeio (RJ) at 111%, GO at 73%, Alagoas (AL) at 60%, Pernambuco (PE) at 25%, MT at 22% and Mato Grosso do Sul (MS) at 26%.
Also in 2008 24 collection units were added nationwide, bringing the national number to 399: 287 collection posts and 112 full-fledged recovery centers.
________________
Desde o Instituto Nacional de Processamento de Embalagens Vazias (inpEV):
Destinação de embalagens tem balanço positivo em 2008

O volume devolvido às unidades de recebimento pelos agricultores de todo Brasil representou 80% do total colocado no mercado e 94% das embalagens plásticas comercializadas.

Em 2008, o Brasil encaminhou para destinação ambientalmente correta 24,4 mil toneladas de embalagens vazias de defensivos agrícolas, um crescimento de 15,6% em relação ao total devolvido em 2007 (21,1 mil t).

Os Estados que lideram o ranking nacional são Mato Grosso, Paraná, São Paulo e Goiás, com a destinação de 5,8 mil toneladas, 4,2 mil toneladas, 3,0 mil toneladas e 2,4 mil toneladas respectivamente. Os Estados que apresentaram crescimento acima da média nacional de 15,6% foram: Roraima (375%), Rio de Janeiro (111%), Goiás (73%), Alagoas (60%), Pernambuco (25%), Mato Grosso (22%) e Mato Grosso do Sul (26%).

A infraestrutura de recebimento de embalagens vazias foi expandida em 2008 em 24 unidades, com isso, o sistema encerrou o ano com 399 unidades de recebimento: 287 postos e 112 centrais.

Nos dois primeiros meses de 2009, já foram destinadas 3,3 mil toneladas de embalagens vazias em todo Brasil.
Tags: agrotoxicos, Alagoas, Brasil, Brazil, embalagens de agrotóxicos, embalagens plásticas, embalagens vazias, Goiás, inpEV, Mato Grosso, Mato Grosso do Sul, Paraná, Pernambuco, pesticide packaging, pesticides, plastic packaging, Rio de Janeiro, Roraima, São Paulo
One Response to "Brazil Increases Pesticide Packaging Take-Back"
Luis Says:
October 16th, 2009 at 17:01

Eu sabia. Nosso mato grosso não aparece na mídia apenas para noticias ruins não.

Mato Grosso é o bicho.
Leave a Reply