« Could Ecosystem Service Payments Save the Amazon? | Home | EPA to Study Puerto Rico Waters »
By Keith R | February 11, 2009
Topics: Waste & Recycling | No Comments »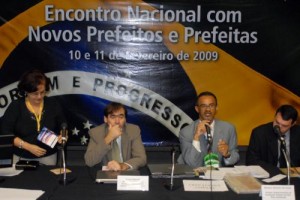 At a meeting for new mayors held this morning in Brasilia, representatives of the Inter-Ministerial Committee for Socioeconomic Inclusion for Catadores (catadores is what waste pickers are known as in Brazil) that federal government investments in various recycling, selective collection and municipal waste management training projects will exceed R$ 220 million in 2009 (about US$95.6 at current exchange rates).
According to the Committee stimulating greater integration of catadores in municipal waste recycling efforts is a priority of the Lula Administration. Today only 3% of what goes to municipal landfills is recycled in Brazil, says Silvano Silvério, director for Urban Environment of the Environment Ministry (MMA), but as much as 25% could be recycled. Catadores can play a critical role in achieving such rates.
The Committee also pitched their ideas on improving waste management. One example cited were projects in the São Francisco and Parnaíba river basins, where federal money is being used to help bring together municipalities and giving incentives to form partnerships in the realization of integrated plans for waste management.
They also sought support for their proposal in Congress for an omnibus waste bill that features "reverse logistics" (take-back) as a central principle and would specifically address waste streams such as construction and demolition (C&D) wastes, which today constitute nearly 60% (by weight) of wastes generated in Brazil. What's in it for the mayors? Silvério says that "with the approval of this law, those will no longer be the responsibility of just the mayor."
___________________
Desde o Ministério do Meio Ambiente (MMA):
Governo vai investir R$ 220 milhões em reciclagem do lixo

Em uma concorrida oficina realizada nesta quarta-feira (11), durante o encontro dos novos prefeitos, em Brasília, representantes do Comitê Interministerial de Inclusão Sócio-Econômica dos Catadores, composto por 13 ministérios, informaram que, em 2009, os investimentos de diversos setores do governo em projetos ligados à reciclagem, coleta seletiva e capacitação de municípios para gestão do lixo ultrapassam R$ 220 milhões.

Segundo o comitê, reconhecer a importância da atuação dos catadores de materiais recicláveis e estimular a inclusão desses trabalhadores no processo de gestão de resíduos dos municípios é uma das prioridades do governo federal.

Eles também apresentaram aos gestores municipais e seus assessores, que lotaram o auditório do Centro de Convenções, propostas para melhorar a gestão do lixo, hoje de responsabilidade dos municípios, com o objetivo de atrair o prefeito para essa agenda que tem implicações econômicas, sociais e ambientais para todo o País.

Silvano Silvério, diretor de Ambiente Urbano do Ministério do Meio Ambiente e coordenador da oficina, afirmou que a proposta de Política Nacional de Resíduos Sólidos, que está em tramitação no Congresso Nacional desde setembro de 2007, será um marco legal fundamental para que o País dê um tratamento sustentável para o lixo.

Segundo ele, a proposta contempla todos os tipos de resíduos produzidos nas cidades como os industriais, rurais, hospitalares, da construção civil (que hoje representa 60% dos resíduos gerados no Brasil) e traz um mecanismo já usado por diversos países "a logística reversa", que transfere para o gerador de resíduo a responsabilidade pela coleta e destinação final. "Com a aprovação da lei essa não será mais uma responsabilidade só do prefeito", disse Silvério.

Uma das experiências bem-sucedidas apresentadas pelo MMA na oficina está sendo desenvolvida nas bacias do São Francisco e Parnaíba. O governo está usando recursos da União para estimular a gestão sustentável do lixo, aproximando municípios e incentivando parcerias para a realização de planos integrados de gestão de resíduos sólidos.

"Hoje no máximo 3% do que é retirado do aterro sanitário vai para reciclagem, mas há a possibilidade, já demonstrada, de que esse número seja em torno de 25%", disse Silvano Silvério afirmando que o apoio ao catador é fundamental para um melhor resultado na gestão dos resíduos.
Tags: aterro sanitário, Brasil, Brazil, C&D wastes, catadores, coleta seletiva, destinação final, lixo, logística reversa, MMA, reciclagem, recolección selectiva, recycling, residuos, residuos hospitalares, reverse logistics, Rio Parnaíba, Rio São Francisco, selective collection, take-back, waste
Subscribe to My Comments Feed
Leave a Reply