« Peru Opts for Wind Power | Home | The Economics of Climate Change in the Caribbean / La economía del cambio climático en el Caribe »
By Keith R | September 13, 2008
Topics: Packaging, Waste & Recycling | No Comments »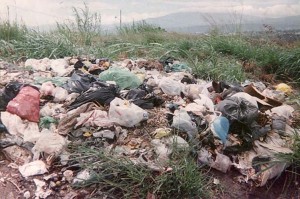 The Province of Buenos Aires (PBA) just became the latest Latin American jurisdiction to prohibit retailers from offering non-biodegradable plastic carry bags. The provincial government is trumpeting the new law as one banning polyethylene (PE) and other plastic carry bags, but a careful reading of the law shows that it only bans non-biodegradable plastic bags.
Within one year all hypermarkets, supermarkets and mini-markets that predominantly offer food and beverage products must offer customers biodegradable carry bags — such as paper bags, or a plastic registered as biodegradable with a new provincial registry.  Within a year later all other retailers must follow suit.
PBA is not the first Argentine jurisdiction to ban non-biodegradable carry bags, but at about 40% of the country's population, it will be economically the most significant.  The municipalities of Allen (Rio Negro) and Guaymallén (Mendoza) started the trend in 1993. In December 2004 Mendoza Province required all carry bags to be composed of "bio-plastic" or of at least 75% biodegradable material. The Mendoza law also prohibited the sale of non-biodegradable trash bags. Chubut followed in May 2005 with a law that prohibits the use by retailers of carry bags made of PE, polypropylene (PP) and "other non-biodegradable polymers."
____________________
Desde el Organismo Provincial para el Desarrollo Sostenible (OPDS):
NO HABRÁ MÁS BOLSAS DE POLIETILENO EN LA PROVINCIA DE BUENOS AIRES

Las tradicionales bolsas de plástico, que tanto daño causan al medio ambiente, fueron prohibidas por una Ley del Gobierno de la Provincia de Buenos Aires que sólo permitirá el uso de empaques que figuren dentro del registro de biodegradables y así evitar que las actuales bolsitas permanezcan durante años contaminando el suelo y las aguas.

La Ley, impulsada por el Organismo Provincial para el Desarrollo Sostenible (OPDS) a pedido del Gobernador Daniel Scioli, fue votada hoy por el Senado Provincial y ya contaba con la media sanción de la Cámara Baja. Ahora falta la promulgación por parte del Ejecutivo para su entrada vigencia.

Con esta nueva iniciativa el Gobierno de Scioli logrará "prohibir en todo el territorio de la Provincia de Buenos Aires, el uso de bolsas de polietileno y todo otro material plástico convencional, utilizados y entregados por supermercados, autoservicios, almacenes y comercios en general para transporte de productos o mercaderías" según se expresa en el artículo primero de la nueva Ley.

Según los plazos preestablecidos, los fabricantes deberán registrar las nuevas tecnologías en materia de producción de bolsas biodegradables y los comercios tendrán de 12 a 24 meses de plazo para eliminar sus sistema actual y reemplazarlo productos alternativos más amigables con el medio ambiente, como las bolsas de papel o los plásticos biodegradables.

Desde el inicio de la gestión, el Gobernador Scioli bregó para el proyecto se concretara y así poder elevarlo al Poder Legislativo para su transformación en Ley. Hoy la Provincia cuenta con una normativa moderna que permitirá generar una nueva cultura en materia de consumo sostenible para que los industriales, los comercios y la gente comiencen a sensibilizarse con este tipo de actividades que apuntan a crecer, con responsabilidad y pensando en las generaciones del futuro.
Tags: almacenes, Argentina, autoservicios, bio-plastic, biodegradable packaging, bolsas de papel, bolsas plásticas, Buenos Aires, carry bags, Chubut, envase, environment, Guaymallén, medio ambiente, Mendoza, OPDS, packaging, paper bags, plastic bags, plásticos biodegradables, polietileno, polyethylene, polypropylene, residuos, self-service stores, supermarkets, supermercados, waste
Subscribe to My Comments Feed
Leave a Reply