« $22 Mil. Loan to Help Guatemala's Protected Areas / Prestamo de US$22 milliones para fortalecer las áreas protegidas de Guatemala | Home | Eye on Ads: Latin American Idol Urges Paper, Tetra-Pak Recycling »
By Keith R | June 19, 2009
Topics: Electronic/Electrical Equipment, Waste & Recycling | No Comments »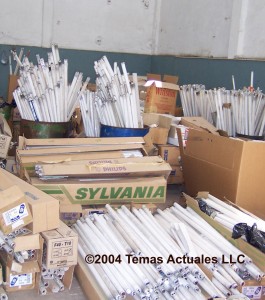 Yesterday the governor of the northeastern Brazilian state of Ceará (CE) signed a law that would require the take-back of fluorescent lamps, batteries and piles.
The very brief and simple law requires vendors of such products in the state to provide collection bins on their premises for consumers to drop off those at the end of  product life.  The collection bins must be in a visible spot along with explicit warnings to consumers about the health and environment risks of inproper disposal.
The law says nothing about: (1) whether vendors must take back all brands and types of batteries and lamps, or merely the ones they sell; and (2) whether the take-back service is free to consumers.  Presumably these details will be covered in the implementing decree (I suspect commercial establishments selling batteries, piles and lamps will insist that it does).
The new law also is silent about who takes responsibility for picking up the end-of-life (EOL) batteries and lamps from vendors and ensuring that they are recycled or properly treated and disposed.  In CE the existing battery law already required vendors to collect common batteries (piles) and cell phone batteries that contain heavy metals, but left it to them to deliver the collected items to appropriate waste services.  CE's waste decree called for battery and lamp manufacturers and importers to create reception centers for all their EOL products and ensure their proper recycling, treatment and disposal.  Perhaps the implementing decree can reconcile how the newer, broader obligation on vendors will fit with existing rules.
Violations of the new law wil be subject to penalties under Brazil's Consumer Code, and the state consumer authority is in charge of the law's enforcement.
I suspect this will not be the last such state law in Brazil.  I've seen nearly identical bills moving through other state assemblies.
Tags: baterias, batteries, Brasil, Brazil, Ceará, Consumer Code, environment, fluorescent lamps, lâmpadas fluorescentes, lamps, meio ambiente, piles, pilhas, residuos, waste
Subscribe to My Comments Feed
Leave a Reply