« The Dilemma of Geothermal Power in Costa Rica | Home | 30 Million Pesos to Clean Up the Matanza-Riachuelo / 30 millones de pesos para sanear la Cuenca Matanza-Riachuelo »
By Keith R | March 2, 2009
Topics: Pharmaceutical Issues, Waste & Recycling | 1 Comment »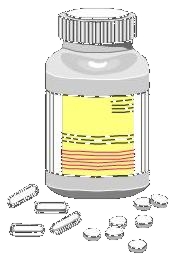 Two years ago Environment Minister got the attention of industry when he published for public comment two draft decrees imposing extended producer responsibility (EPR) for end-of-life batteries and medicines.
Now, after nearly two years of discussions between the Environment Ministry (MAVDT) and industry groups representing the pharmaceutical sector in Colombia — namely the Colombian Pharmaceutical Industry Association (Asociación de Industrias Farmacéuticas Colombianas– ASINFAR), the Association of Research-Based Pharmaceutical Laboratories (Asociación de Laboratorios Farmacéuticos de Investigación– AFIDRO) and the Pharmaceutical Chamber of the National Association of Colombian Employers (Asociación Nacional de Empresarios de Colombia – ANDI) — the two sides have announced a compromise on how the industry will assume EPR for expired medicines.
Under the agreed formula, consumers are to turn in, free of charge, any expired medicines in their possession to any pharmacy, dispensary, health service providers (IPS) or certain installations of medicine distributors.  These parties must have proper collection points for the returned medicines that meet environmental specifications and have security measures to ensure that the medicines turned in are not altered, reused or re-sold.
Manufacturers and importers of medicines are to help these parties set up their collection systems, to submit expired medicine recovery plans to MAVDT, to set up a system for picking up accumulated medicines and to ensure that all collected medicines are properly disposed of in an environmentally adequate manner.
Collection centers cannot hold accumulated medicines for more than six months between pickups, and cannot keep more than 20 metric tons on the premises.  All collection centers must have a registry tracking the entry and exit of expired medicines in order to prevent their entry into illegal trade.
In the first year of implementation manufacturers and importers are expected to set up pilot programs and to educate consumers and other actors in the chain of their respective roles in recovering expired medicines.  In the second year they are expected to have in place a system that ensures recovery from at least 10% of Colombia's population (it is anticipated that manufacturers/importers will first focus on metropolitan Bogotá as a way to meet this obligation).
In subsequent years they are expected to increase coverage by no less than 10% of the population per year until at least 70% of Colombians have access to the take-back system.  There is a special provision that In the third year the take-back systems must start including San Andrés y Providencia Island.
____________________
Desde el Ministerio de Ambiente, Vivienda y Desarrollo Territorial (MAVDT):
Arrancan planes de gestiòn para devolución de fármacos y medicamentos vencidos


Minambiente, fabricantes e importadores oficializan normativa para disponer adecuadamente estos elementos.
El consumidor final podrá disponer, sin costo alguno, los medicamentos y fármacos vencidos en recipientes y contenedores especializados para tal fin.
Estos serán ubicados en IPS, instalaciones de distribuidores, droguerías, farmacias y otros puntos con todas las especificaciones ambientales vigentes para evitar que sean reutilizados o dispuestos inadecuadamente.
Este año, los responsables de aplicar los planes de devolución de fármacos o medicamentos vencidos deberán implementar un plan piloto de recolección de estos residuos que incluya la sensibilización al consumidor.
El consumidor final deberá retornar o entregar los fármacos o medicamentos vencidos. Es su obligación y responsabilidad.

"La idea es que no mezclemos nuestros desechos con los medicamentos vencidos o que ya no usemos . Estos generan un gran riesgo para la salud y el ambiente si se tiran en cualquier lugar. De ahora en adelante, el panorama va a cambiar y depende en gran medida de los fabricantes, importadores, comercializadores y distribuidores de medicamentos para que nos ayuden a educar a la ciudadanía sobre la importancia de disponer adecuadamente estos productos, dándole todas las herramientas necesarias y facilitándole la correcta disposición, siempre con el apoyo del Ministerio", señaló el Ministro Juan Lozano.

"Primero, este año, arrancará un Plan Piloto. Este será el inicio de una gran estrategia a nivel nacional para no ver más frascos de medicamentos vencidos en las calles, en los lotes, ni pastillas flotando en nuestros afluentes" destacó.

La norma es producto de un amplio proceso de concertación con el sector agremiado en la Cámara Farmaceútica de la ANDI, ASINFAR y AFIDRO, y de consulta con la sociedad en general a través de la página web. El sector está convencido de la importancia de implementar este tipo de programas en el país, aspecto que muestra el compromiso y responsabilidad social de las empresas, para que todos los colombianos gocemos de un ambiente sano.

Es importante mencionar que la norma no sólo establece obligaciones a los importadores y fabricantes, sino también a distribuidores y comercializadores y a consumidores o usuarios finales; a éstos últimos relacionadas con retornar o entregar los fármacos o medicamentos vencidos al mecanismo de devolución que el fabricante o importador establezca.

El Plan debe asegurar la recolección de los medicamentos vencidos según las siguientes metas:

En el primer año, los fabricantes e importadores deberán implementar un plan piloto de recolección de estos residuos, que incluya actividades de sensibilización al consumidor y a los actores de la cadena.
En el segundo año se debe cubrir el 10% de la población.
A partir del tercer año el plan debe aumentar la cobertura de la población, a través de incrementos anuales del 10%, hasta alcanzar un desarrollo total del plan que cubra como mínimo el 70% total de la población.
Los responsables de los Planes de Devolución de Fármacos vencidos están obligados en el tercer año a partir de la fecha de promulgación del presenta acto administrativo, implementarlo en la Isla de San Andrés y Providencia.

Características de los puntos de entrega

Pueden ser droguerías, farmacias, IPS o instalaciones de los distribuidores de medicamentos.
Los recipientes o contenedores no pueden estar en la vía pública y deben contar con mecanismos de seguridad para evitar que los residuos depositados sean reutilizados.
Igualmente, deben garantizar que éstos no se alteren.

Características de los centros de acopio

No pueden exceder las 20 toneladas.
El piso debe ser en concreto.
Los residuos no deben permanecer en el centro de acopio por más de 6 meses.
Debe tener señalización adecuada, sistemas de ventilación, y todos los requisitos de seguridad.
Debe contar con un sistema de registro de entrada y salida de medicamentos vencidos para evitar el mercado ilegal de estos residuos.
Los medicamentos vencidos deberán estar debidamente empacados y embalados.
Deben tener una red de puntos de entrega debidamente especificada y establecida.
Tags: AFIDRO, ANDI, ASINFAR, Colombia, distribuidores, droguerías, end-of-life products, expired medicines, farmácias, fármacos caducos, Juan Lozano, MAVDT, medicamentos vencidos, pharmaceuticals, pharmacies, recovery, residuos, take-back, waste
One Response to "Colombia Imposes Take-Back for Expired Medicines"
Yuriko Zapf Says:
June 14th, 2017 at 9:28

Do you mind if I quote a couple of your articles as long as I provide credit and sources back to your webpage? My blog site is in the very same area of interest as yours and my visitors would really benefit from some of the information you provide here. Please let me know if this ok with you. Thanks!
Leave a Reply