« Toward a Sustainable Energy Matrix for Peru? / ¿Hasta nueva matriz de energía sostenible en el Perú? | Home | Fiocruz Gets Green Light to Produce AIDS Medicine Under Compulsory License »
By Keith R | January 28, 2009
Topics: Design for the Environment (DfE), Waste & Recycling | No Comments »
When I first read in O Globo of the latest offering from Campinas-based Les Coussins to be shown in mid-February at the annual trade fair of Brazilian Association of High Decoration Furnishing Industries (ABIMAD), I contacted their owner/designer, Fátima Queiroz, to ask for pictures and permission to blog about it.
Fátima was not only nice enough to reply promptly and have her publicist send pictures (click on each to see larger version) and press release text (copied below), but also a personal note and accompanying material about design using alternative, eco-friendly materials — organic cotton, "ecological leather," "ecological wool." organic silk, "eco-jute," and alternatives to leather, including certain fish skins.  Muito obrigado, Fátima!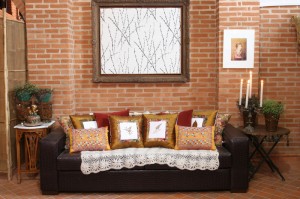 She designed the pillows pictured here using weaves of fibers made from recycled PET bottles, which she has been experimenting with for quite a while, and/or natural fibers (primarily organic cotton).  Contrary to what one might expect, she says, the weaves made of recycled PET are softer to the touch and more comfortable than the natural fibers.  They also tend to be more resilient.
There are over 100 models of the "eco-pillow," which you can see at the ABIMAD fair at the Centro de Exposição Imigrantes in São Paulo 12-15 February, or the rest of the year in decorators studios or furniture stores in Brazil and MERCOSUR countries served by Les Coussins (you can find these by contacting Fátima at contato@lescoussins.com.br).
________________
Empresa Lança Eco-Almofada

Nova coleção de almofadas Les Coussins revestida em tecido de pet ou fibras naturais permite renovar a decoração sem agredir o meio ambiente.

O Brasil produz anualmente 378 mil toneladas de garrafas do tipo pet e já recicla 52% deste material que é transformado em tecido segundo a Abipet (Associação Brasileira da Indústria do PET). A reciclagem dessas garrafas responde pelo sustento de 200 mil famílias brasileiras que têm trabalho garantido pelas criações ecologicamente corretas de diversos estilistas e designers do País. Este é o caso da eco-almofada esta sendo lançada pela Les Coussins, empresa de Campinas, durante a feira da ABIMAD (Associação Brasileira de Indústria de Móveis e Alta Decoração), evento que acontece de 12 a 15 de fevereiro no Centro de Exposição Imigrantes (SP).

De acordo com a designer, Fátima Queiroz, proprietária da empresa, a nova coleção é revestida em tecido de pet ou de fibras naturais e totaliza mais de 100 modelos diferentes. Ela diz que ao contrário do que muitas pessoas imaginam o tecido feito a partir de garrafas pet é mais macio que o algodão. Além disso, por ser termodinâmico garante conforto e é bastante resistente, avalia.

Muito antes do ecodesign se popularizar, a grife que está no mercado desde 1991 sempre apostou na proteção do meio ambiente, inclusive promovendo o resgate do cultivo de fibras naturais junto a tribos indígenas do Norte e Nordeste do País.

A sustentabilidade da produção não se restringe aos materiais empregados. "Utilizamos um software de corte que otimiza o aproveitamento dos tecidos", afirma Fátima. Por maior que seja este aproveitamento, comenta, sempre sobram retalhos que são absorvidos em peças com design inovador em opções de recorte ou detalhes.

Ela conta que para garantir a exclusividade de modelos, a empresa contratou a designer, Thais Queiroz, que desenvolveu estampas com motivos islâmicos para a nova coleção. Além disso, ressalta, como a Les Coussins trabalha com diversas lojas de decoração/conceito os estilos são bastante diversificados, com destaque de xadrez e listado para o moderno.

Quando o assunto é cor, ressalta, o vermelho continua presente, mas diversos modelos foram desenvolvidos em cores neutras que permitem a integração das almofadas aos estofados. O produto pode ser encontrado em estúdios de diversos decoradores e lojas de móveis do Brasil e Mercosul. Encomendas www.lescoussins.com.br
Tags: ABIMAD, Abipet, almofadas, Campinas, eco-desenho, ecodesign, garrafas PET, Les Coussins, PET bottles, pillows, reciclagem, recycling, tecido de pet
Subscribe to My Comments Feed
Leave a Reply