« Protecting Andean High Plateaus from Mining | Home | Government Study Calls for Mexican Battery Regulation / Estudio recomenda normatividad sobre las pilas en México »
By Keith R | March 13, 2009
Topics: Sustainable Agriculture, Waste & Recycling | No Comments »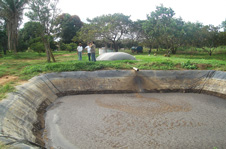 Usually you hear of biodigestors being employed in farms raising cows or pigs. But one farm in Brazil is working to adapt the technology for poultry farming.
Raimundo Alves Ferreira runs a poultry farm in Tocantins state about 477 kilometers from the state capital, Palmas, that handles 42,000 birds every 60 days.  Raimundo first became interested in biodigestors in 2002, hoping to reduce the farm's substantial electricity bill.  Electricity represents 30-40% of the farm's production costs (about R$3-4,000 every 60 months), in large part because the avaries have to be climatized to counter Tocantins' hot weather.
However, all existing biodigestor models he could find were all designed with cattle and pig farms in mind.  With the help of a firm from São Paulo that specializes in biodigestors, Recolast, the state entity Brazilian Agricultural Research Corporation (Embrapa) and technical missions from the Brazilian Support Service for Micro and Small Enterprises (Sebrae), Raimundo installed modified biodigestors on his farm in July 2007.
In August 2008 the farm started burning methane gas generated via the biogestors primarily from chicken droppings.  Currently the farm is conducting tests to determine the best turbine to use.
Raimundo is already thinking of more ways to cut costs and improve profits through other uses for the chicken poop, perhaps through the production of bio-fertilizer.
_________________
Desde Agência Sebrae de Notícias:
Energia renovável é saída para gastos em produção de aves

Tecnologia de biodigestor, aplicada usualmente a partir de dejetos de suínos e bovinos, está sendo utilizada também com aves; idéia é reduzir o custo da energia elétrica na avicultura

Os altos gastos com energia elétrica para a climatização das granjas fizeram o avicultor Raimundo Alves Ferreira buscar uma solução que trouxesse mais economia para a produção. A saída veio com a utilização de biodigestores a partir da cama de frango (mistura que inclui dejetos das aves).

"Foi a forma que encontramos para gerar energia, reduzir custos e ainda ajudar o meio ambiente", conta Raimundo, que trabalha com avicultura há oito anos em Palmeiras do Tocantins, a 477 km da capital Palmas (TO). Em 2002, ele começou a estudar o funcionamento de biodigestores, mas só encontrava aplicações práticas a partir do uso de dejetos de bovinos e suínos.

Com o apoio da Embrapa, de missões técnicas do Sebrae e da empresa Recolast, de São Paulo, responsável pela instalação de biodigestores, Raimundo conseguiu trazer essa técnica para a avicultura. O desafio era fazer o equipamento atingir os níveis de gás necessários para a produção de energia elétrica.

Em julho de 2007, o equipamento foi colocado na fazenda e em agosto de 2008 ocorreu a primeira queima do gás metano. "Agora estamos fazendo testes para verificar o melhor tipo de motor. Queremos fazer toda a granja funcionar com energia gerada a partir da cama de frango", diz.

Segundo Raimundo, essa tecnologia vai ajudar bastante na redução do gasto com energia elétrica. Para a granja dele, que tem 42 mil aves a cada 60 dias, a energia elétrica representa de 30% a 40% do custo da produção. "Meus aviários atingem o valor de R$ 3 mil a R$ 4 mil de gasto com energia elétrica por lote criado. Cada um ocupa um tempo de 60 dias, sendo 45 para a criação e 15 para manejo sanitário dos galpões", conta. "O clima aqui é bem quente. Então temos que manter a granja resfriada e aí se gasta muita energia", completa.

"É sempre importante que os produtores estejam atentos e busquem soluções que possam melhorar a condição de produção, reduzir custos, aumentar as margens de lucro e ainda gerar novos mercados", destaca Raimundo. Após os testes com o biodigestor, ele já pensa em produzir biofertilizante, também a partir da cama de frango, e dar mais autonomia para sua propriedade desenvolvendo outras atividades.
Tags: aviários, avicultura, biodigestors, biofertilizante, biofertilizers, Brasil, Brazil, cama de frango, dejetos das aves, dejetos de bovinos, dejetos de suínos, Embrapa, energia elétrica, fazendas, granjas, manure, metano, methane, Palmas, Recolast, Sebrae, Tocantins
Subscribe to My Comments Feed
Leave a Reply