« Santa Catarina Supports 52 Small Hydropower Projects | Home | São Paulo Offers Packaging Bill for Public Comment »
By Keith R | May 21, 2009
Topics: Electronic/Electrical Equipment, Hazardous Substances, Waste & Recycling | No Comments »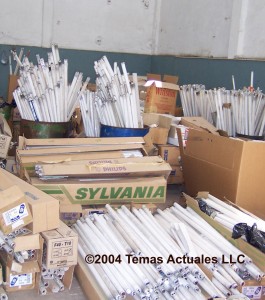 Last month Paraná (PR) adopted a law on mercury-containing products, now Espírito Santo (ES) has adopted a law on products containing heavy metals.  Which Brazilian state is next, and will it adopt PR's single-substance approach, or ES' broader wider net?
Points of Confusion
Article 1 of the brief ES law requires "suppliers" and distributors of
fluorescent lamps, piles (common and button batteries), and cell phone sets, chargers and batteries, that contain metallic mercury; and
"other artifacts" that contain heavy metals;
to create and maintain a system of recovery, recycling or destruction of these products at end-of-life (EOL) "without causing harm to the environment."
This article of the law poses many definitional problems that hopefully will be clarified substantially in any implementing legislation [Temas Observation: I must note, though, that ES has a very poor track record about adopting implementing decrees for its waste-related laws.] First off, what constitutes a "supplier"?  Does this include manufacturers and importers?  Usually the type of responsibilities envisioned fall on "producers," or "manufacturers" [Temas Observation: as was the case in the PR law this was modeled after.] or "manufacturers and importers" and/or their commercial representatives.
Second, what contitutes "other artifacts"?  Similar language appeared in the PR law, but in that context, it referred only to other items containing mercury, such as thermometers, sphygmomanometers, thermostats, manometers, barometers, float values and mercury switches.  But what would it mean with regard to products containing other heavy metals?  It's possible that ES might follow the example of Rio Grande do Sul, which in a decree on post-consumer products containing heavy metals defined it to include not only batteries, lamps and thermometers, but also printer and toner cartridges.
And that leads to the third definitional problem in that first article.  What is considered a "heavy metal" for purposes of implementing this law?  Traditionally in chemical, hazardous substance and waste legislation, "heavy metals" restrictions are aimed at mercury, lead and cadmium, but without a clear definition in an implementing decree, this could be interpreted quite broadly…
[Temas Observation: Putting aside for the moment the very problematic issue of including other metals in the definition (nickel and zinc, for example), how could ES reasonably implement a definition limited to products containing lead and cadmium?  Would that mean, for example, that suppliers of televisions and monitors with leaded glass (CRTs) would be captured by the provision and have to create recovery, recycling and destruction systems for CRTs?  Is ES' infrastructure ready to safely recover and recycle CRTs?  I'll have to double-check, but I don't recall any CRT processors with environmental licenses in ES.  What about all the electronics and electrical equipment that contain lead solder — would they be considered "artifacts containing heavy metals"?]
A fourth definitional problem in that article is what is meant by "destruction"?  Normally in waste law this refers to some form of incineration, but later the law explicitly prohibits incineration.  So what is meant here?  Chemical, mechanical, both or some other option?  [Temas Observation: The ES environment secretariat, SEAMA, definitely should clarify this point, and while they are at it, specify that (1) the collected EOL products are only sent to services licensed to handle potentially hazardous wastes; and (2) any service or facility located within ES seeking to destroy or recycle the collected EOL products is licensed by the state environment Institue (IEMA) for that purpose.]
Sort, Pack and…?
The Law says that the collected EOL products should be
maintained intact in order to avoid spills of toxic substances. This provision is aimed primarily at EOL lamps, which can easily break and release mercury.  It will require either special bins or packaging for the lamps in order for the requirement to be met, but these are available already in the Brazilian market.
separated and packed in "containers appropriate for their specific destination."  Just what is to be that destination, though, is not entirely clear.  As mentioned above, the Law bans incineration of such EOL products, but suggests "destruction or recycling" without defining what is meant by the former term.  The Law also specifically bans depositing them in public landfills.   [

Temas Observation

: I find it interesting that ES, just like PR, only bans deposit in public landfills, but says nothing about private landfills.  Brazil does have a few secure landfills (those designed and authorized to handle hazardous wastes) operated by private (usually chemical) firms.]

Educate the Public
The Law requires suppliers and distributors to promote publicity campaigns to clarify to users the environmental risks of throwing in household wastes EOL fluorescent lamps, cell sets, chargers and batteries that may contain metallic mercury, or "other artifacts" containing heavy metals.  The campaigns should also orient consumers on the correct manner of recovering these items and the possiblity of recycling.
Sanctions
The Law has an… interesting… sanctions regime.  I've seen bills on special wastes proposed at the state level in Brazil in the last few years simply refer to the national Environmental Crimes Law of Consumer Code, or in a few cases. set a low fine for first violations that escalate with re-incidence.  The new ES Law, however, chooses a different route.  First violations by suppliers or distributors receive only a written warning, but a second violation brings a fine equal to 1,000 State Treasury Reference Values (Valores de Referência do Tesouro Estadual – VRTEs), a fiscal reference unit whose value in Brazilian reais (R$) is adjusted once a year by decree.  Currently the value is R$ 1.927, so that means second violations are worth R$1,927 (roughly US$1,000).
Tags: barometers, baterias, batteries, Brasil, Brazil, cadmio, cadmium, carregadores, cartuchos, cell phones, chargers, chumbo, CRTs, disjuntores de mercúrio, distributors, environment, esfigmomanômetros, Espírito Santo, float values, fluorescent lamps, fornecedores, Hazardous Substances, heavy metals, IEMA, incineração, incineration, lâmpadas fluorescentes, lead, manometers, meio ambiente, mercurio, mercury, mercury switches, metais pesados, metallic mercury, monitors, pilhas, printer cartridges, reciclagem, recycling, residuos, Rio Grande do Sul, SEAMA, sphygmomanometers, substâncias perigosas, substâncias tóxicas, suppliers, telefones celulares, termómetro, termostatos, thermometers, thermostats, toner cartridges, toxic substances, waste
Subscribe to My Comments Feed
Leave a Reply