« Inspecting the World's Largest Open Pit Coal Mine | Home | Generating Power from Sewage Treatment Stations »
By Keith R | September 6, 2008
Topics: Waste & Recycling | No Comments »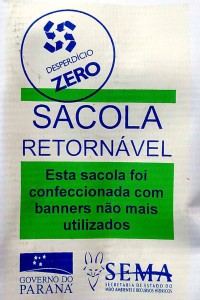 Synopsis in English: The more I find out about the work of Paraná's Zero Waste (Desperdício Zero) Program — particularly its creativity in finding new and different ways to promote and spark interest in recycling — the more I like and admire their work.
Remember the solar water heater made of used PET bottles and aseptic cartons?  Well here's a new idea: taking used banners and turning them into reusable shopping bags.  Banners these days are mostly made of plastic and polyester, which are strong enough to serve as carry bags.
The Zero Waste Program takes the idea one step further, though.  It's not enough to show that the recycling idea can work — they're seeking to train people in how to make and sell them.  Officials say that anyone can make one with just one meter of banner material and an hour on a sewing machine.   Their marketing research suggests that each bag can be sold for up to R$7 per (for poorer Brazilians, R$7 per workhour or per piece is not bad).
The training courses being sponsored by the Program involve a professor of industrial sewing and three sewing machines.  At a recent training session in Campo Mourão (in the state's center) some 450 people participated.
_______________________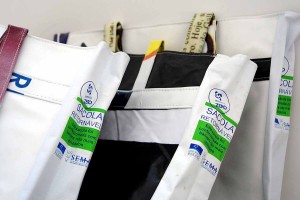 Desde a Secretaria do Meio Ambiente e Recursos Hídricos (SEMA):
No Paraná, banners inutilizados são transformados em sacolas retornáveis

Os banners que deixaram de ser utilizados têm destinação exemplar no Paraná: são transformados em sacolas retornáveis. Oficinas promovidas pela Secretaria do Meio Ambiente e Recursos Hídricos ensinam técnicas de corte e costura da bolsa que já está fazendo sucesso. Somente na última oficina, promovida durante o Paraná em Ação realizado em Campo Mourão (região Central do Estado) no início deste mês, 450 pessoas participaram do curso.

O secretário do Meio Ambiente e Recursos Hídricos, Rasca Rodrigues, destacou que a nova oficina tem como objetivo reforçar a importância da reciclagem dos materiais e seus benefícios à natureza, além de oferecer mais uma alternativa de renda aos participantes. "O material utilizado nos banners, plástico e poliéster, demora centenas de anos para sumir do meio ambiente e as bolsas retornáveis são uma ótima opção para seu reaproveitamento. Além disso, o uso destas sacolas para carregar compras, por exemplo, evita o uso das sacolas de plástico convencional", ressaltou.

O técnico da Secretaria que o coordenou a oficina, José Dionir Zeco Paz, explicou que a sacola retornável pode ser facilmente confeccionada em uma hora com o uso de uma máquina de costura e menos de um metro de banner. "Cada bolsa pode ser comercializadas por até R$ 7 a unidade", acrescentou.

Segundo ele, o envolvimento da comunidade foi tão grande que os participantes já pensam em formar uma cooperativa para produção e venda das sacolas na região.

A professora de costura industrial Jane de Lima já adiantou que será uma das cooperadas. Ela participou de oficina realizada em Campo Mourão e, para colaborar, levou três máquinas de costura. Além de cortar os moldes, também orientou os demais alunos quanto ao uso da máquina. "Foi um sucesso. Jovens, mulheres, homens e crianças demonstraram muito interesse; quando uma pessoa mal desocupava a máquina, outro já estava sentado querendo costurar sua sacola", comentou.

As sacolas retornáveis foram descobertas pelo Programa Desperdício Zero para acondicionar de forma ambientalmente correta os materiais distribuídos durante a Conferência Estadual do Meio Ambiente. O Programa tem como objetivo reduzir a quantidade de lixo gerada no Estado e para isso estimula a reciclagem dos materiais.
Tags: banners, Brasil, Brazil, Campo Mourão, desperdício zero, environment, máquinas de costura, meio ambiente, Paraná, plástico, plastics, poliéster, polyester, Rasca Rodrigues, reciclagem, recycling, residuos, sacolas retornáveis, SEMA, sewing machines, waste
Subscribe to My Comments Feed
Leave a Reply