« Electricity from Chicken Poop | Home | Toward a Sustainable Photovoltaics Industry »
By Keith R | March 13, 2009
Topics: Electronic/Electrical Equipment, Waste & Recycling | No Comments »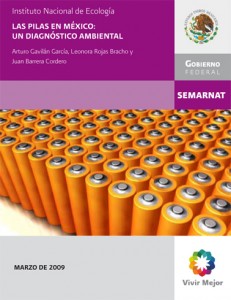 Mexico's National Ecology Institute (INE) has just released an "environmental diagnosis" of portable batteries in that country. The study looks at the growth of battery consumption in Mexico, a recent analysis of the chemical composition of both formal and informal ("pirate") batteries (looking particularly at heavy metal content and any other aspects that may make them fall afoul of Mexican regulations on hazardous wastes), and how they are currently disposed, and makes recommendations for action by INE's parent agency, the Secretariat on the Environment and Natural Resources (SEMARNAT).
Although INE no longer has the lead on waste policy issues as it did under the Mexican presidency of Ernesto Zedillo, its work still provides the technical underpinnings for SEMARNAT policymaking.  In this case, the INE recommendations likely will become a core rationale for future SEMARNAT regulatory action on batteries.
The INE report estimates that the consumption of primary (single use, non-rechargeable) batteries in the formal domestic market increased by 13 times in the 1996-2007 period, from around 2,500 metric tons (mT) to about 32,900 mT.  There has also be a significant in per capita consumption, from 5.2 batteries per inhabitant in 1996 to 12.6 per cell in 2007.  And these figures do not even take into account the growing number of batteries installed in or accompanying imported electronic devices.
Regarding heavy metal content, the study found that among primary batteries the carbon-zinc and alkaline cells in the formal market had mercury and cadmium levels below the limits set by the 2006 version of the European Union's (EU) Battery Directive.  However, mercury and cadmium levels exceeded those limits in some brands of lithium (mercury) and zinc-air batteries (mercury and cadmium).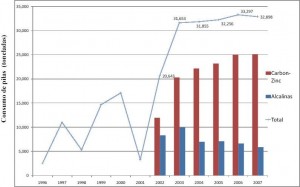 As for secondary (rechargeable) batteries, while all showed mercury levels below the EU limits, one brand of nickel-cadmium (Ni-Cd) battery and one brand of nickel metal hydride (NiMH) battery was found to have cadmium levels above the EU limit, and in fact had levels that also exceeded the maximum permissible limits for leachable cadmium contained in the Official Mexican Norm (NOM) on classification of wastes ("NOM-52"), the regulation that determines which wastes are regulated in Mexico as hazardous.
The study also found that all battery chemistries analyzed, except carbon-zinc, had an alkaline pH value higher than that allowed under NOM-052 in order to be considered non-hazardous.  INE feels that these results persuasively argue that (except perhaps carbon-zinc) batteries should be regulated as hazardous waste and not be allowed to be disposed with common household waste — a position that the battery industry is likely to resist.
INE says that it plans in 2009 further chemical analysis of batteries, with a focus on particular chemistries (zinc-air, lithium, Ni-Cd and NiMH) and specific brands to confirm these results.
INE notes that Mexico currently does not restrict the importation and marketing of batteries, limit their heavy metal content or ban mercury oxide button batteries as some nations have done.  It examines the regulatory approaches of the EU, the US, Argentina and Brazil, and concludes that Mexico should embark on "a program of environmentally sustainable management of batteries" that includes:
limits on mercury and cadmium content similar to those set by other nations;
a ban on the marketing of mercury oxide batteries;
mandatory labeling requiring the indication of heavy metal content;
encouragement of collection and recycling programs to recover metals and other materials, perhaps with recovery targets;
an outreach programs for consumers, traders, NGOs and government officials to promote shared responsibility in the proper handling of batteries throughout their life cycle.
_________________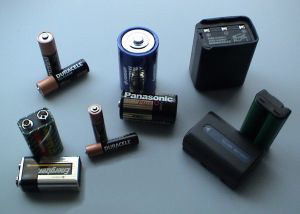 El Instituto Nacional de Ecología (INE) de México acaba de publicar un "diagnóstico ambiental" de las pilas portátiles en ese país. El estudio analiza el crecimiento de consumo de pilas en México, un reciente análisis químico de los contenidos de las pilas en el mercado mexicano formal y informal ("pirata") — especialmente en cuanto al contenido de los metales pesados y cualquier otro aspecto que pueda clasificar las pilas como residuo peligroso en terminos de las normas mexicanas —  y la forma de disposión final de esas pilas, y formula recomendaciones para la adopción de medidas por la agencia matriz del INE, la Secretaria de Medio Ambiente y Recursos Naturales (SEMARNAT).
Aunque hoy en dia el INE no tiene el liderazgo en cuestiones de política sobre los residuos solidos como tenia bajo la presidencia de Ernesto Zedillo, su labor aún proporciona las bases técnicas para la elaboración de políticas de SEMARNAT.  En este caso, las recomendaciones del INE probablemente se convertirá en base para reglamento futuro de la SEMARNAT sobre las pilas.
El estudio del INE estima que el consumo de pilas primarias (no recargables) cen el mercado formal nacional se incrementó en 13 veces para el período 1996-2007, ya que pasó de alrededor de 2.500 toneladas a cerca de 32.900 toneladas.  El incremento también es notorio en términos del consumo per cápita, que pasa de 5,2 pilas por habitante en 1996 a 12,6 pilas por habitante en 2007.  Estas cifras no incluyen en los cálculos el número de pilas contenidas en aparatos electrónicos importados.
En cuanto a la presencia de metales pesados en las pilas, el estudio determinó que todas aquellas pilas de carbón-zinc y alcalinas provenientes del mercado formal registran valores de mercurio y cadmio totales por debajo de los límites máximos permisibles establecidos en la correspondiente Directiva Europea. Sin embargo, los resultados encontraron niveles de mercurio y cadmio que rebasan los niveles permisibles de dicha directiva en algunas marcas de pilas de litio (mercurio) y de pilas de zinc-aire (mercurio y cadmio).
En cuanto a las pilas secundarias (recargables), todas presentaron valores de mercurio por debajo de la directiva europea. En cambio, una marca de pilas de níquel-cadmio y una marca de pilas de níquelhidruro metálico presentaron niveles de cadmio total que rebasan los valores de dicha directiva y, además, excedieron el límite máximo permisible para cadmio lixiviable de acuerdo con la Norma Oficial Mexicana (NOM) que establece las caracteristicas, el procedimiento de identificación, clasificación y los listados de los residuos peligrosos ("NOM-052").
Entre los resultados se encuentra, asimismo, que todas las tecnologías de pilas que se analizaron, excepto las pilas de carbón-zinc, presentaron un valor de pH alcalino, superior a lo establecido en la NOM-052. El INE considera que estos resultados sostienen que todas las pilas (tal vez salvo las de carbono-zinc) deben ser regulados como residuos peligrosos y no podrán decartarlas junto con la basura doméstica común – una posición que la industria de pilas e baterías porbablemente va a resistir.
INE dice que tiene planes de hacer análisis químico durante 2009 de mas pilas, con enfoque en ciertas químicas (aire-zinc, litio, Ni-Cd y de NiMH) y de marcas específicas para confirmar estos resultados.
INE nota que,en contraposición a la tendencia internacional, en México no existe ni restricción a la importación o la comercialización de pilas, ni una regulación que limite el contenido de mercurio y cadmio en las pilas primarias comercializadas en el país, ni una prohibición a la venta de pilas de botón de óxido de mercurio. Examina las normas sobre pilas de la UE, EE.UU, Argentina y el Brasil, y llega a la conclusión de que debe iniciar "un programa de gestión ambientalmente sostenible de las pilas", que incluye:
límites máximos permisibles sobre el contenido de mercurio en las pilas;
una prohibición de la comercialización de las pilas de óxido de mercurio;
ecoetiquetado obligatorio a fin de indicar los niveles de metales contenidos en las pilas;
el fomentar de programas de acopio y reciclado para recuperar metales y otros materiales;
el desarrollo de programas de difusión para consumidores, comercializadores, organizaciones no gubernamentales y funcionarios de gobierno, que promuevan la responsabilidad compartida en el manejo adecuado de las pilas a lo largo de su ciclo de vida.
Tags: baterias, batteries, button batteries, cadmio, cadmium, corrosive, ecoetiquetado, European Union, hazardous waste, heavy metals, INE, labeling, lead, límites máximos permisibles, lithium, litio, mercury, metales pesados, Mexico, nickel metal hydride, nickel-cadmium, niquel-cadmio, níquel-hidruro metálico, NOM-52, óxido de mercurio, pH, pilas, pilas de botón, plomo, primary batteries, rechargeable batteries, reciclaje, recycling, residuos peligrosos, zinc-air
Subscribe to My Comments Feed
Leave a Reply