« New Tough Pack Images for Cigarettes in Uruguay | Home | Financing Energy-Efficient Housing in Mexico / Financiamiento de viviendas con uso eficiente de energía en México »
By Keith R | September 21, 2008
Topics: Sanitation, Waste & Recycling, Water Issues | No Comments »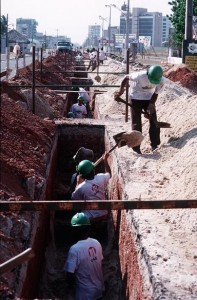 From the Inter-American Development (IDB):
IDB offers grants to jump-start water and sanitation projects

Aquafund will finance project preparation and technical assistance to develop solutions for pressing water and sanitation problems

Latin American and Caribbean governments that want to improve water and sanitation services can now apply for grants from the Aquafund, a new source of financing approved by the board of the Inter-American Development Bank today.

The Aquafund is a fast-disbursing vehicle intended to help accelerate the development of projects in the water, sanitation and solid waste disposal sectors. It can be used to finance activities ranging from pre-feasibility studies to technical training and knowledge dissemination, depending on specific local needs.

"There are many innovative proposals for improving water and sanitation services in Latin America today," said IDB President Luis Alberto Moreno. "Aquafund was created to help make those proposals a reality by financing the early stages of project preparation, and also to help replicate successful experiences on a larger scale."

During the rest of 2008, the Aquafund could disburse up to $15 million in grants from the IDB's ordinary capital. Starting in 2009, Aquafund will also mobilize matching contributions from multiple donor countries, providing up to $35 million in grants during the calendar year. Aquafund will also be able to receive contributions from private sources.

Aquafund grants can be used to support projects that subsequently receive both loans with either sovereign or non-sovereign guarantees. It is expected to finance activities such as improvements in the legal and regulatory framework, water resource management, and capacity building at municipal, state and national level. Aquafund grants will also be available directly to water, sanitation and solid waste service operators.

"We expect Aquafund to be a catalyst for innovative approaches to these areas," said Federico Basañes, chief of the Water and Sanitation Division at the IDB. "We have set ourselves the goal of financing projects with 100 of the region's cities and 3000 of its rural communities by 2011, and Aquafund is going to be a key resource for municipalities that need help getting projects off the ground."

Starting in 2009, the Aquafund will use contributions from donors to finance pilot investment projects that use new technologies and have potential for replication. Donors funds will also be available for investment projects focusing on service expansion low-income urban and rural communities, household connections to water and sanitation networks, wastewater treatment and solid waste disposal.
________________________
From el Banco Interamericano de Desarrollo (BID):
BID ofrece donaciones para impulsar proyectos de agua y saneamiento

Aquafund financiará la preparación de proyectos y asistencia técnica para soluciones innovadoras a problemas urgentes de agua y saneamiento

Los gobiernos de América Latina y el Caribe que buscan mejorar los servicios de agua y saneamiento pueden ahora solicitar fondos no reembolzables del Aquafund, una nueva fuente de financiamiento aprobada por el directorio del Banco Interamericano de Desarrollo.

Aquafund es un vehículo de desembolso rápido creado con el objetivo explícito de acelerar el desarrollo de proyectos en los sectores de agua, saneamiento y manejo de residuos sólidos. Puede ser usado para financiar actividades que van desde los estudios de prefactibilidad hasta la capacitación y diseminación de conocimientos, dependiendo de necesidades locales específicas.

"Hoy en América Latina existen muchas propuestas innovadoras para mejorar los servicios de agua y saneamiento", dijo el presidente del BID, Luis Alberto Moreno. "El propósito del Aquafund es permitir que esas propuestas se conviertan en realidad, financiando las etapas iniciales de la preparación de un proyecto, pero también ayudando a reproducir experiencias exitosas a mayor escala".

Durante el resto de 2008, Aquafund puede desembolsar hasta US$ 15 millones en donaciones provenientes del capital ordinario del BID. A partir de 2009, Aquafund también movilizará contribuciones de múltiples países donantes, proveyendo hasta US$ 35 millones en donaciones durante el año. Aquafund podrá recibir contribuciones de fuentes privadas.

Las donaciones de Aquafund pueden ser usadas para apoyar proyectos que posteriormente reciban préstamos con o sin garantías soberanas. Se espera que financie actividades como el mejoramiento del marco legal y regulatorio, el manejo de los recursos del agua y la capacitación a nivel municipal, regional y nacional. Las donaciones de Aquafund también estarán disponibles para los operadores de los servicios de agua, saneamiento y manejo de residuos sólidos.

"Confiamos en que Aquafund se convierta en un catalizador de soluciones innovadoras en estas áreas", dijo Federico Basañes, jefe de la división de Agua y Saneamiento del BID. "Nuestro objetivo es financiar proyectos en 100 ciudades de la región y 3.000 comunidades rurales hasta el 2011. Aquafund va a ser un recurso esencial para aquellas municipalidades que necesiten ayuda para hacer arrancar sus proyectos".

A partir de 2009, Aquafund usará contribuciones de donantes para financiar proyectos pilotos de inversión que usen nuevas tecnologías y que tengan el potencial de ser reproducidos. Los fondos de los donantes también estarán disponibles para proyectos de inversión que se enfoquen en la expansión de los servicios destinados a las comunidades urbanas y rurales de bajos ingresos, conexiones domésticas a las redes de agua y saneamiento, tratamiento de aguas servidas y manejo de residuos sólidos.
_________________________
Desde o Banco Interamericano de Desenvolvimento (BID):
BID oferece doações para projetos empreendedores de saneamento e água

Aquafund financiará preparação de projetos e assistência técnica para o desenvolvimento de soluções para problemas cruciais de água e saneamento

Governos latino-americanos e caribenhos que planejam melhorar os seus serviços de oferta de água e saneamento podem agora se inscrever para obter doações do fundo Aquafund, uma nova fonte de financiamento aprovada pelo Banco Interamericano de Desenvolvimento.

O Aquafund será um veículo de desembolso rápido, cujo objetivo é de  acelerar o desenvolvimento de projetos nos setores de água, saneamento e tratamento de esgoto. Os fundos podem ser usados para financiar atividades como estudos de pré-viabilidade econômica, treinamento técnico e distribuição de conhecimento, dependendo das necessidades específicas locais.

"Há diversas propostas para melhorar os serviços de água e saneamento na América Latina hoje" , disse o Presidente do BID, Luis Alberto Moreno. "O Aquafund foi criado para fazer dessas propostas uma realidade, através do financiamento dos estágios inicias de preparação de projetos, e também para abrir a possibilidade de repetir as experiências bem sucedidas em uma escala maior".

Até o final de 2008, o fundo poderá desembolsar até US$15 milhões, que serão financiados pelo capital ordinário do BID. A partir do ano que vem, o Aquafund estará mobilizando contribuições adicionais de vários países doadores e poderá desembolsar até US$35 milhões em doações somente em 2009. O Acquafund também poderá receber contribuições de fontes privadas.

As doações do Aquafund podem ser usadas para apoiar projetos que possam receber, subseqüentemente, empréstimos com ou sem garantias soberanas. Espera-se que também financie ações que possam melhorar o ambiente legal e regulatório, a administração dos recursos hídricos, e o desenvolvimento de capacidades a nível municipal, estadual e nacional. As recursos do Acquafund também estarão disponíveis para operadores de água, saneamento e tratamento de esgoto.

"Esperamos que o Acquafund seja um catalisador para visões inovadoras nessas áreas", disse  Federico Basañes, chefe da Divisão de Água e Saneamento do BID. "Temos o objetivo de financiar projetos em 100 cidades da América Latina e 300 comunidades rurais até 2011 e o Aquafund será uma fonte importante para os municípios que precisam deslanchar seus projetos".

A partir de 2009, o fundo usará as contribuições dos países doadores para financiar projetos-piloto que utilizem novas tecnologias e com potencial para serem copiados em outras localidades. Essas contribuições também estarão disponíveis para projetos de investimento focados na expansão de serviços para a população de baixa renda urbana e nas comunidades rurais e na conexão de residências às redes de saneamento, esgoto e tratamento de dejetos.
Tags: América Latina, Aquafund, BID, Caribbean, Caribe, IDB, Latin America, pre-feasibility studies, residuos sólidos, saneamiento, Sanitation, solid waste, tratamento de esgoto, wastewater treatment, water resources
Subscribe to My Comments Feed
Leave a Reply